Dubai is one of the most glamorous cities of the world situated in UAE (United Arab Emirates). It has been quite a popular tourist destination because of its magnificent skyscrapers and unbeatable shopping experience.
The most common travel stories I have heard from people about Dubai consisted of their lavish & over-the-board shopping experience, their encounter with fancy & unseen high-end car models like Ferrari, Jaguar, Porsche etc ; the stunning architectural pieces the city is bejewelled with, and last but not the least, the Desert Safari.
My time in this city was more enriching and enjoyable than I had expected. It was really an overwhelming and thought provoking stay as it made me wonder how a city built in a desert and no vegetation or water resources is capable of achieving and developing so much. It is really astonishing and appreciable to see the kind of hard work the administrators and public officers have put up in infrastructure, public transport system, roads/metros while maintaining the law and order so well. The phrase "From the earth to the sky", often used in context with 'Burj Khalifa' (landmark skyscraper), however stands true for entire Dubai.
The  city has so much to offer from poetic desert to a delightful flower garden, sun basked beaches, alluring nightlife, adrenaline spiking adventure sports and, without a doubt, a world class shopping experience.
Visa:
The first thing that comes up to any person's mind while planning an international trip is the Visa requirement. Dubai offers Visa on Arrival to passport holders of certain countries but not all. To check whether you are eligible or not, please click the below link:
https://www.visitdubai.com/en/travel-planning/travel-tools/visa-and-entry-information
For Indians: You need to apply prior visa for Dubai which costs you around INR6500/- per person. Most people do not know this, but you can get a Visa on Arrival (VoA) for Dubai ONLY IF you have a valid US visa on your passport. This service costs you around 120 AED (payable in Dirhams or by Card) and no extra documentation is required before travel.
In my opinion, if you happen to have a valid US visa, visiting Dubai is easier than flying off to Thailand. Simply proceed to Marhaba counter on arrivals at DXB airport, show your passport and ask for VoA. Pay the money and you are done!!
Hotel:
We stayed at Holiday Inn Express – Safa Park on our first trip to Dubai. The stay was indeed pleasant and comfortable. You can check out some of the pics on our Instagram account- TravLovEat. The best part about this hotel was the metro station which was at a walking distance, thus making connectivity so much easier with many places. Also, it was pretty close to Dubai Mall and you can actually see Burj Khalifa from the hotel.
The second time we stayed at Holiday Inn – Downtown Deira which was again quite accessible and comfortable, especially in terms of metro proximity & its location which is just in the middle of a bustling market with many restaurants few metres away.
Public Transport In Dubai:
Dubai has a well developed public transport system. I can share my experience starting from Terminal 1 of Dubai International Aiport. After landing, you will be taken to the main Arrival hall in an air train. Then, two floors down you will find "Marhaba" Counter, from where you need to get your visa if you are a eligible for VoA(Visa on Arrival). Thereafter, get in the immigration queue. On clearing immigration you will be walking towards luggage belts. After collecting, don't just exit from the airport, look for the METRO sign (or ask someone). The metro station is two floors up. Buy a "NoL" card from the ticketing counter. It is a prepaid smart card used in Dubai for all modes of public transport. It costs 25 AED for the first time (with a value of 19AED loaded) & then you can recharge it subsequently. This NoL card may also be available at some duty free outlets in arrivals.
If you are someone who likes to explore cities using public transport, then NoL card is a must for you. I have used it in metros & buses; and found it really convenient. However, you also have an option to take cabs or taxis. Uber works in Dubai but I found it little bit on the higher side compared to local taxis. "Careem" taxi services are more approachable for which the base fare starts at 5 AED. Or simply, flag down a taxi, board and tell your destination. I have tried all, and my trips were pretty smooth and fairly charged.
Best Time To Visit Dubai:
The best time to visit Dubai is December & January as the weather becomes slightly on colder side which is quite pleasant. Also, the renowned Dubai Shopping Festival also happens to be in these two months, so be prepared for a little more rush (and expensive hotels) than usual in malls & tourist attractions. If you are looking for lesser crowds & pleasant temperatures then plan your trip in somewhere mid October to November.
10 Must Do Things in Dubai
The Dubai Mall is one of the largest shopping malls of the world. A single day is insufficient to explore it completely. You name any brand and it is available. They give you a booklet (yes a booklet and not some three page brochure!!) with a list of all the outlets present in the mall, their respective locations and also a guiding map so that you don't get lost in this maze. You will be requiring at least 5-6 hours even if you just want to touch this place.
Other malls which you can explore in Dubai are – Mall of the Emirates, Dubai Marina Mall, Deira City Centre etc.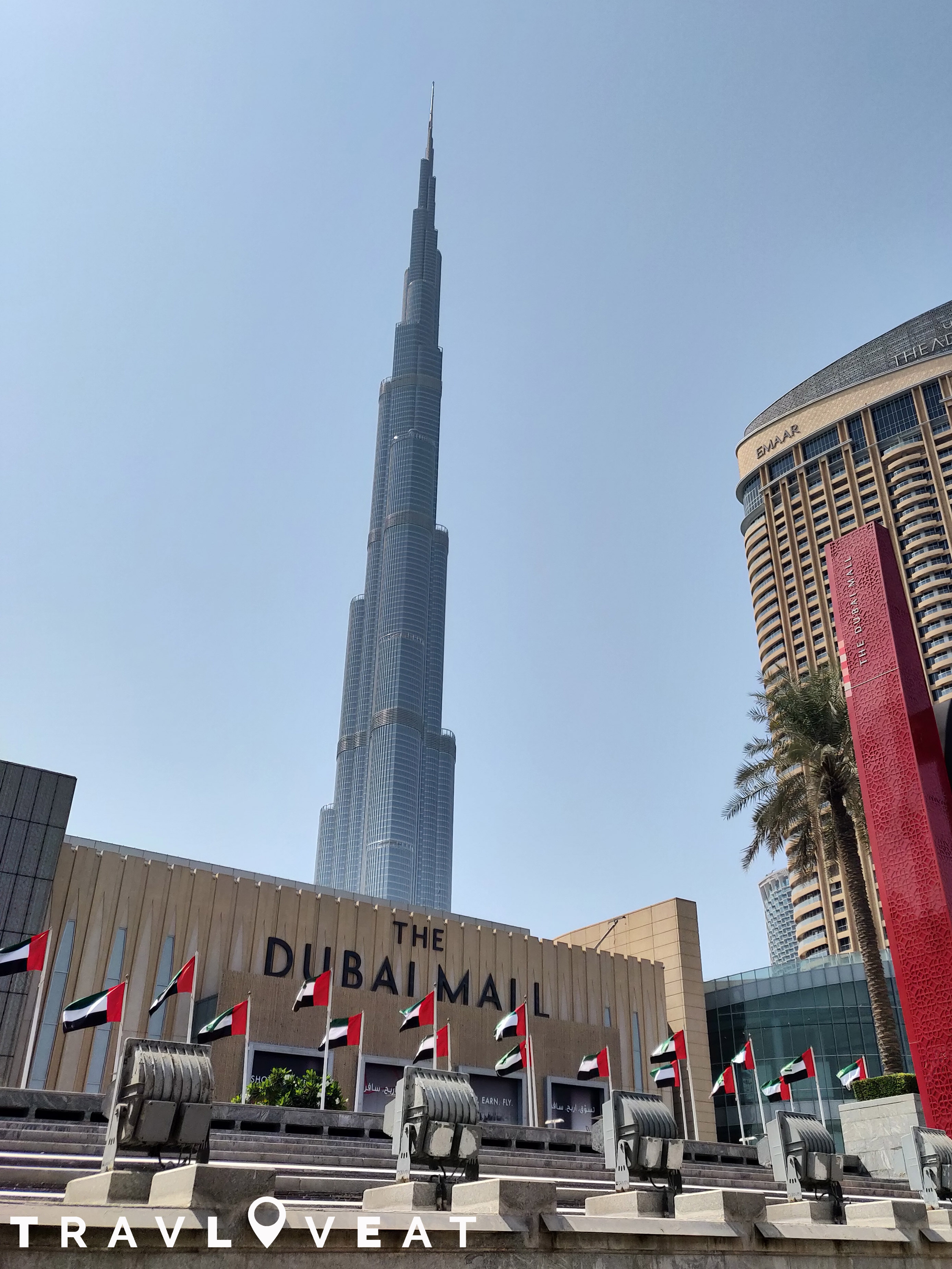 With a total height of 829.8 metres, Burj Khalifa is the tallest man made structure of the world. It is located in the back side of Dubai mall. You can have a clear view from outside by exiting the mall from back gate (marked in the map also). If you want to go on top of it (either 125th or 148th floor), then the ticket counters are present in the lower food court. The entry tickets can be purchased online (https://tickets.atthetop.ae/atthetop/en-us) or from that counter itself. From the top, you are will be able to enjoy view of the entire city. Inside Burj Khalifa there are various restaurants and souvenir shops also.  The tickets cost somewhere around 135 AED per person.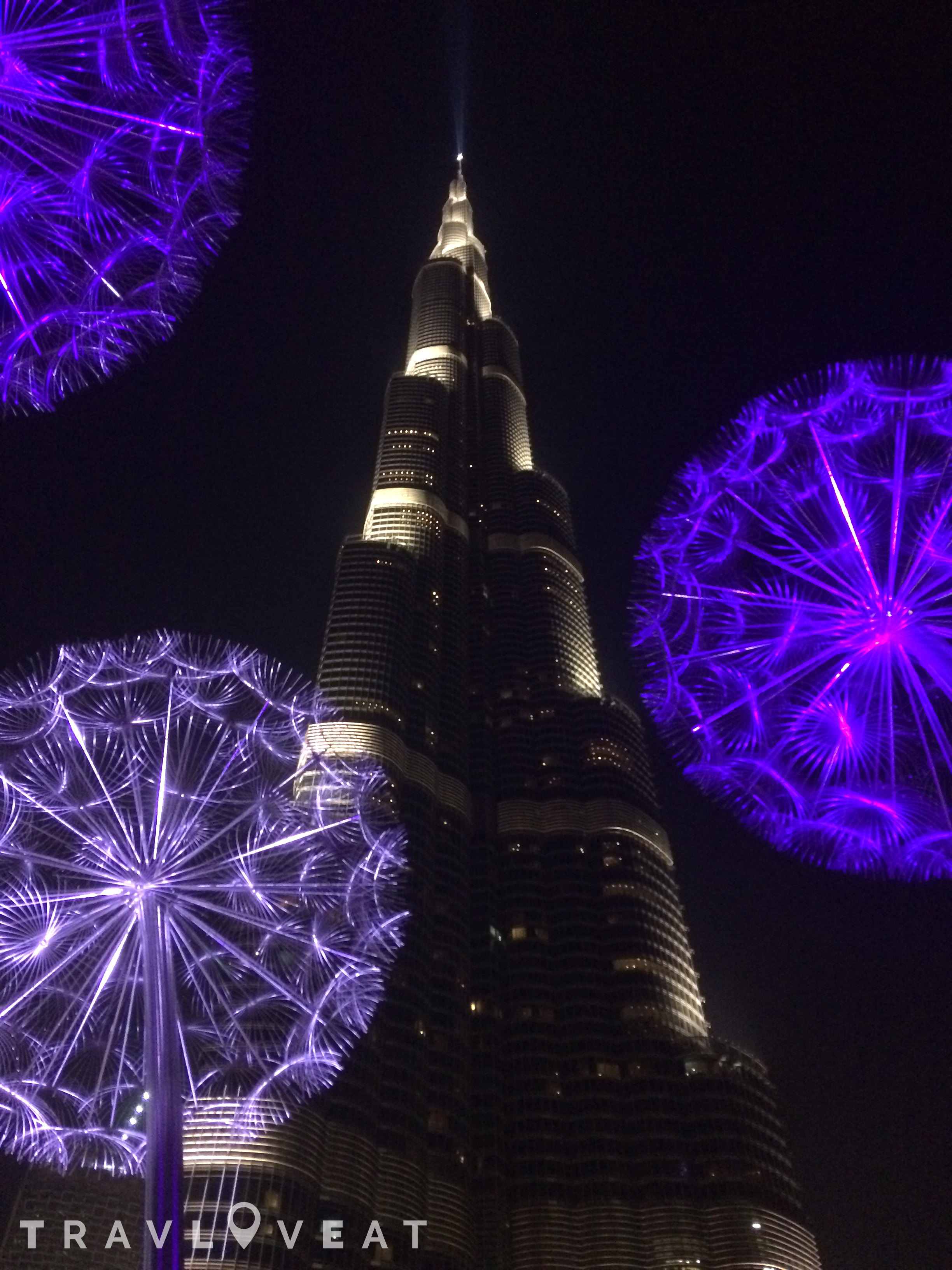 Another tourist attraction present besides Dubai Mall & Burj Khalifa are the Dancing Fountains. The shows starts from 6:00 PM in the evening and repeats every half hour. The duration of the entire show is 5-10 minutes.  The rhythmic rise & fall of water in sync with background music leaves a mesmerising & enchanting effect on the viewers. It is also present on the back side of Dubai mall and no tickets are required for it.
Suggestion: As Dubai Mall, Dancing Fountain & Burj Khalifa are located together, I would suggest you to club all these three attractions for a single day. You can shop your heart out in day time, proceed to the top by sunset and end your day by enjoying the splendid fountain show.
The Dubai Aquarium & Underwater Zoo:
If you are looking forward to experience marine life closely then surely you will love the Aquarium present inside the Dubai Mall. It's a good option especially if you have kids with you. The base package starts around 120 AED. They have more activities like "The Speciality Dives", "Cage Snorkelling" and "Shark Walker" etc for which charges are additional. We bought the tickets from the counter inside the mall.
You should not leave Dubai without experiencing its desert and sand dunes. Desert safari is one of the most popular & fun activity you can indulge during your stay in Dubai. We got our bookings done for it online via Dadabhai Tour & Travels. We were picked up from our hotel in a 4×4 SUV and then taken to the venue directly. It costed 100 AED per person. Sand dune bashing (not for the faint hearted), Camel riding, Sheesha smoking, falconry are some of the activities you can indulge here. Apart from it they include snacks, drinks and dinner in this package, ending the evening with a belly dance & fire show performance.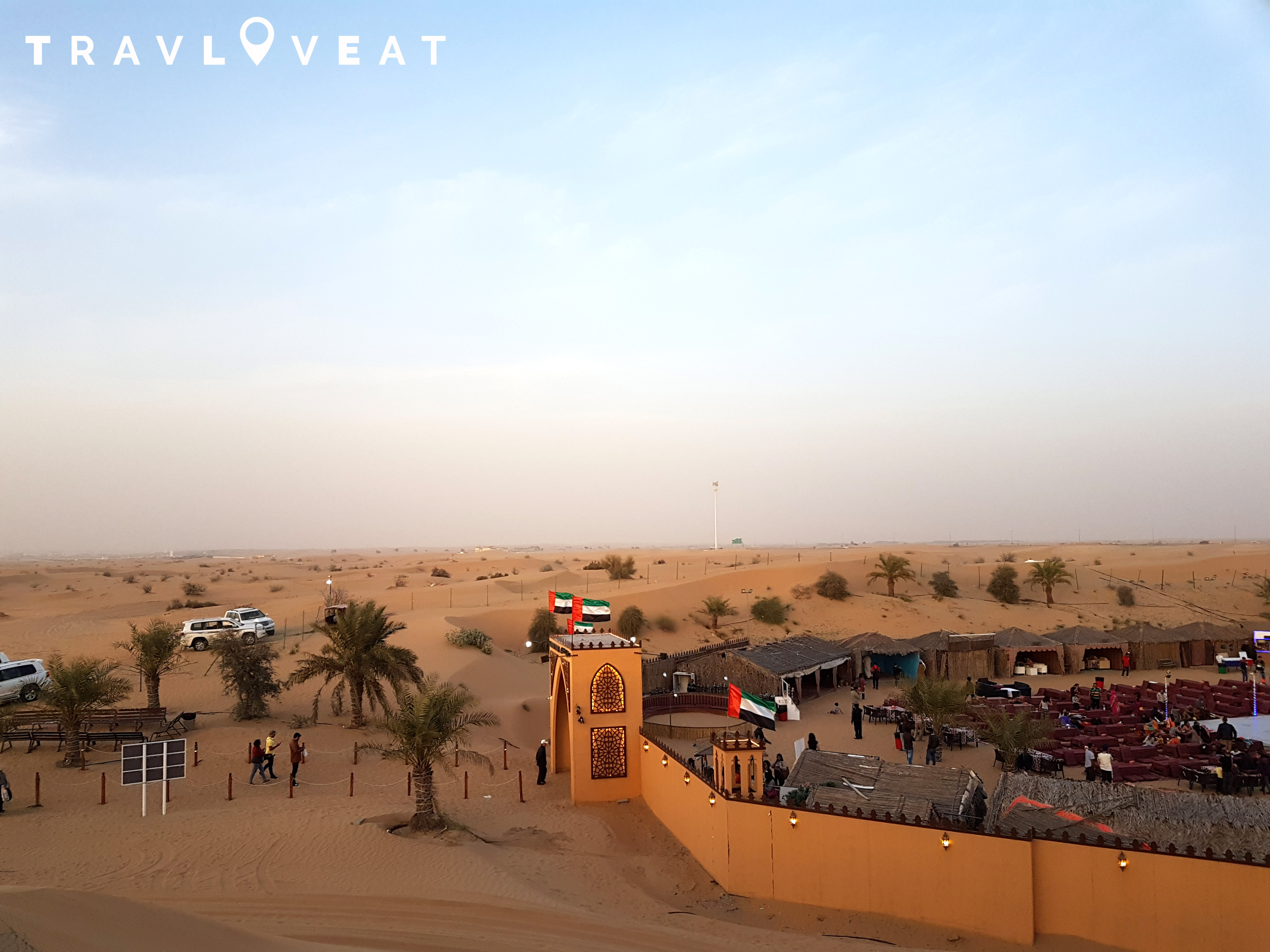 Dubai has got some beautiful sunbathed beaches too. We went to Jumeirah beach from where you can see "Burj Al Arab" which is another iconic structure. It is a public beach, so you will find lots of people in bikini/shorts, surfing and chilling. (I have specially mentioned bikinis as many people have a perception that being an  Islamic country, you can't wear such clothes here.)
Apart from the beaches,  you can also take the monorail for a tour of Palm Jumeirah Island in this area.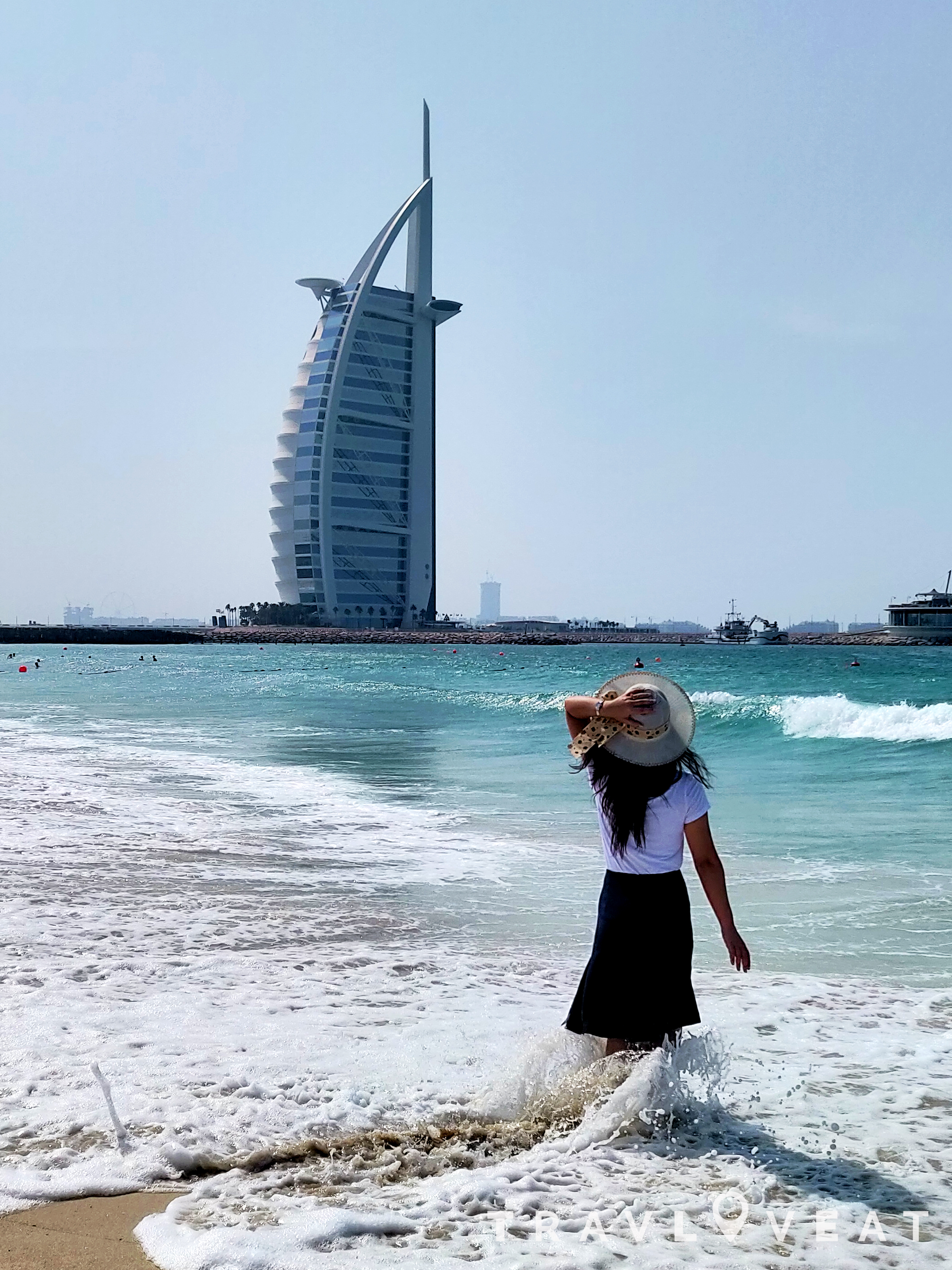 Dubai has lots to offer to its tourists, so it doesn't disappoint you in adventure realm also. If you are an adrenaline junkie then you would like to try  XLine which is Dubai's famous zipline. Its counter is present inside Dubai Marina Mall. I have shared my personal experience in a separate post – click here to read all the details with pics and video.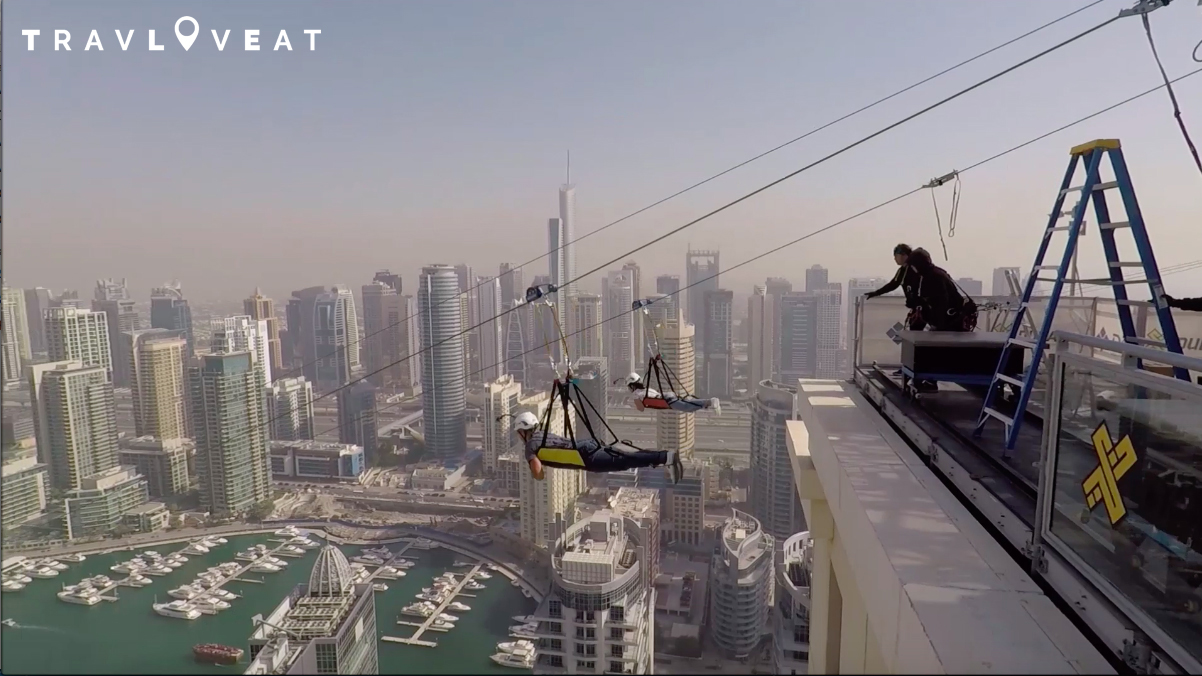 Having majorly expats in its population, Dubai is quite famous for its nightlife. We went to the nightclub 360˚ and were completely exhilarated by its ambience. It  has a rooftop terrace bar with nice music, direct view of Burj Al Arab and 360 degree view of the entire city at night time. You need to make reservations in advance as this place stays full on most evenings.
There are many more sheesha lounges, bars, beach party places in Dubai to explore. So don't miss a chance to party when you can!!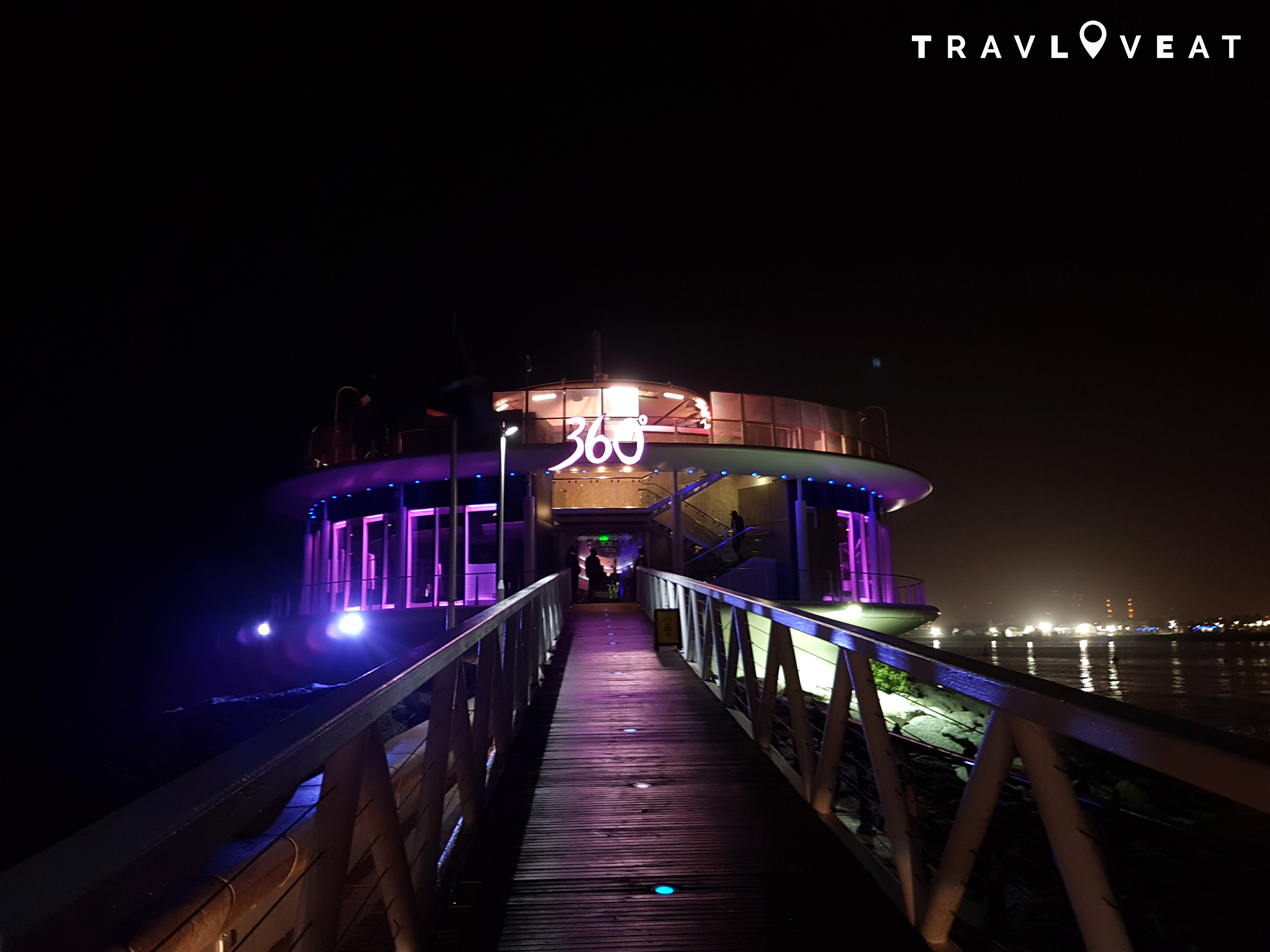 It is really a "miracle" to see such a blissful & colourful garden blooming with all varieties of flora in a desert. To our surprise, all the flowers, plants and trees were real . You can buy tickets for it online (https://www.dubaimiraclegarden.com) or after reaching there – cost 50 AED/person. The bus for miracle garden can be taken from Mall of the Emirates. The garden takes 1-2 hours by itself, excluding travel time (30mins each side). It has its mention in the Guinness World Records for the largest flower arrangement forming the shape of Airbus A380.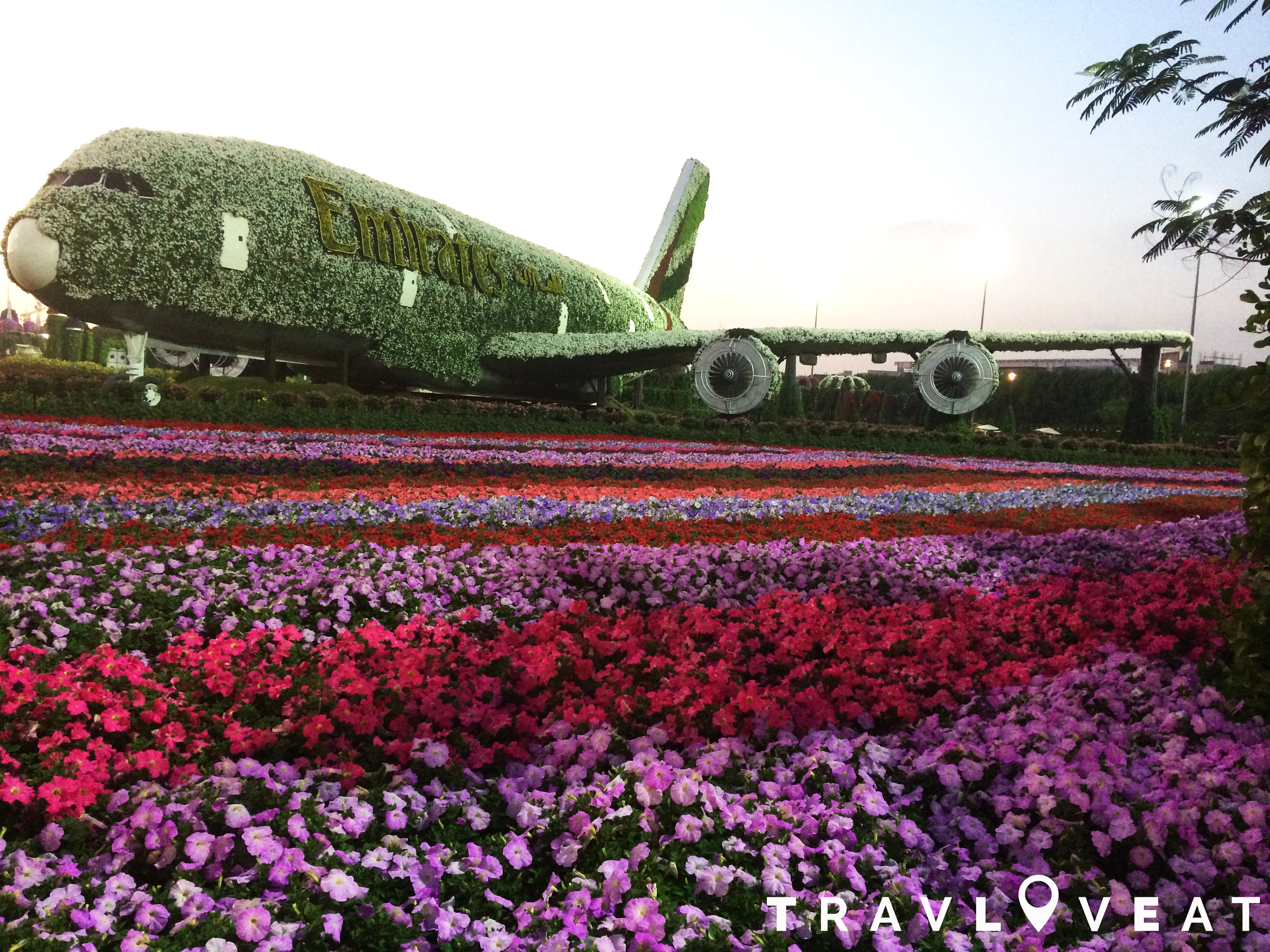 Apart from the malls, one should also experience the rustic ambience at exotic souqs (Arabian markets) in Dubai. The most famous and visited are Gold souq and Spice souq. There is so much yellow in the gold souq that one can go crazy choosing a single piece of  jewellery from their massive collection.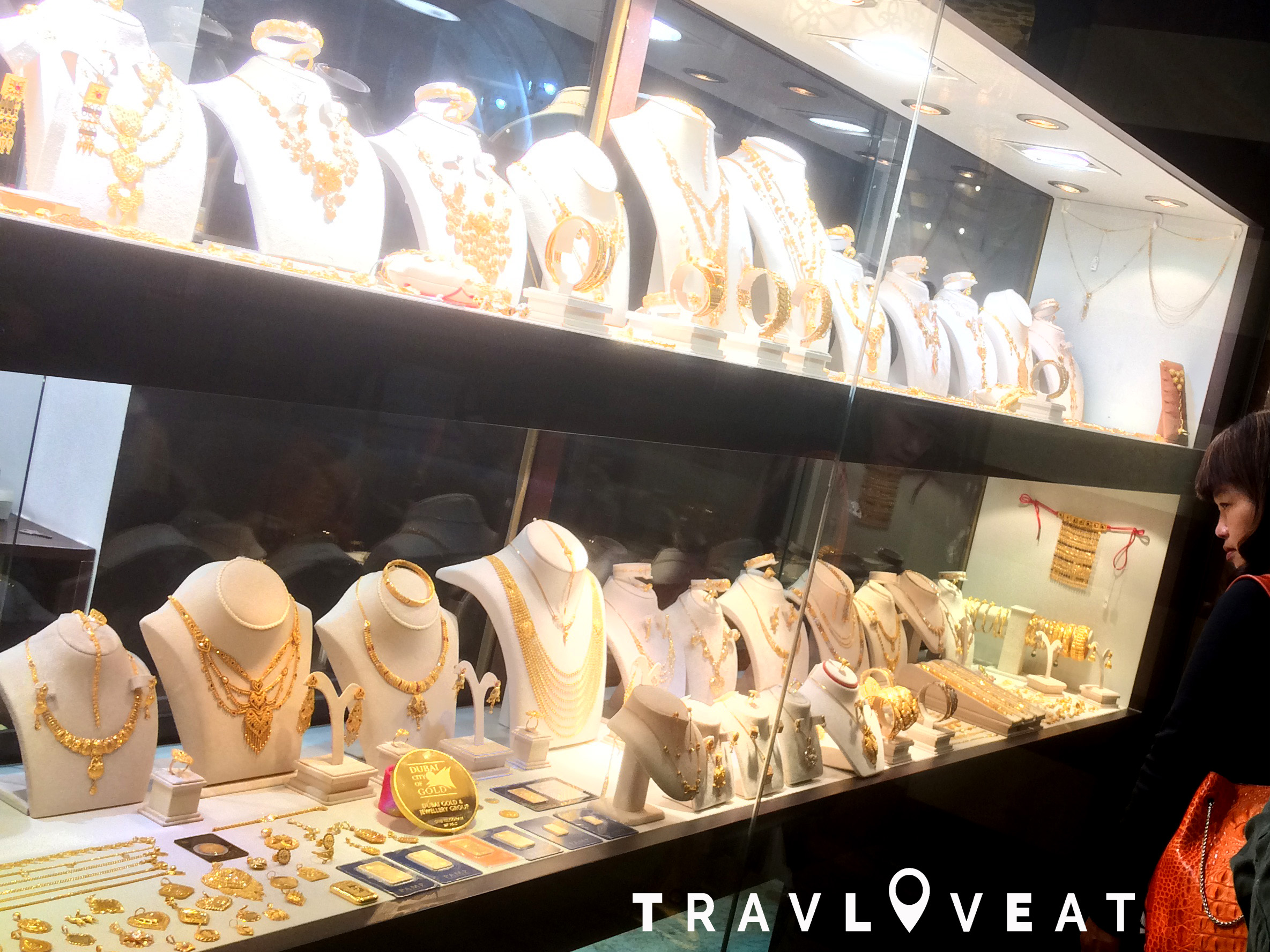 As I am pure vegetarian, I can understand how difficult it becomes sometimes to find a place serving food of your preference and taste. Sharing few options from my side:
The Cheesecake Factory (Dubai Mall)  *Recommended 
Kebab Grill 44 (Dubai Mall- Food court)
Spice Bowl Restaurant (Dubai Mall – Basement)  *Recommended
Zafraan (Dubai Marina Mall)
Juice World (Al Rigga Street)
Bombay Chowpatty (Deira City Centre)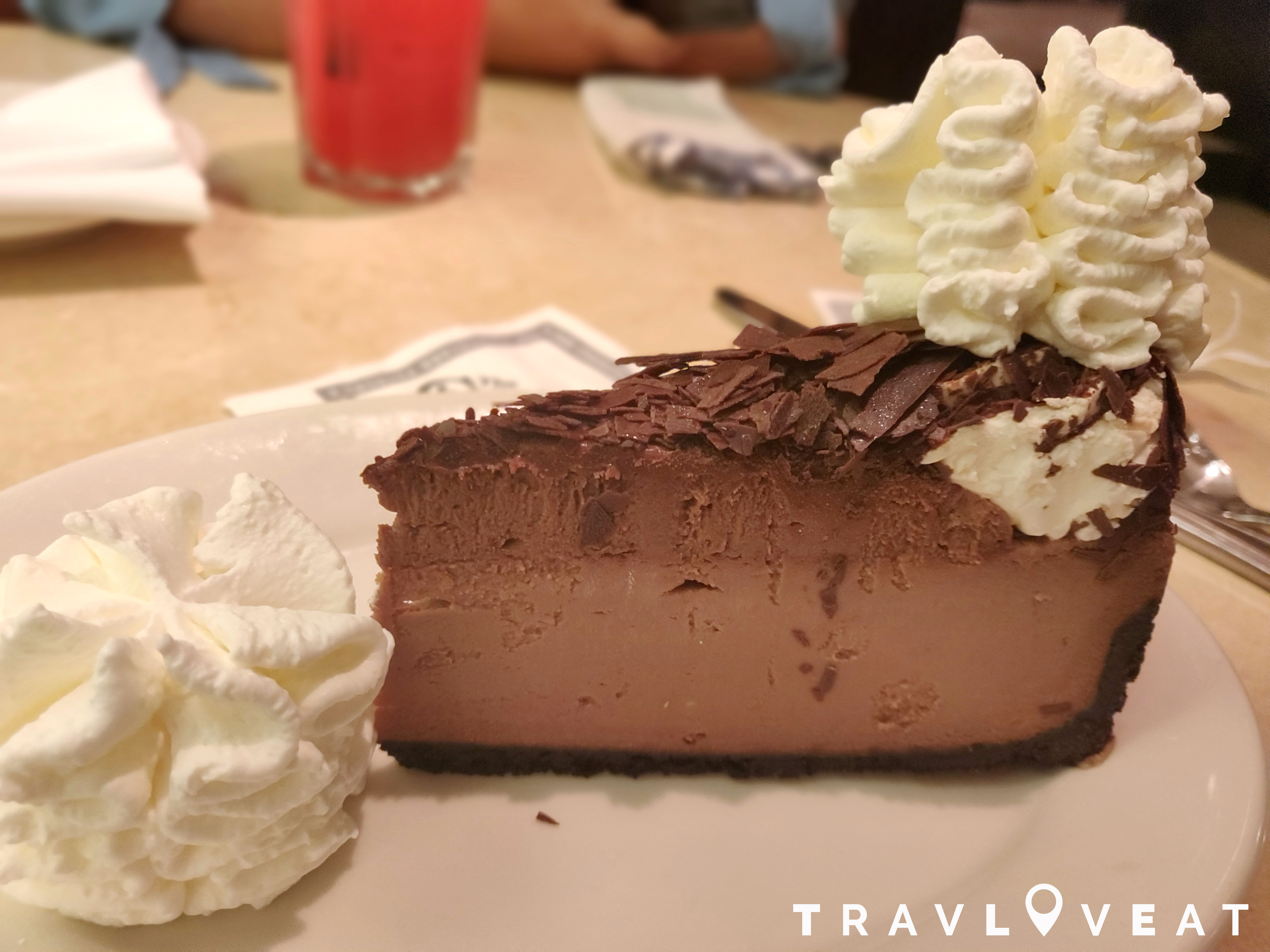 P.S: All experiences and opinions shared here are our own. This article is not part of any paid promotion or advertising. Happy Travels!! 🙂