Amsterdam, also the state capital, is one of the largest cities in Netherlands. It got its name as the city grew around a dam along river Amstel.

This was the first destination of our EuroTrip 2018. After much dilly dallying & research on many hotels, BnBs, hostels etc., we shortlisted two hotels – one of them was situated near Airport and the other one was "Holiday Inn Express" which is a 5 minute train ride to the Centraal station. We zeroed upon the latter one and I am glad that we made this choice as it made our trip really comfortable. In this post I am going to share our personal experience and insights about this hotel.
Often people are reluctant while booking rooms in "Bed & Breakfast" hotels but in a city like Amsterdam, which never sleeps with its thrilling & electrifying evenings, this could be the best choice one can make as you are spending most of your time exploring the city streets.
Hotel Booking:
Holiday Inn Express hotels are part of InterContinental Hotels Group (IHG). We made our booking for a double room using IHG Rewards & credit card points. If you don't have enough points, you can book through TripAdvisor/ GoIbibo/ MakeMyTrip. The earlier you make the bookings the better it is, as rates generally rise at the last moment.
You can check out the hotel details and prices by clicking here: Holiday Inn Express Amsterdam – Sloterdijk Station
Location:
The hotel is situated right on the Sloterdijk station. Have a look at the map below:
One of the biggest plus points of this hotel is its proximity to the metro, bus and tram station!! Yes, you can pick any mode of transport from here to reach your desired location. You don't have to walk AT ALL from your hotel to catch any of these, which not only saves your energy but also time. The pic below shows the hotel, a tram line & a bus.
Reaching hotel from Schiphol Airport:
I am generally a deep sleeper and when I have to, no one can stop me!! But this time on our Delhi-Amsterdam 8 hour flight I couldn't rest for more than an hour, which further added to the jet lag. By the time we walked out of the airport, I felt I can sleep on the road also(not joking!! I started envying the kids in their prams).
We took GVB bus number 69 (direction Sloterdijk) from platform B15 of the Schiphol Plaza, which dropped us directly at the hotel. The bus ride was quite comfortable and smooth (except for the times when I hit my drowsy head on the side window trying to catch a nap) . It took us close to 50 minutes.
Option 2: Take the Express train to Centraal station, change for another train towards Sloterdijk. Might save 20 minutes but can be inconvenient based on the amount of luggage you are carrying.
Room:
We reached the hotel way before our check-in time (2:00 PM) but the staff, which was really accommodating and welcoming, gave us an early check-in. There is a certain standard & quality that you would undoubtedly find in everyday Holiday Inn Express room, no matter what country or city you are traveling in. The room was aesthetically done. Considering the number of reviews you would find on internet complaining about the size of rooms in Europe, the space was pretty decent here. The beddings were clean & fresh. Sharing pics of the room: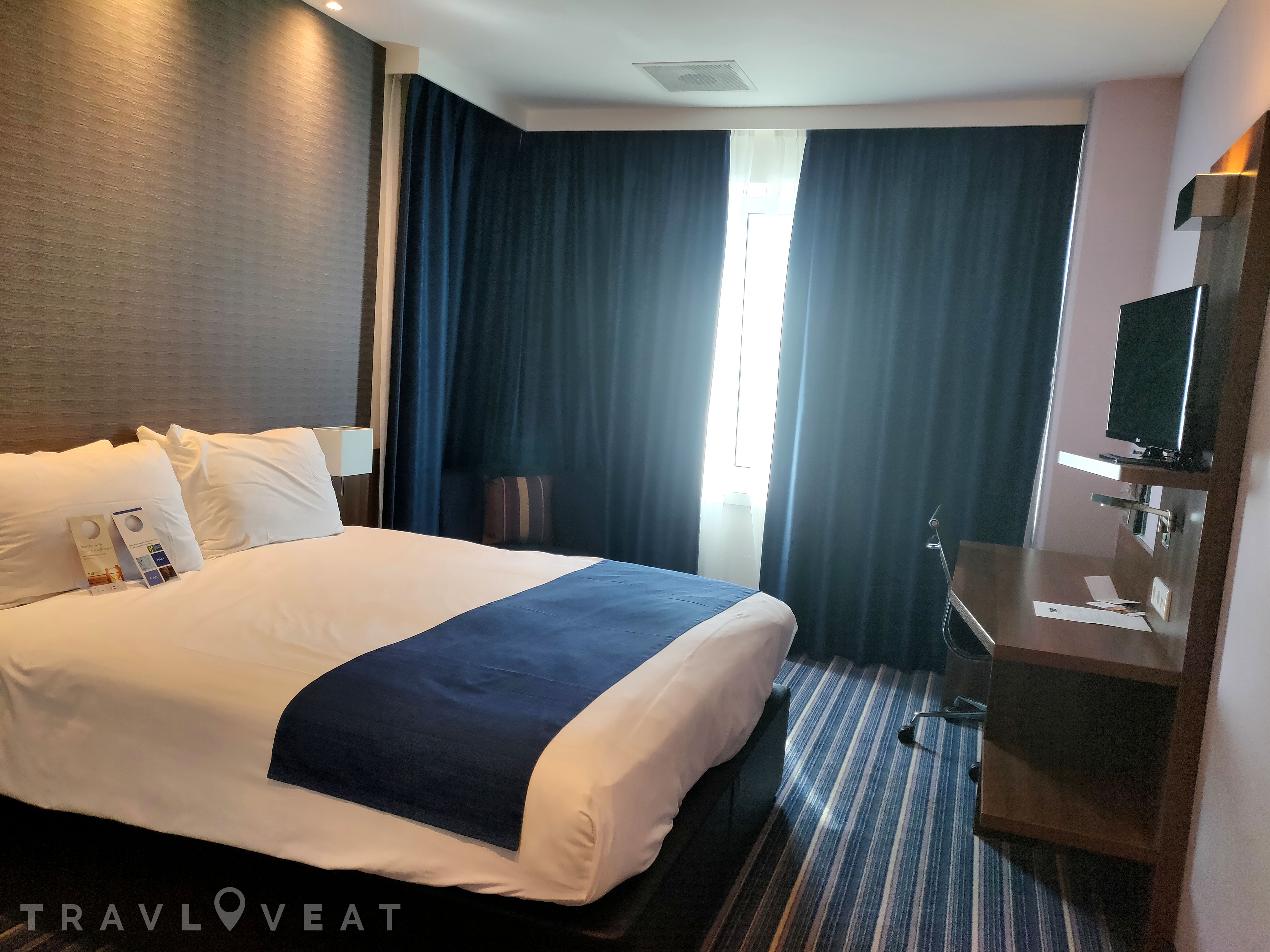 You are provided an electric kettle and tea bags (which is unusual for Europe) and basic toiletries (but I would still recommend carrying your own).
The bathroom size was also decent enough (at least you can enjoy your shower without feeling claustrophobic!!)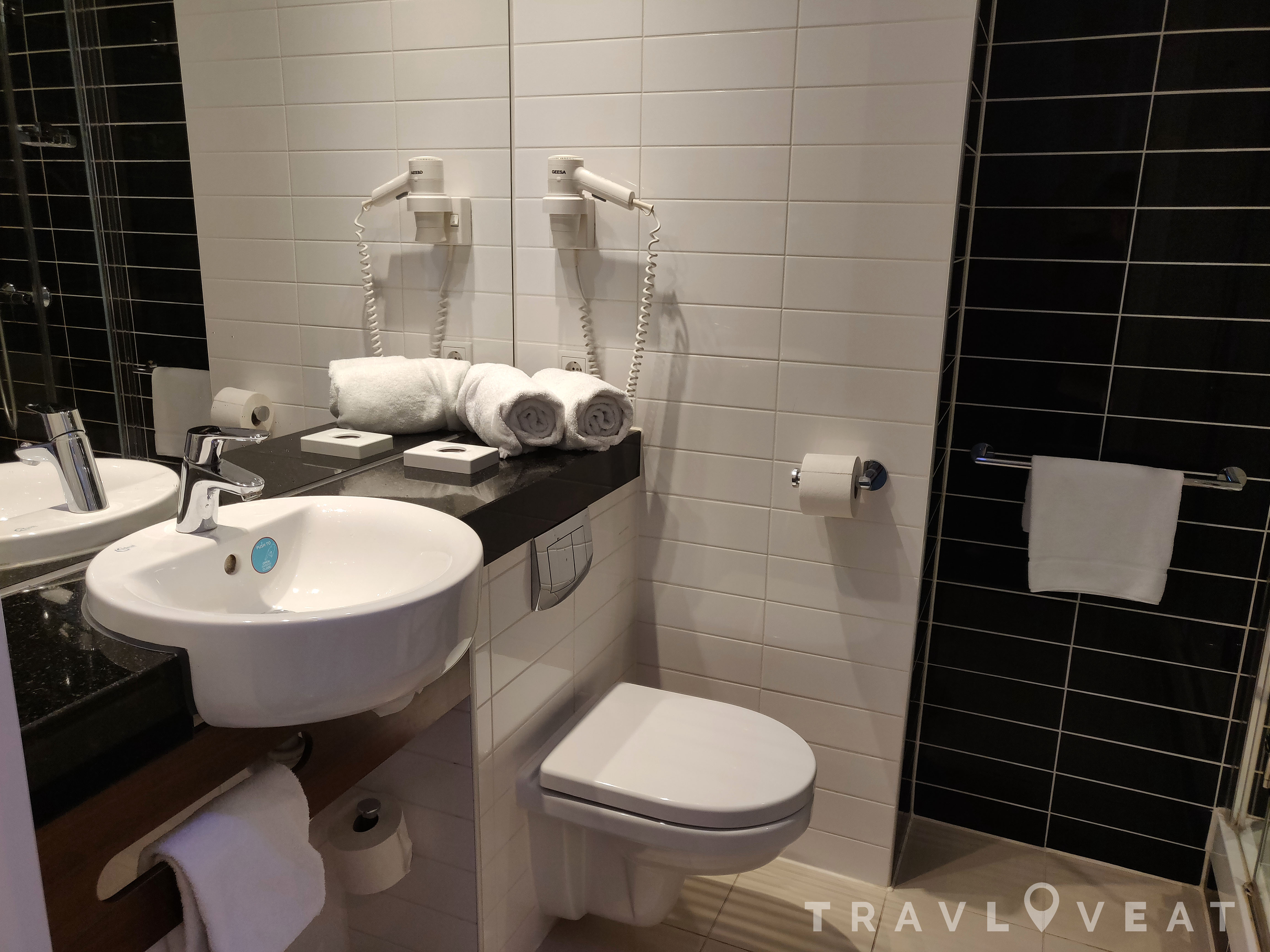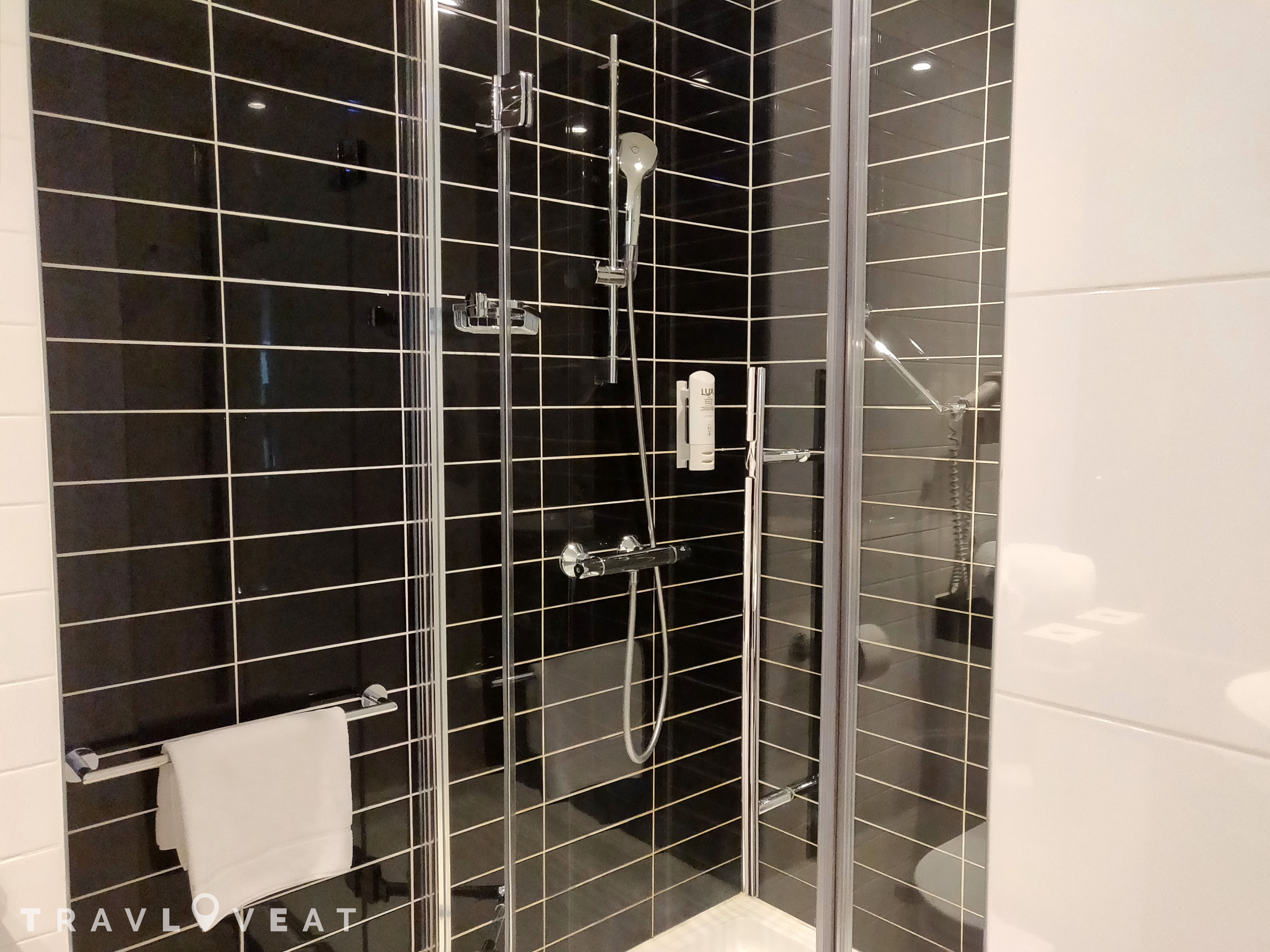 Breakfast:
As we are vegetarians (we don't even eat egg), the food options become quite limited. Still, the spread served here had enough choices for us from fruits, yoghurts, breads and cereals etc., so we could have a hearty breakfast before leaving for the day.
Breakfast for two is included in every HIExpress booking, as standard.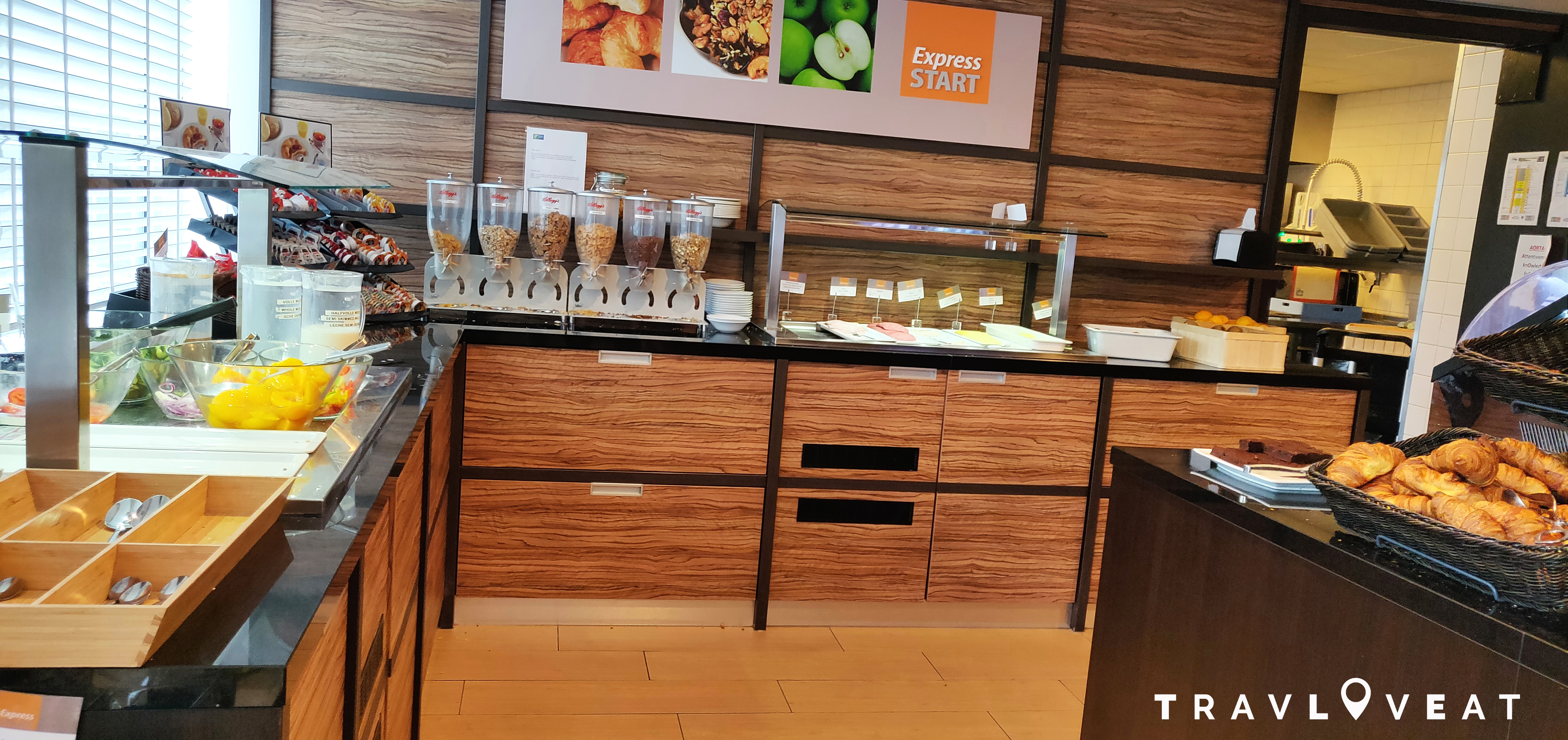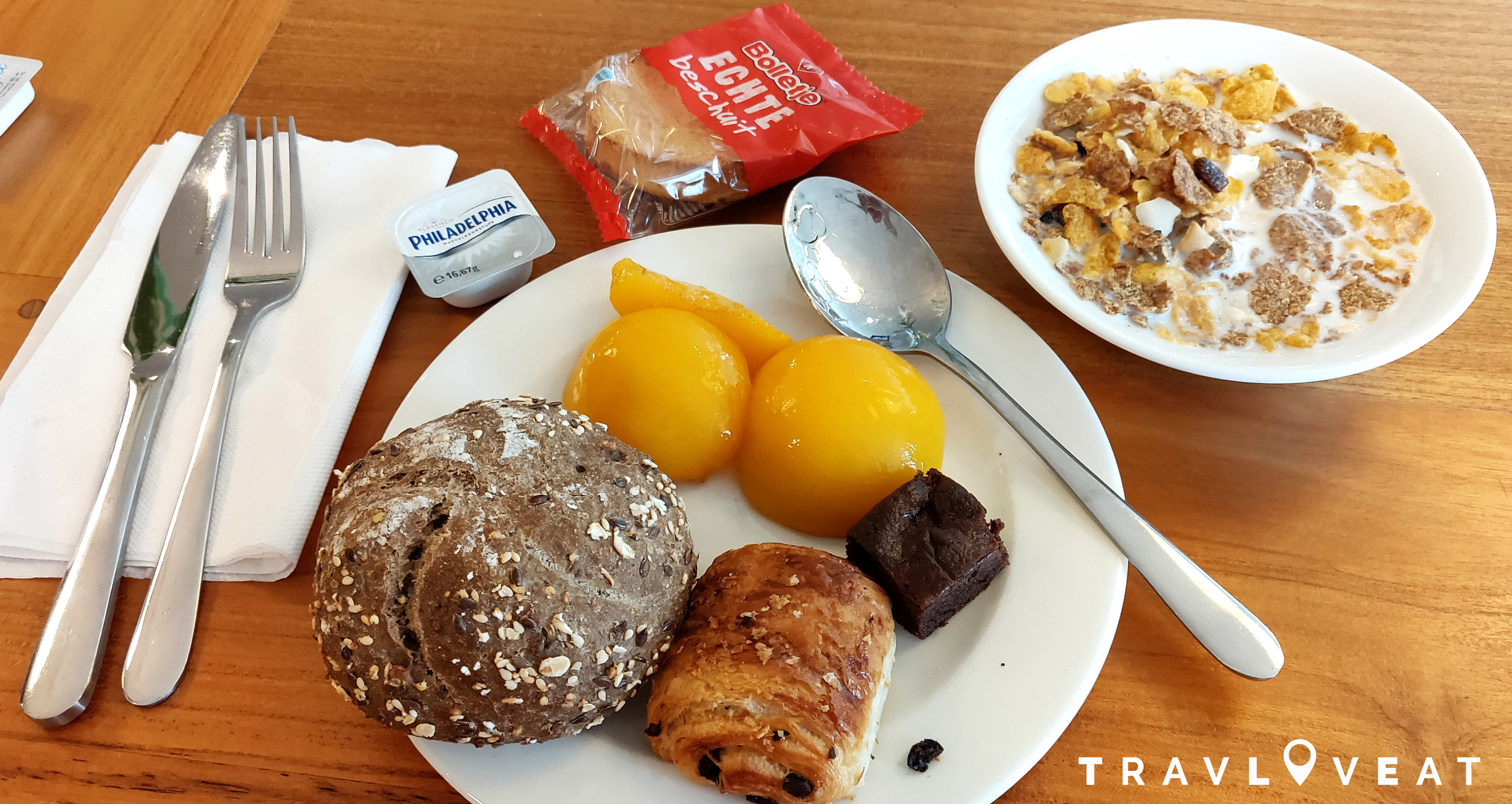 P.S: The yellow things on my plate are "Poached Peaches". Specifically mentioning it before my family disowns me for having eggs 😛
Restaurants/Supermarket Near the Hotel:
As we reached the hotel just before noon, we decide to grab a bite before finally dozing off. The hotel had a restaurant, bar and snack kiosk inside but we thought to explore nearby places. Getting out, we were pleasantly surprised to see a supermarket "SPAR" and a pizza shop "MARMARIS Grill & Pizza" right next to the gate.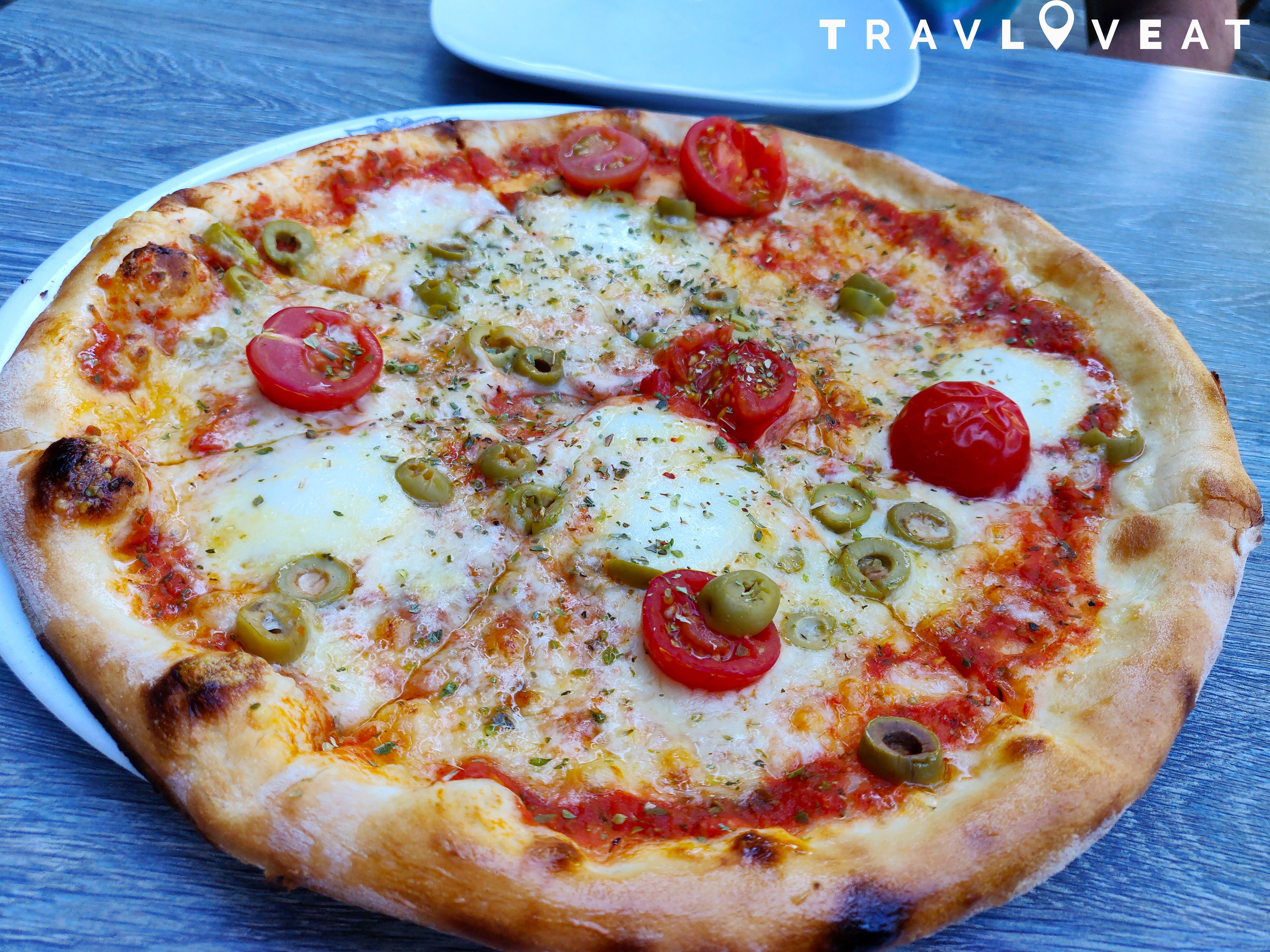 We had a delicious authentic pizza at Marmaris and picked a few snacks from Spar, then headed back to our room. There is one more restaurant which is just opposite to the hotel called "HERMES" which is a nice and cosy cafe for drinks and late night cravings.
The Spar outlet is open 6AM till midnight. It is quite well stocked with snacks, bakery items, smoothies, chilled beers, soft drinks, fruits and other stuff. You won't need to go anywhere else for general items.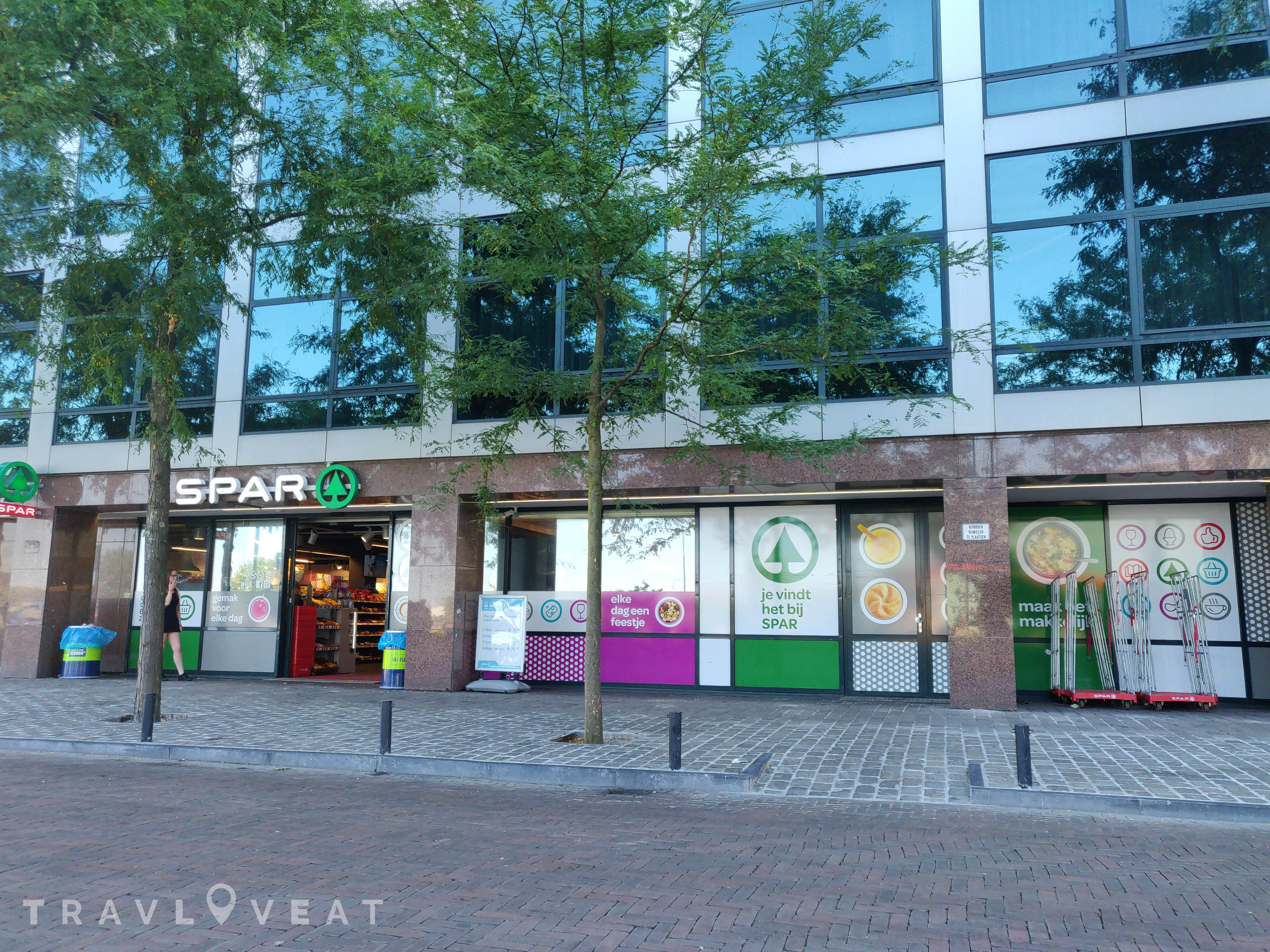 Most hotels in Europe are non-smoking, but there are plenty of benches in front of the hotel gate where you can go smoke (whatever you want to :p).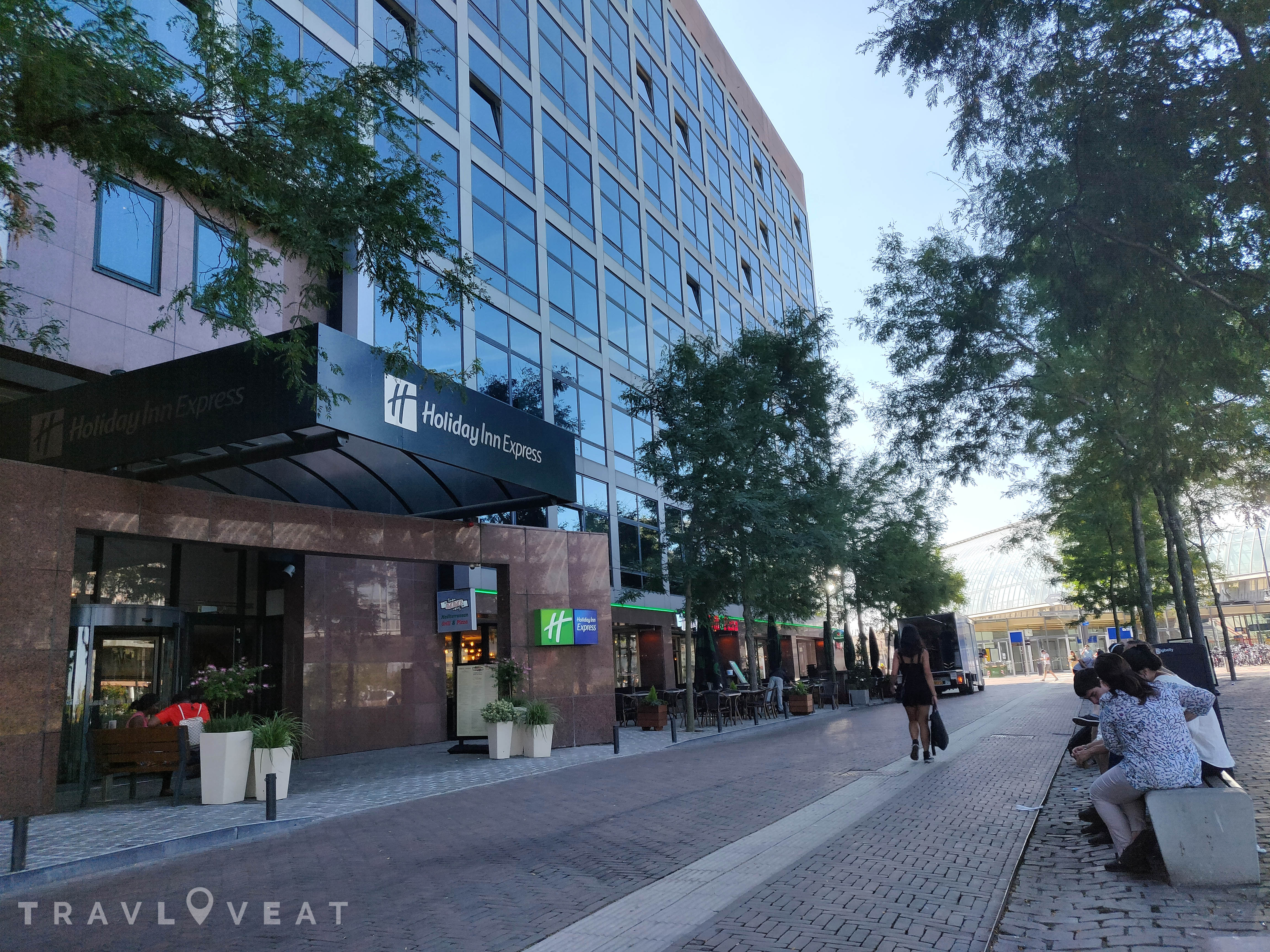 Summary:
In all we had a really pleasant stay at this hotel making our three days trip at Amsterdam feel like a breeze. The sheer convenience of having food & drinks available, excellent connectivity and lively surroundings are incomparable. We would definitely recommend it to anyone who is planning to visit Amsterdam.
P.S: All experiences and opinions shared here are our own. This article is not part of any paid promotion or advertising.
Other Holiday Inn Express properties we have stayed at: