Amsterdam, capital of Netherlands, is one of the hottest destinations these days amongst travellers on a European vacation. The city got much hype after it was shown in the hit Bollywood movie "Queen", where Kangana Ranaut was shown having a time of her life on the streets of Amsterdam.
It is funny and fascinating how movies create a certain picture about a place in our minds, even though we have never visited it. This trend began with the famous director Yash Chopra, whose cinema made Switzerland a synonym for love and ever-lasting romance. This time in Queen, Amsterdam was shown as a place for self-realization for the central character "Rani", who was stranded by her would-be-groom just a day before her marriage.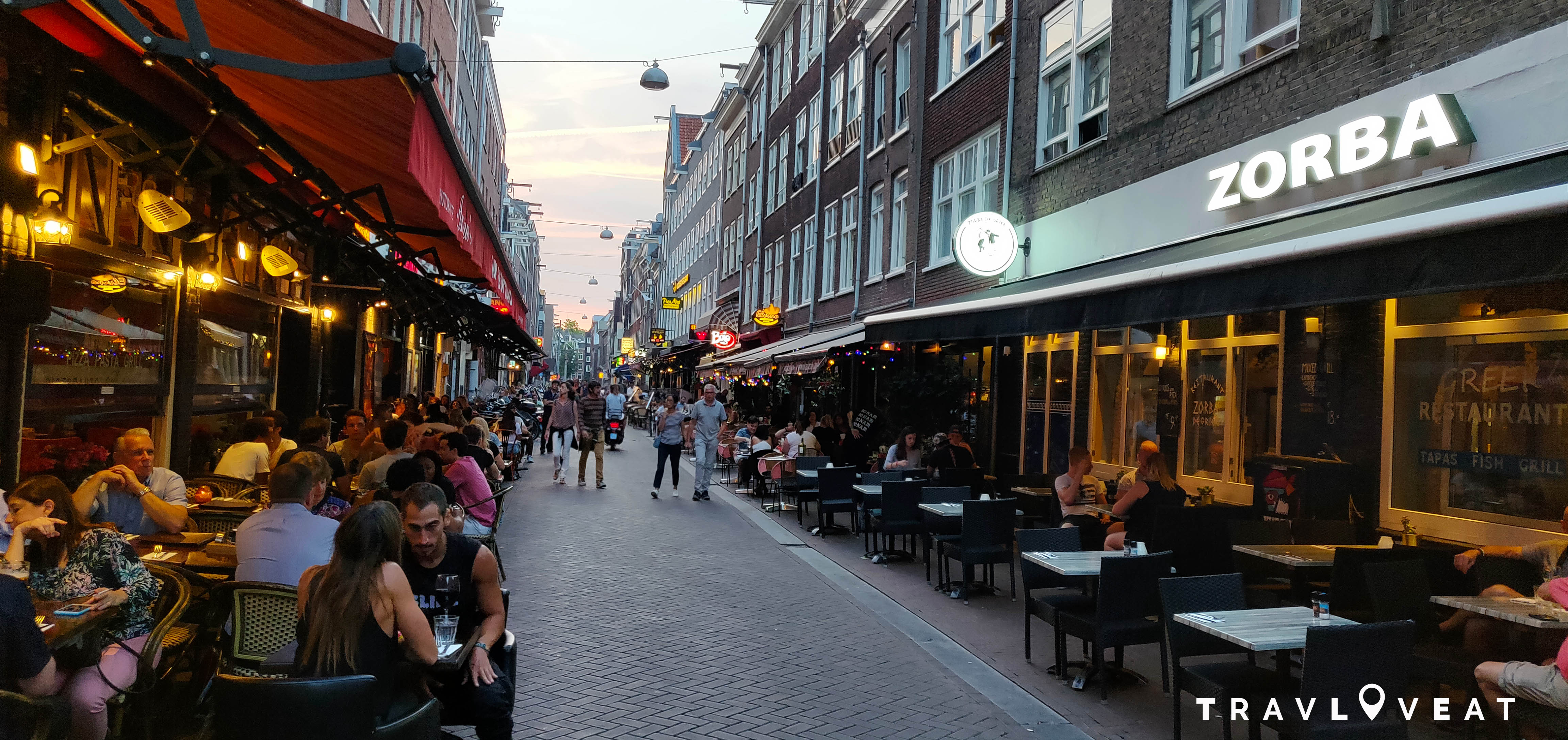 In my experience, it is a wonderful destination for those who want to enjoy a carefree and chilled out vacation. More than the touristy stuff, Amsterdam is famous for its vibes and ambience. The streets are constantly buzzing with cyclists and street walkers, with comparatively less vehicular traffic. For most of our transportation within the city we used trams only. However if you are someone who loves cycling you can hire a bike also.
We visited in July, so the weather was quite pleasant. The beautiful glistening canals embracing the cobblestone streets are a real treat for the eyes, especially in evenings. It seems there are more canals than roads! For our entire trip, we spent our spare time lost in the city, walking hand-in-hand, trying freshly brewed beers, tasting wine and enjoying the nonchalant atmosphere of this place.
Visa Requirements:
Allow me to summarize about the Schengen Visa (called  'Europe' visa by many). Although the visa is valid for unrestricted travel within the Schengen area (which comprises of 26 European countries), you need to apply at the embassy/consulate of the territory where you are staying maximum number of days. There are some other rules also, which I will try to explain in a separate post. We were visiting two countries – Netherlands and Switzerland in this trip. Our entry point was Amsterdam but our maximum number of days were in Switzerland, so we applied visa from there. For more information you can check out this site – https://www.schengenvisainfo.com.
Hotel:
We stayed at "Holiday Inn Express" in Amsterdam during our entire stay which was very comfortable and well connected by public transport. I have written a detailed post about it which you see by clicking here. Hostels/AirBnBs are also quite popular, especially with youngsters, so you can check them out too.
Things to Do
Adam Lookout:
We landed in Amsterdam on my birthday. My brother, who already lives there had already bought the tickets for Adam Lookout. It is a 360° Observation Deck from where you can enjoy an unobstructed panoramic view of Amsterdam's Old Town. The ticket costs 12.50€ for adults.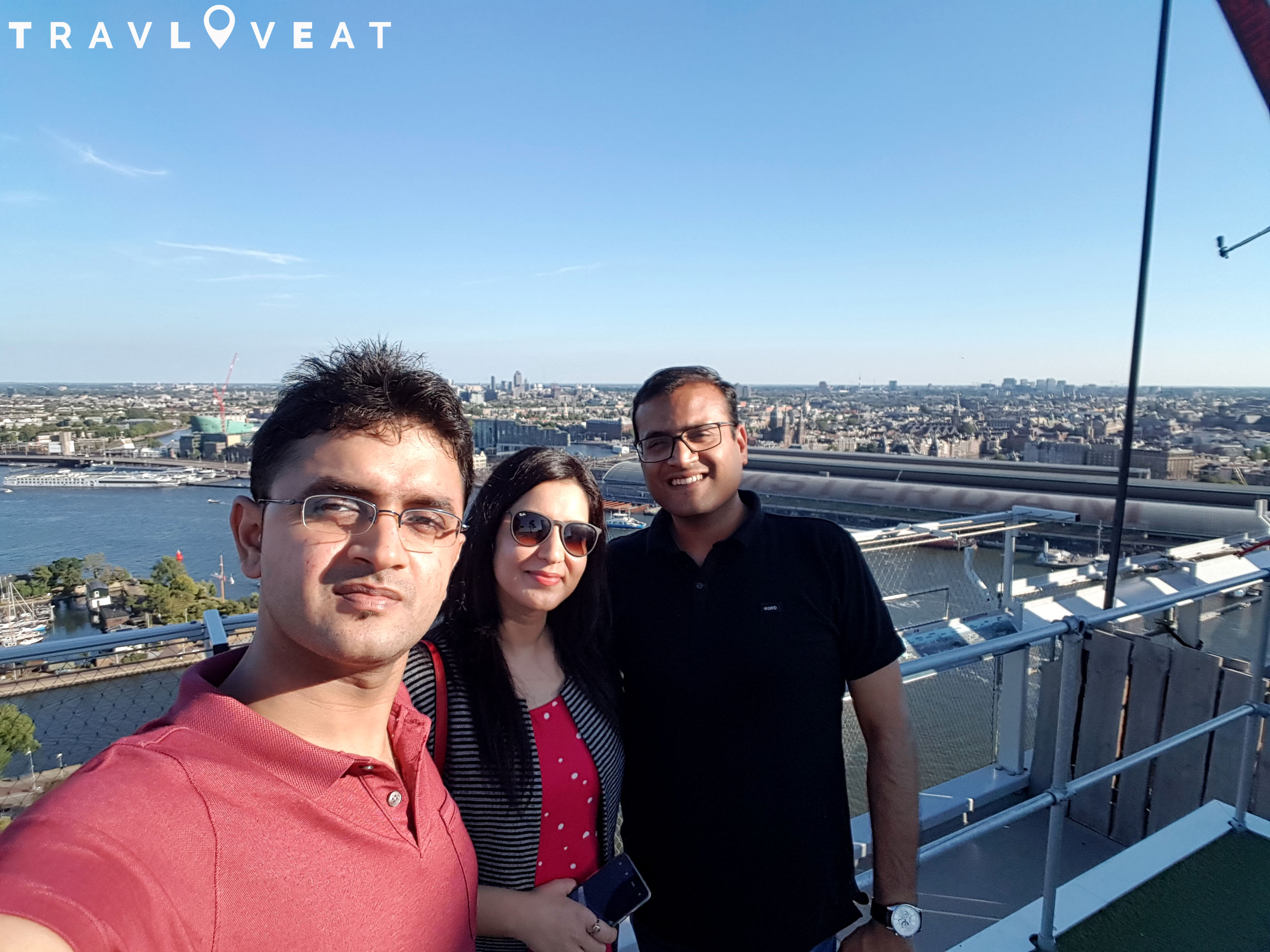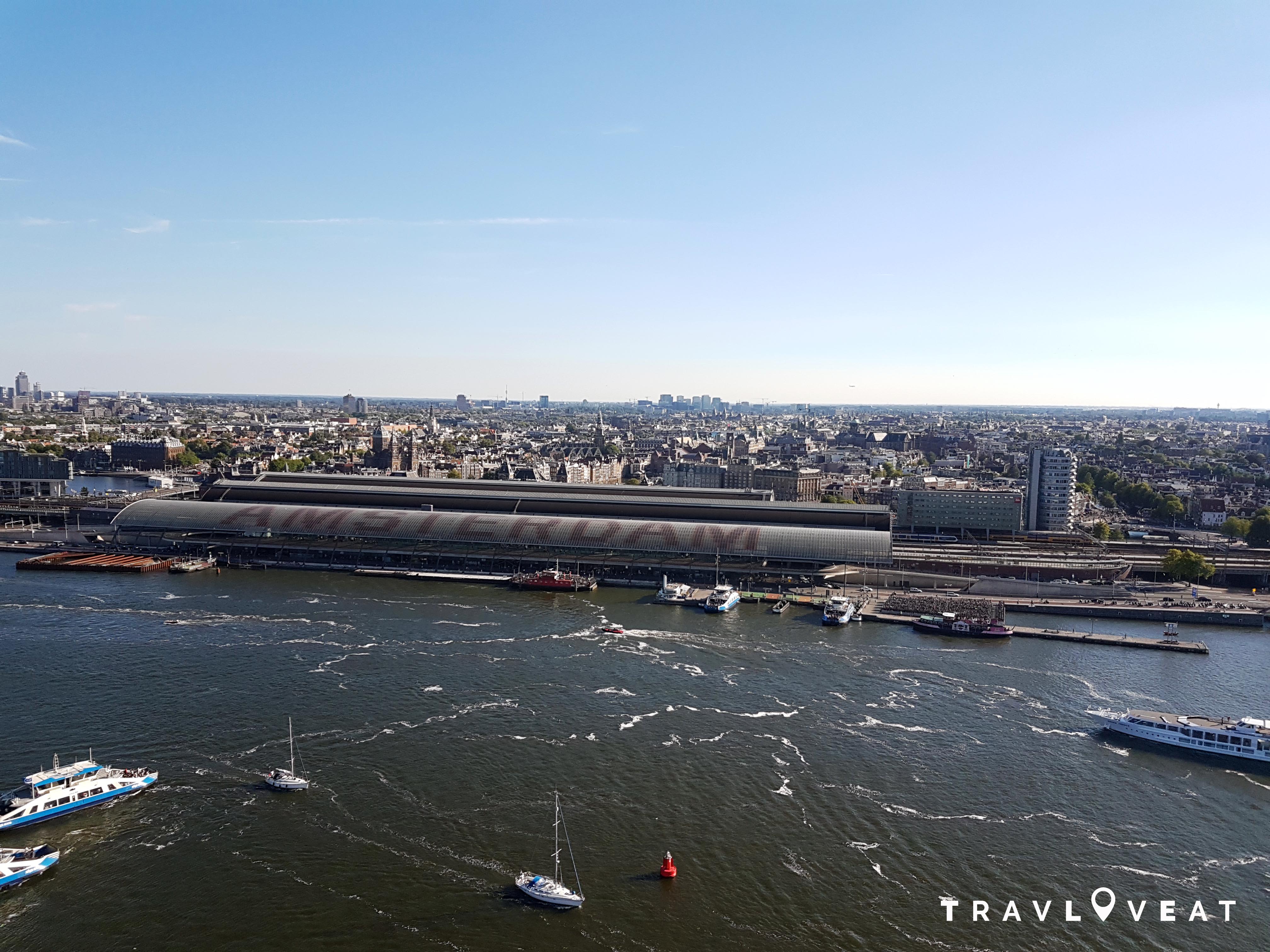 They have installed a swing "Over The Edge" for adrenaline junkies where you actually hang out of the edge of the building (22 FLOORS HIGH) while overlooking the entire city. The swing will cost an additional 5.00 € p/p. It was an exhilarating experience which really made my birthday a memorable one.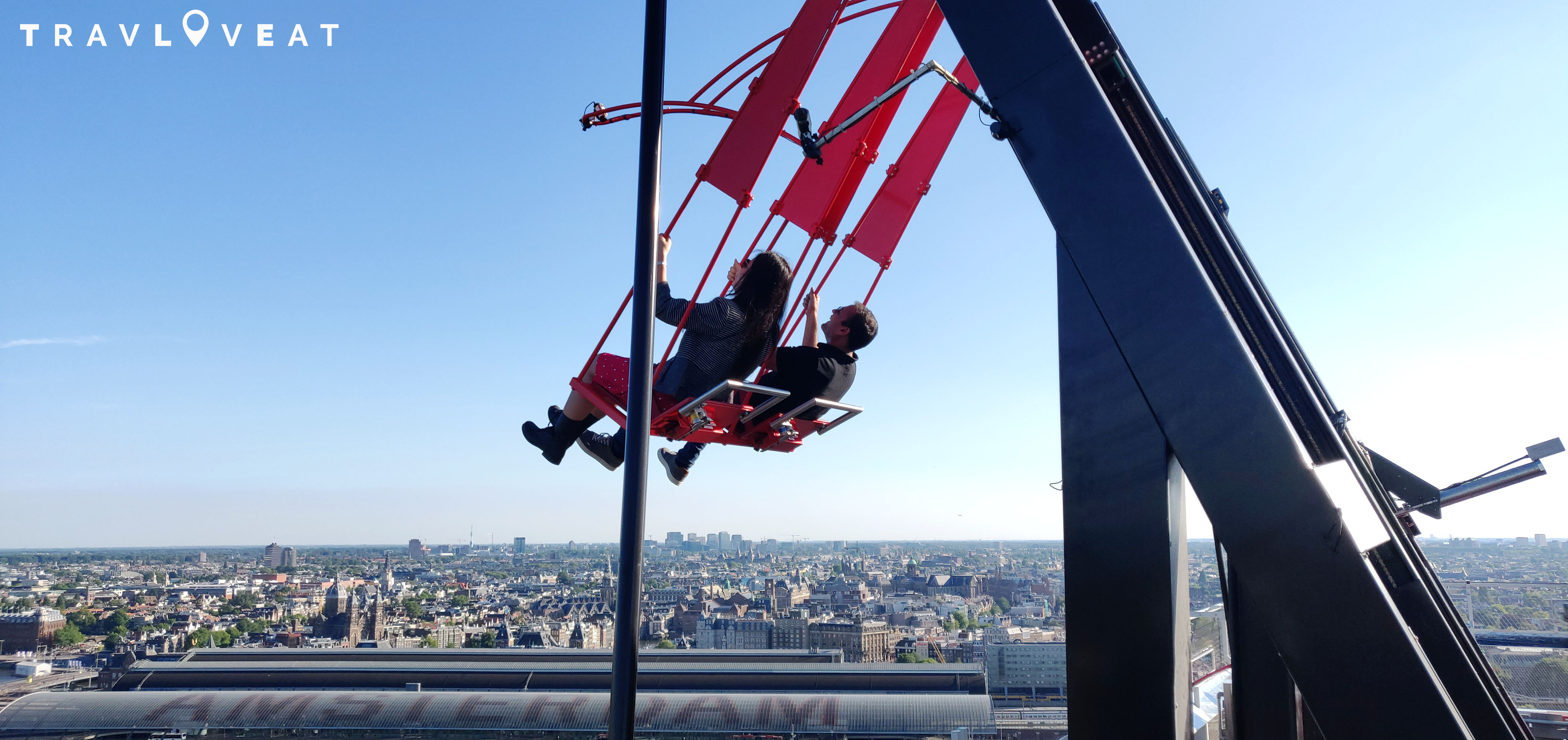 Dancing  Canal Houses :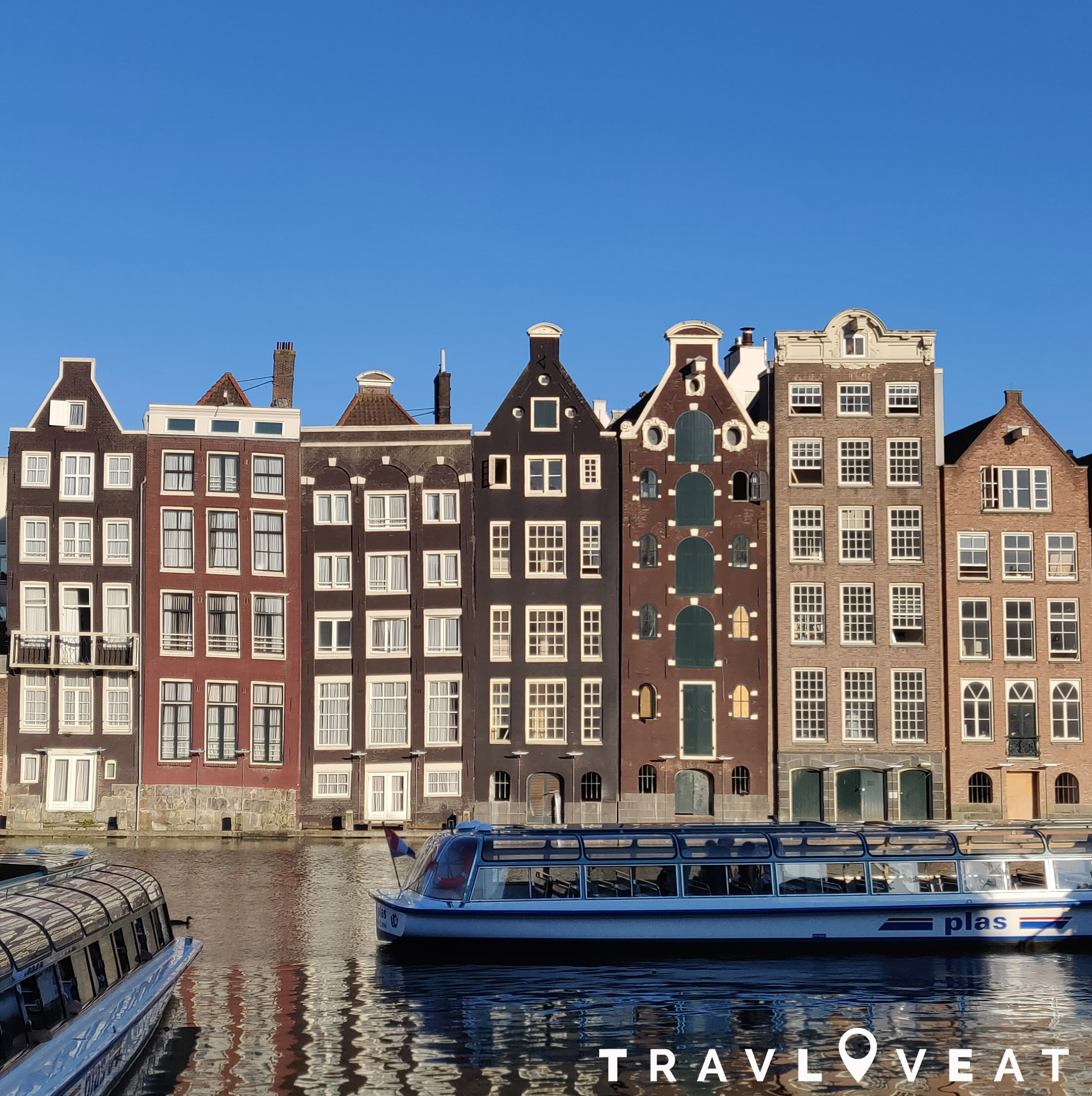 After Adam Lookout, we started a self organised walking tour of the town. The slower you walk, the more you will get to see and appreciate the beauty of small things here. Dancing Canal Houses are one of the most iconic and photographed places in Amsterdam. The houses are built along the canals on silts, so with passing time the houses have settled in, giving them a sunken or 'dancing' appearance.
Dam Square:
Another top in the 'must see lists of Amsterdam, "The Dam" is basically a city square, jostling with tourists and locals, surrounded by many other attractions like the Royal Palace of Amsterdam, Madame Tussauds Museum, The National Monument, Ripley's, The New church and various other attractions.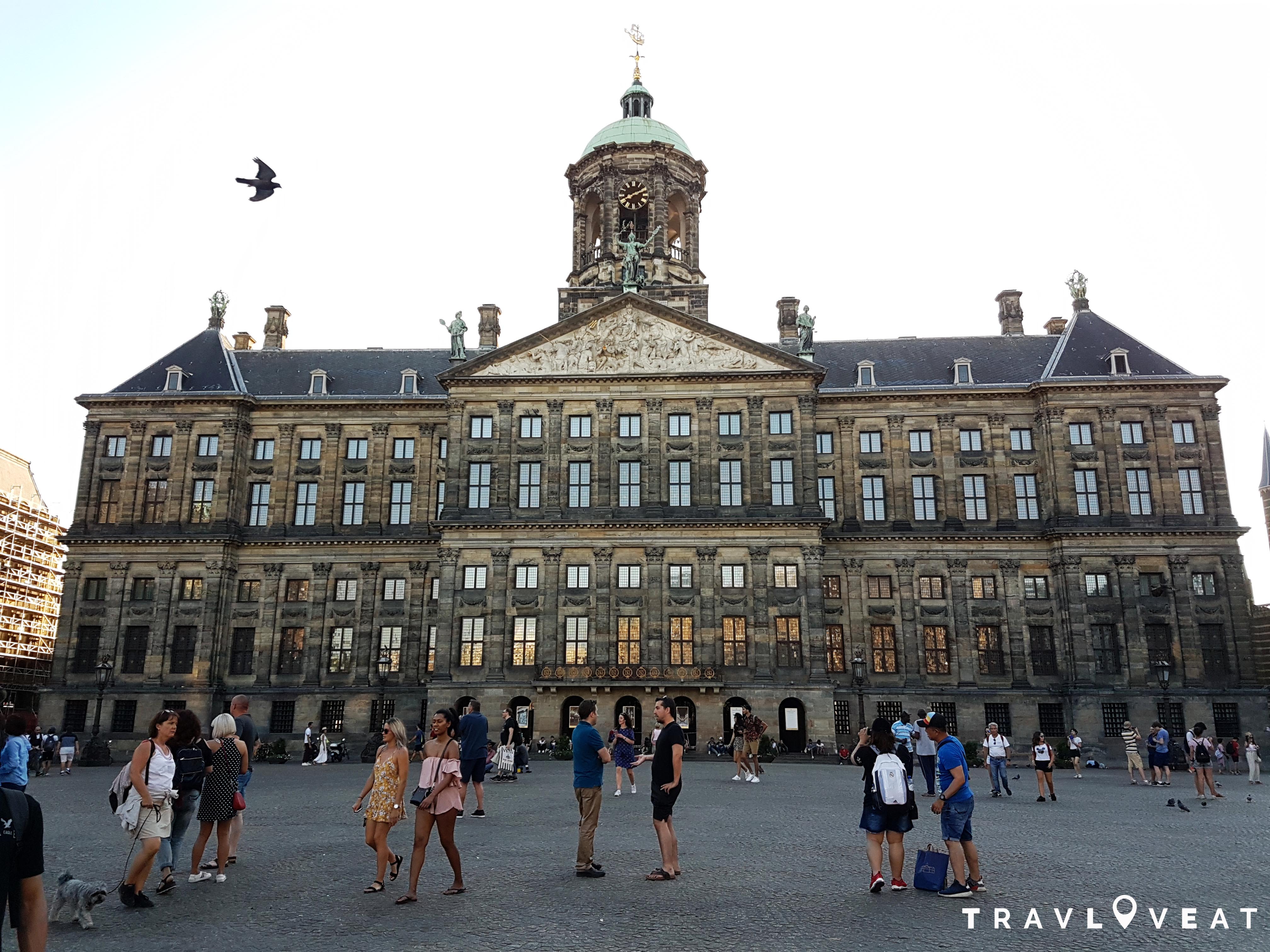 Canal Cruise:
The canal network runs like intricate veins through the entire city of Amsterdam. For this reason, the city is often referred as the "Venice of North" by many. The best way to explore these canals is to take a cruise through them, preferably in evenings when the water is sparkling with the reflection of beautiful twilight colours in the sky. You can book your tickets either online or on the spot. There are various packages available, inclusive of food, drinks, or both.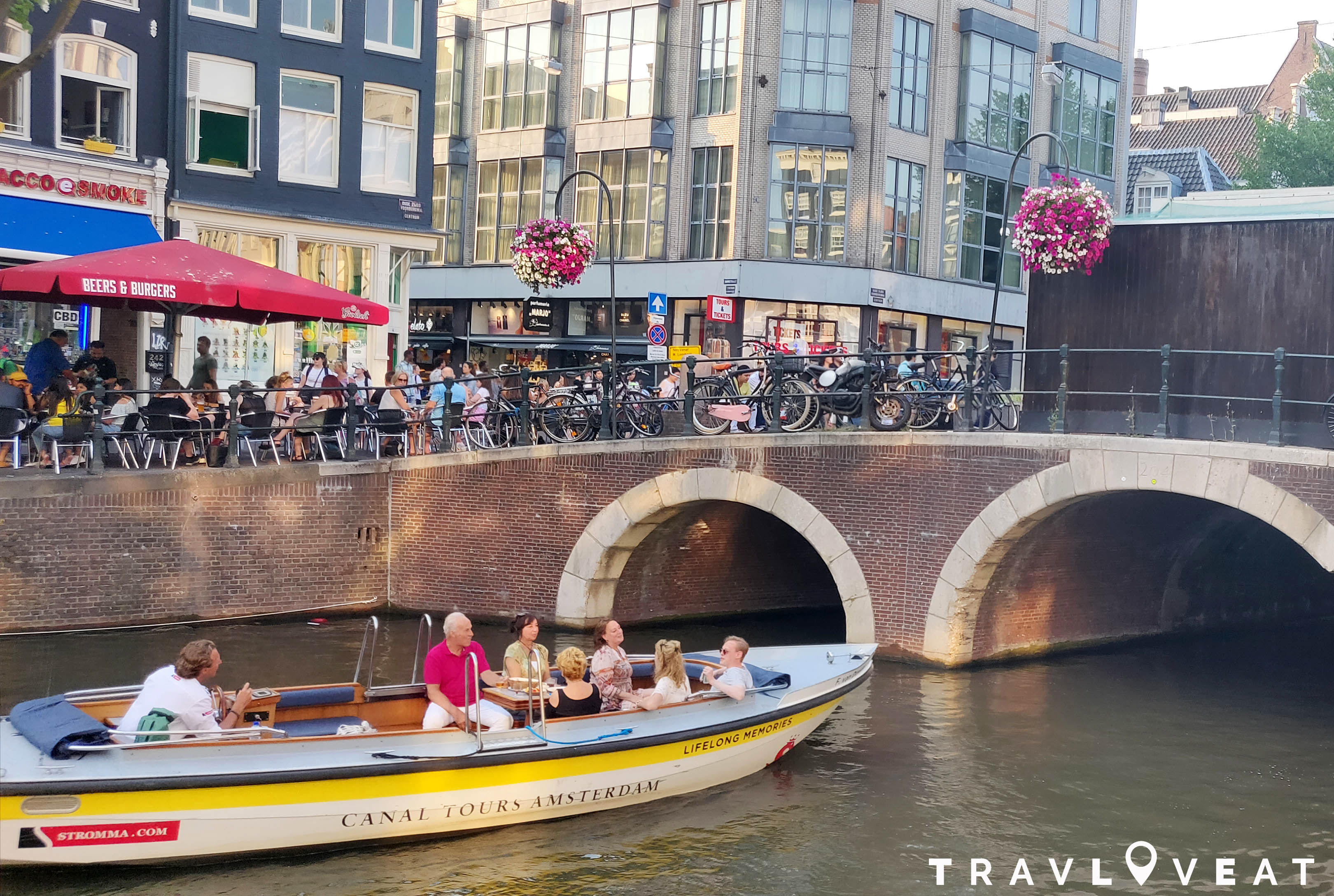 Red Light District Area:
One of the lesser known facts about Amsterdam is that, along with marijuana, prostitution is also legal (and regulated) here. That is why on various travel sites, you can see red light district tours being advertised and sold openly. Again, being a movie buff, I would refer to another scene from Queen, where Rani had to hand over a parcel to a friend of friend, who is a sex worker in this area.  The scene made the audience giggle, while giving a subtle message of how these workers are also common people with families and ends to meet. After dusk, you will see lots of scantily clad females behind glass showcases posing under neon lights.
(P.S: If you love your camera/phone, do not try to take any photos or videos here. Absolutely not appreciated!)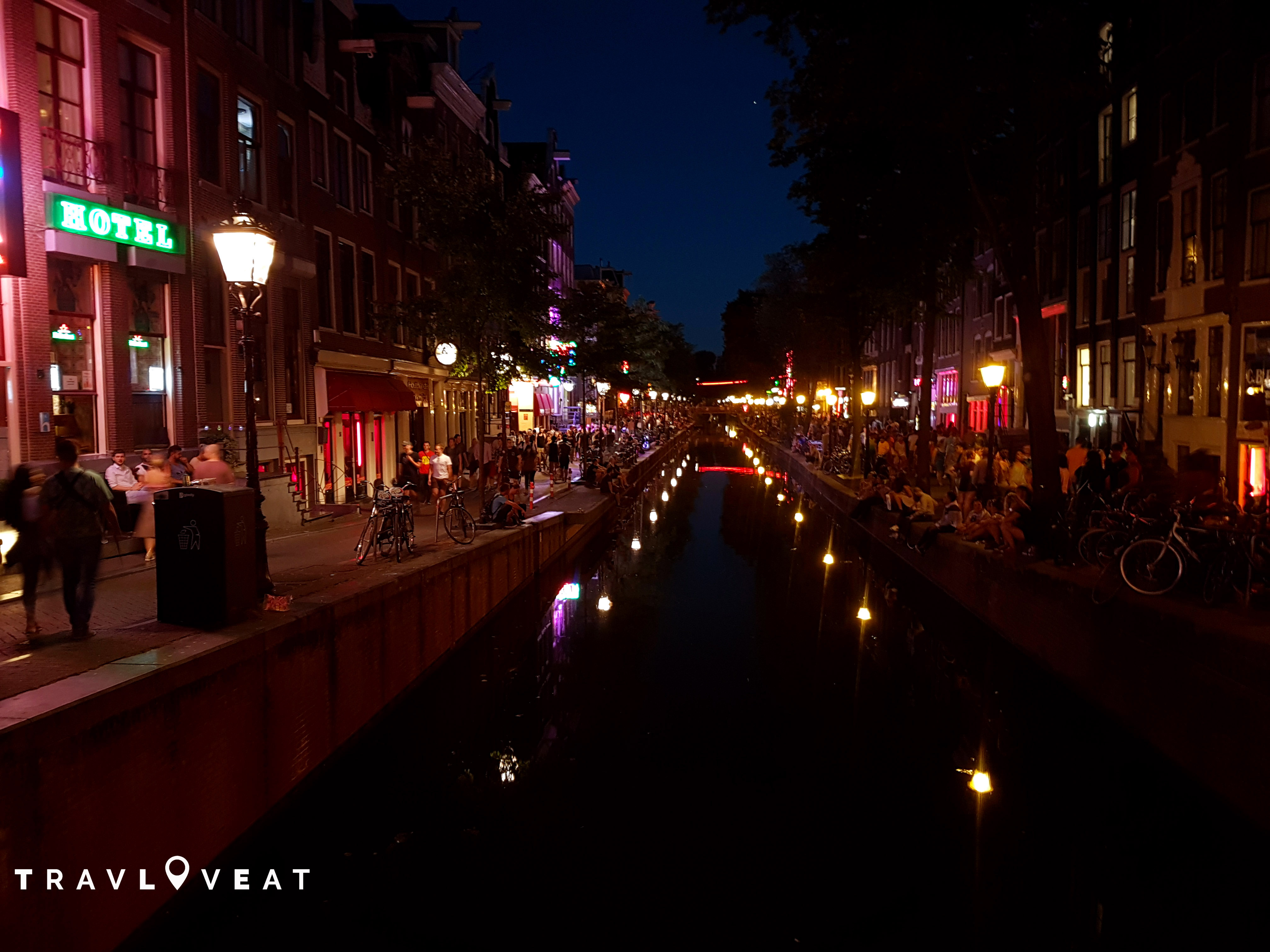 Heineken Experience:
If you are someone who is fond of beer and curious about its manufacturing process, then the original Heineken brewery is a must visit place.
Founded in 1873 and functional for more than a hundred years till 1988, it now has a walking tour which covers various topics like the history of beer, fermentation process (with the help of various dummy machines), manufacturing method, ending with chilled beer tasting. It costs 18.00€ /person and they also give you two tokens along with the ticket, in exchange of which you can have two pints.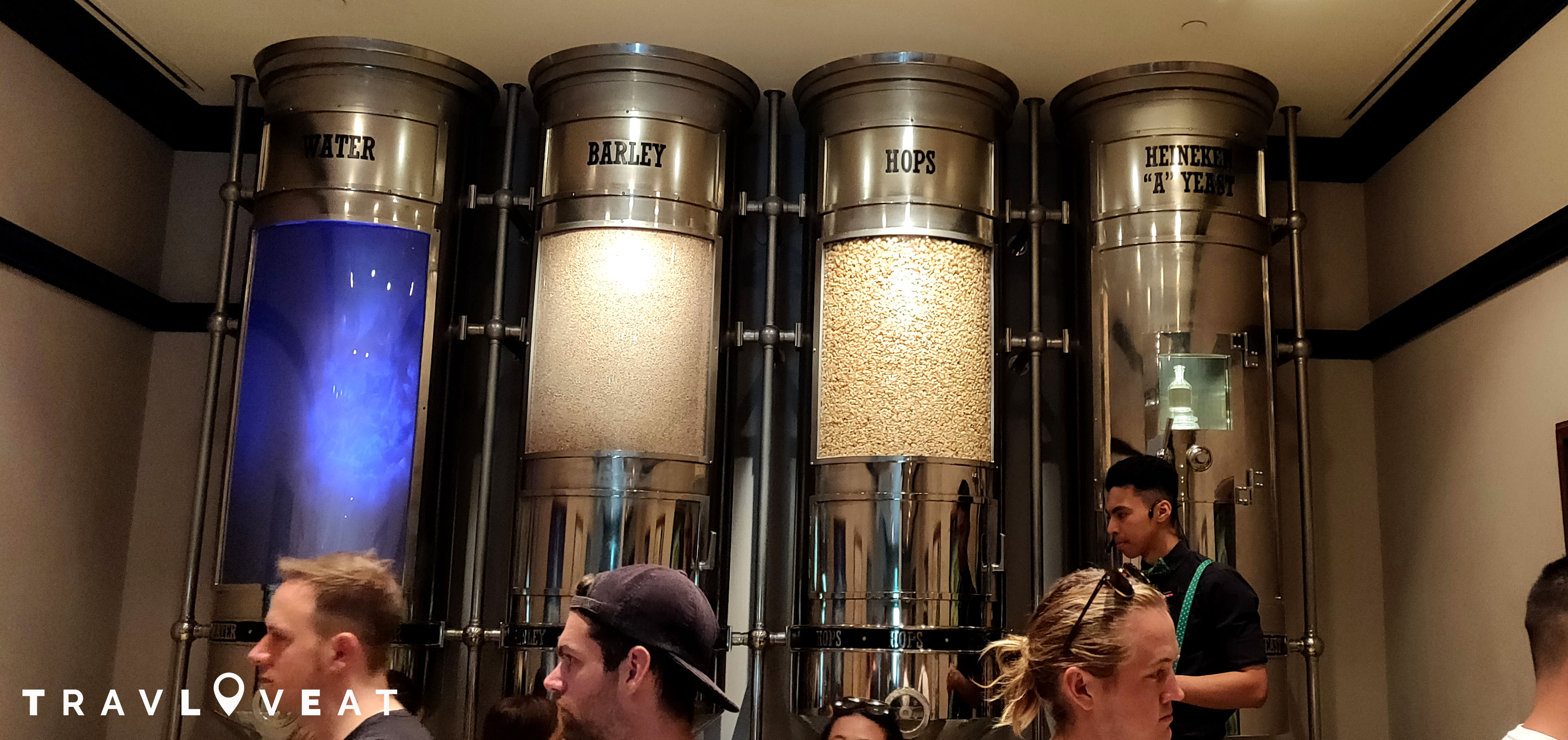 "I am Amsterdam" Signboard:
Another classic landmark is the "Iamsterdam" signboard without which any Netherlands vacation is incomplete. We had heard a lot about how this place is always over crowded, but on reaching there we found an all together different level of frenzy, with uncountable people clutching/hanging/sitting/standing on every alphabet. I too managed to got myself clicked sitting on the "D" (look closely :P).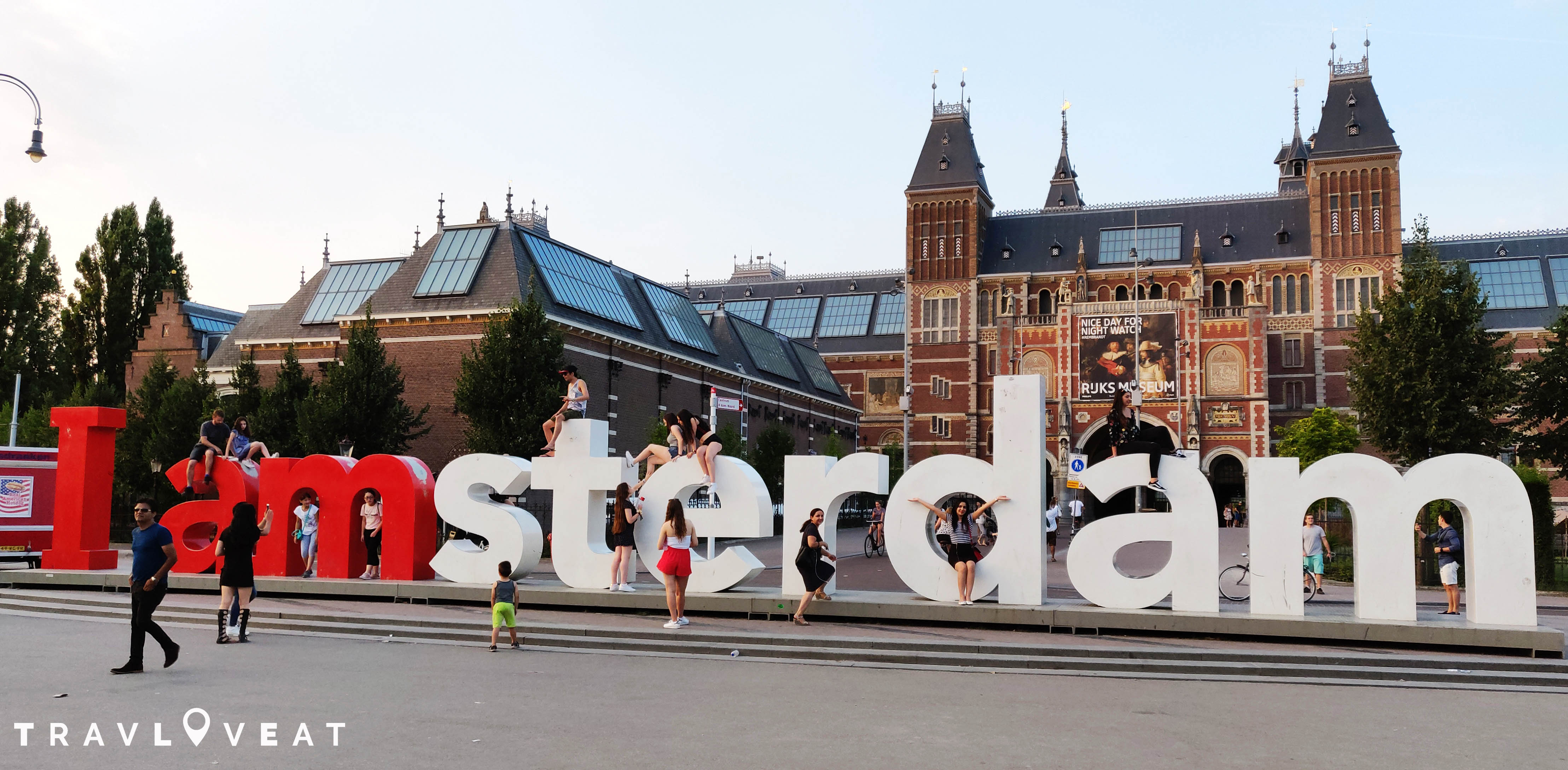 Sadly, as per news reports, this historical signboard was recently removed (check out that article here). However, you can still get yourself clicked with a similar one installed at the airport.
Rijks Museum / Van Gogh Museum:
If you are someone who has interest in arts and history, then do visit these two famous museums. Both of them are situated next to one another, so you can combine your excursion in a single day. The famous Iamsterdam signboard was situated in the garden of these museums only. Do checkout the entry timings and days before planning your trip.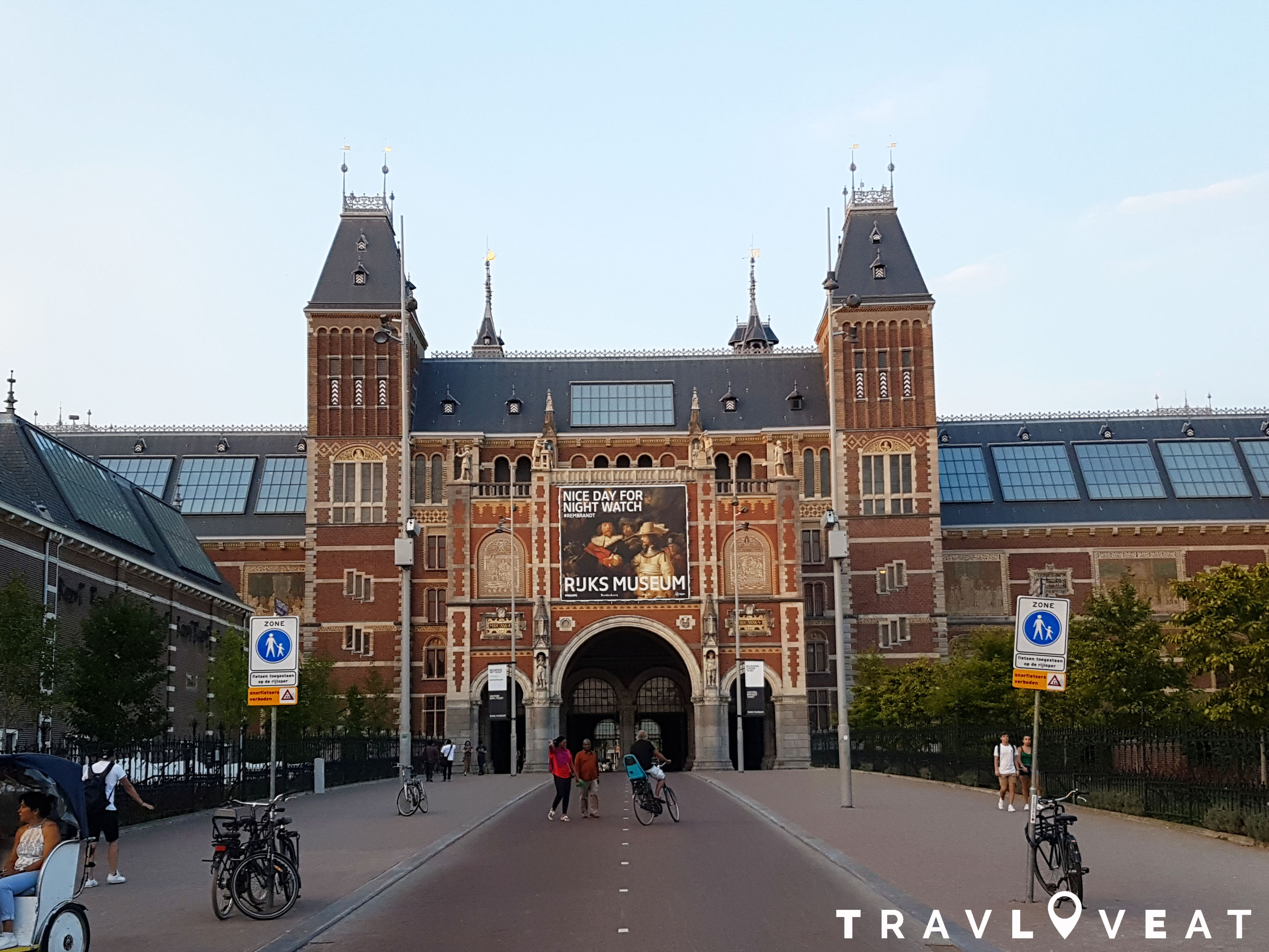 Jordaan: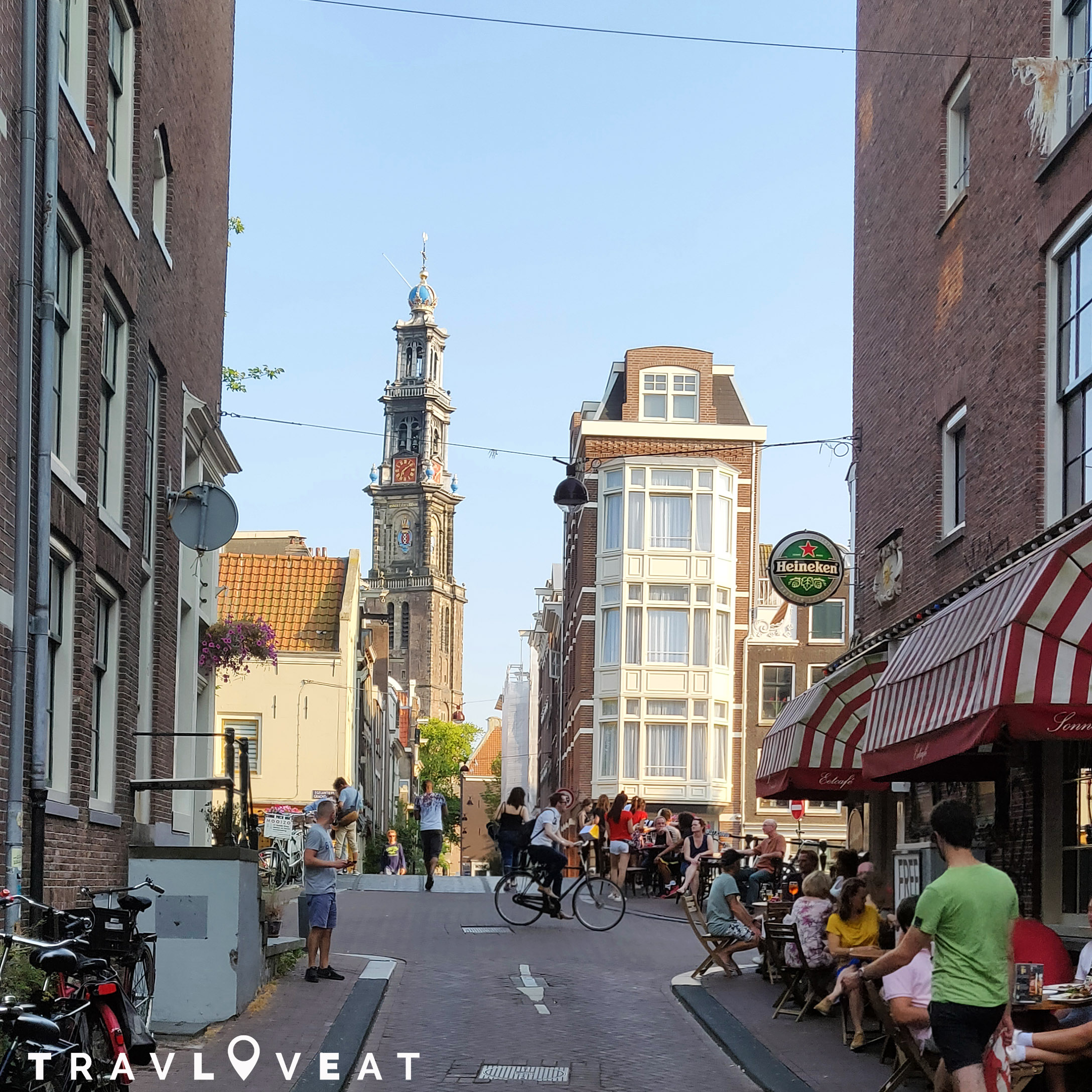 Jordaan is the one of the popular neighbourhoods of Amsterdam town, famous for its narrow streets, delicious eateries and lively pubs. We walked around this area amused by its old world dutch charm and exuberance. Out of the many cafes, my two recommendations are "La Perla Pizzeria" and "The Pancake Bakery". La Perla serves delicious authentic wood fired pizzas and you can actually see your order under preparation in their ovens across the street.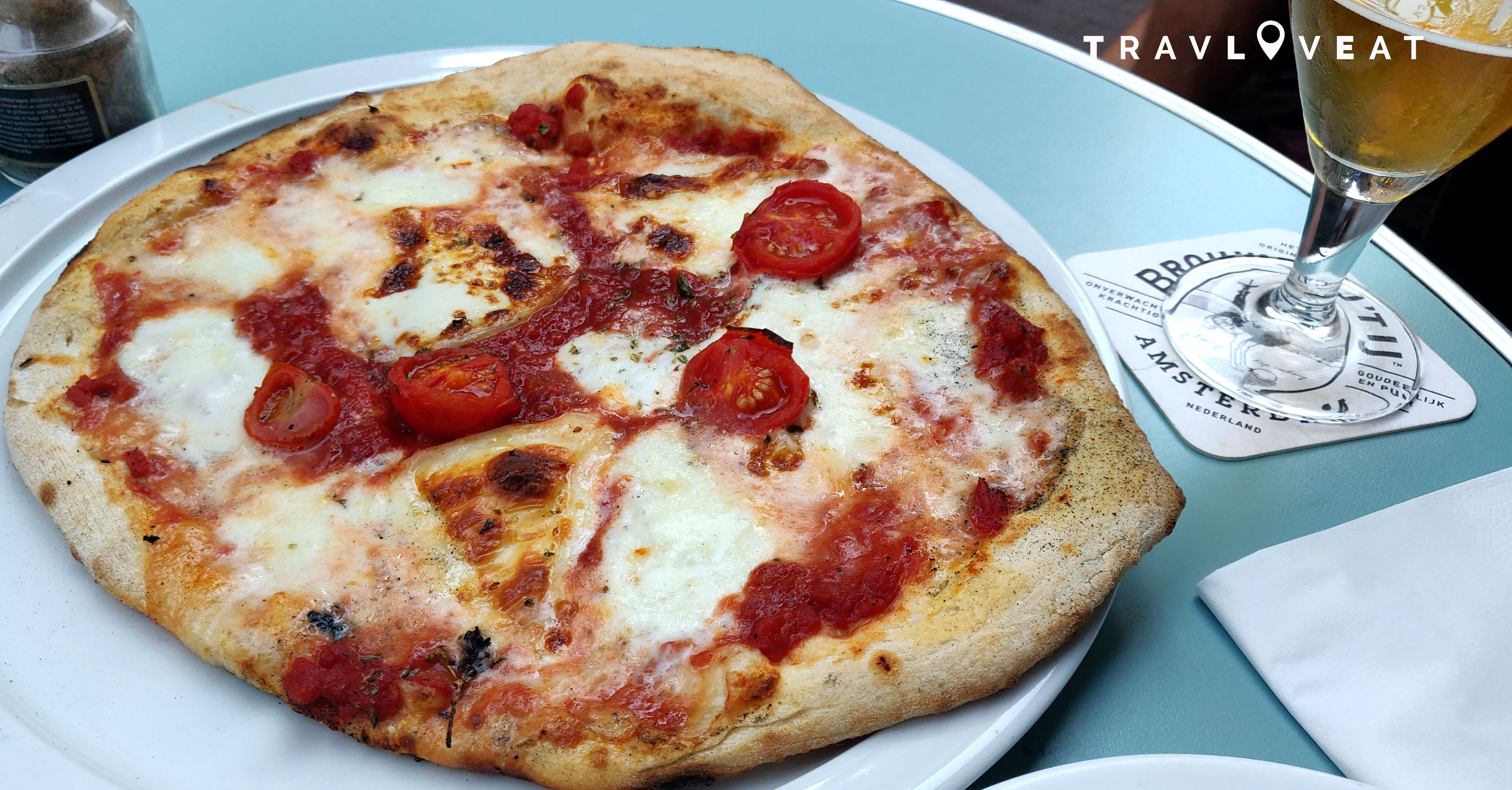 While walking in the same vicinity you will also cross Anne Frank's House which is yet another famous tourist destination. If you want to see it from inside you will have to buy an entry ticket for it. To avoid long queues, I would advise you to buy its ticket online.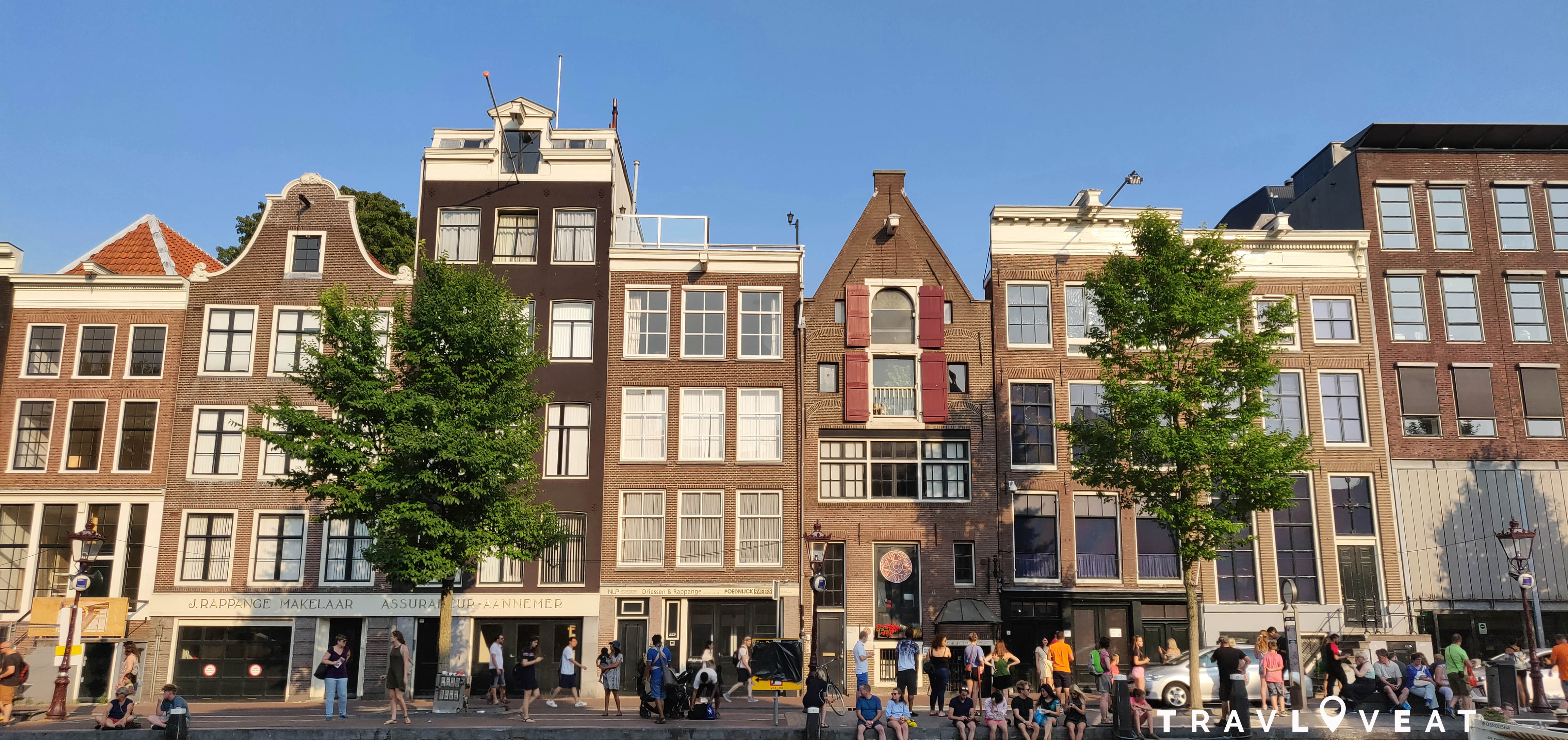 Some Cafe / Food Joints which you can explore:
The Bulldog Cafe ☕ 🌿
Cafe Belgique 🍻 

🍷

Green House United ☕🌿
Bollywood Indian Restaurant 🍛
La Perla 

🍕

 

🍷

The Pancake Bakery 🥞🥞
Metropolitan 

🍦

🍨

Brouwerij't Brewery 🍻
Zaanse Schans:
Zaanse Schans in Netherlands is a beautiful Dutch village on the banks of river Zaan. It is famous for its historic windmills, traditional wooden houses, barns and workshops. Cheese Tasting, Wooden Clogs warehouse (where you can see how clogs are actually made), museums, handicraft shops, bakeries and pancake restaurant etc make this place a fun and educational experience. It takes just 40 minutes from Amsterdam to reach Zaanse by bus or train. So If you are visiting Amsterdam I would recommend saving a day to experience this part of Dutch culture. I have shared my experience in youtube video which you can checkout by clicking on this link: https://youtu.be/Mjjzm_0LPU8

If you know of other happening or must-visit places in Amsterdam, then do mention them in comments below. Thanks for reading!! 🙂
(Disclaimer: All the views/experiences shared here are personal and not part of any kind of promotional activity.)