Dubai is often described by people as a concrete jungle or heaven for shopping lovers. With evolving time and technology, the place has so much to offer than just brands in high end malls. 
One of the adventure activities which I tried in Dubai is XLine, which happens to be the world's longest urban zipline. The XLine drops you from 170 meters above ground level and takes you over land and water at a speed of 80 km/hr. It is different from Bungee jumping in a way that you are covering the distance horizontally in downward slope instead of vertically, hovering above the city, travelling a distance of 1 km. The zipline starts from Amwaj Towers in JBR and ends at Dubai Marina Mall terrace.
Personally I am very much afraid of heights but I decided to go for Zipline as it seemed to be a fun activity and I wanted to try something like this from a long time.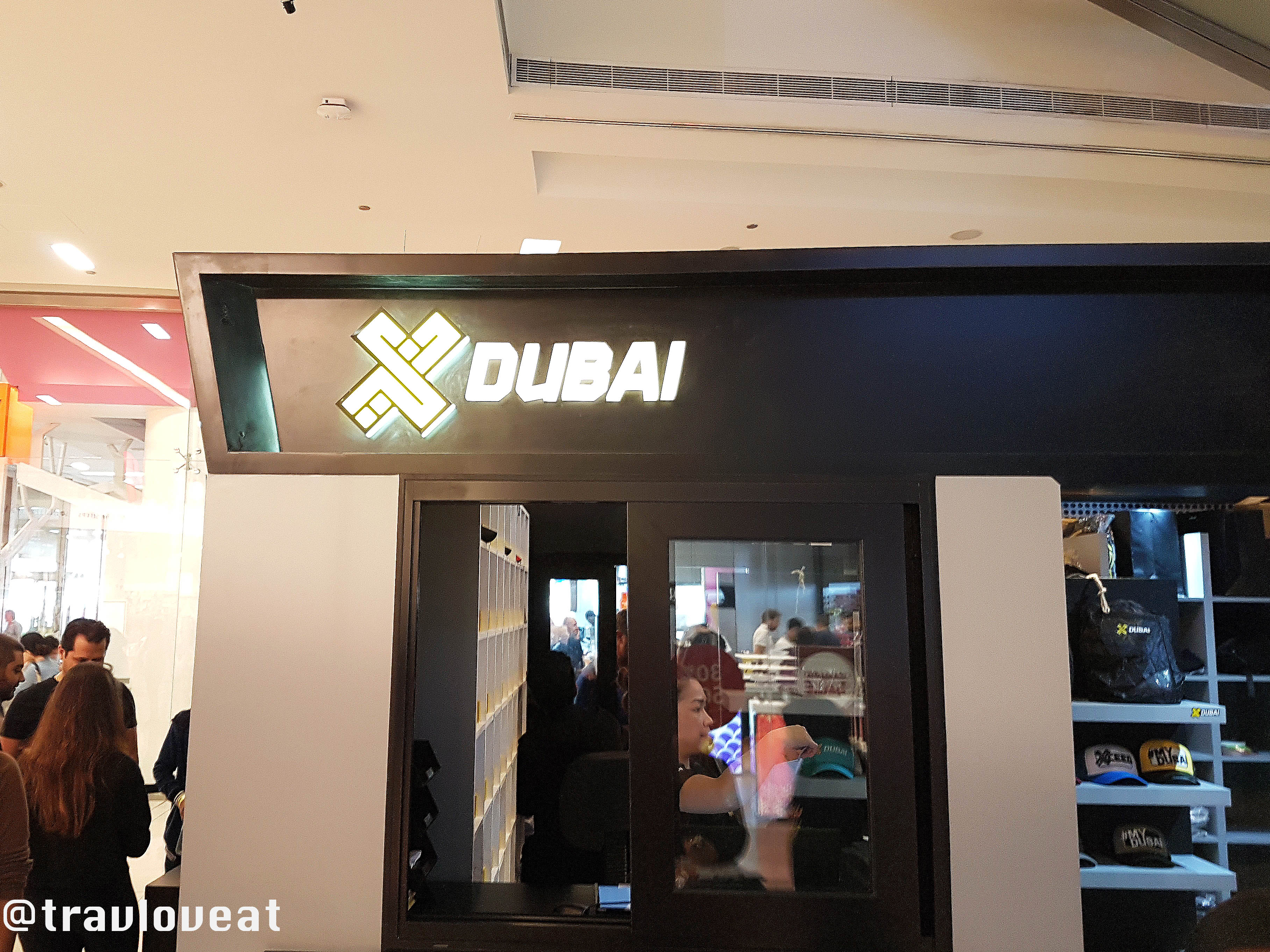 Fee:
A single ride down the zip line costs AED 650 for one person. If you are going with your partner or friend or any other family member together as a pair, you will get it for AED 1200 i.e. a discount of AED 100. I went on this all alone paying AED 650 as my better half clearly refused to be part of this "craziness" 😉 .
Buying Tickets:
The first step is to buy tickets for the XLine. You can buy it at the kiosk present inside Dubai Marina Mall or online at http://xdubai.com/xline/index.html. Online you have the facility to select any slot which is suitable to you. We bought our ticket from the kiosk present at the mall. I would suggest picking up tickets in advance as sometimes they are not available for the same day. We went around 4:00PM on our first day where they told us that they have no slots left for the day. So we went in the morning next day at 9:00AM and got them.
Form/Disclaimer highlights:
Before you head for the Zipline you are asked to fill a form that asks for all your details like name, age, date of birth, nationality and Email ID etc. Please fill the Email ID carefully as your pictures and videos recorded during the course of Zipline would be sent on it.
The form contains the disclaimer where it says that no one is held responsible for your accident or death during the course of activity. So read the form/guidelines/disclaimers carefully and decide yourself whether you are fine with it and only then go ahead. They also ask you to submit your ID or passport (as security for the GoPro) which is returned to you on coming back.
Pre-requisites:
You have to be fit and healthy for undertaking this activity. After filling the form, all participants were weighed and details noted down. I noticed that people who were above 100 and below 50kg were not allowed. So please enquire this part before making final bookings.
Location:
As I have mentioned above, the XLine kiosk is located inside Dubai Marina Mall but for the zip line part you will be transported to Amwaj Towers in Jumeraih Beach Road area. The transportation part will be taken care off by XLine team itself. You will be taken in a shuttle bus with other participants to Amwaj Tower 4 from the mall. You are accompanied by a hostess/volunteer from XLine team in the shuttle bus.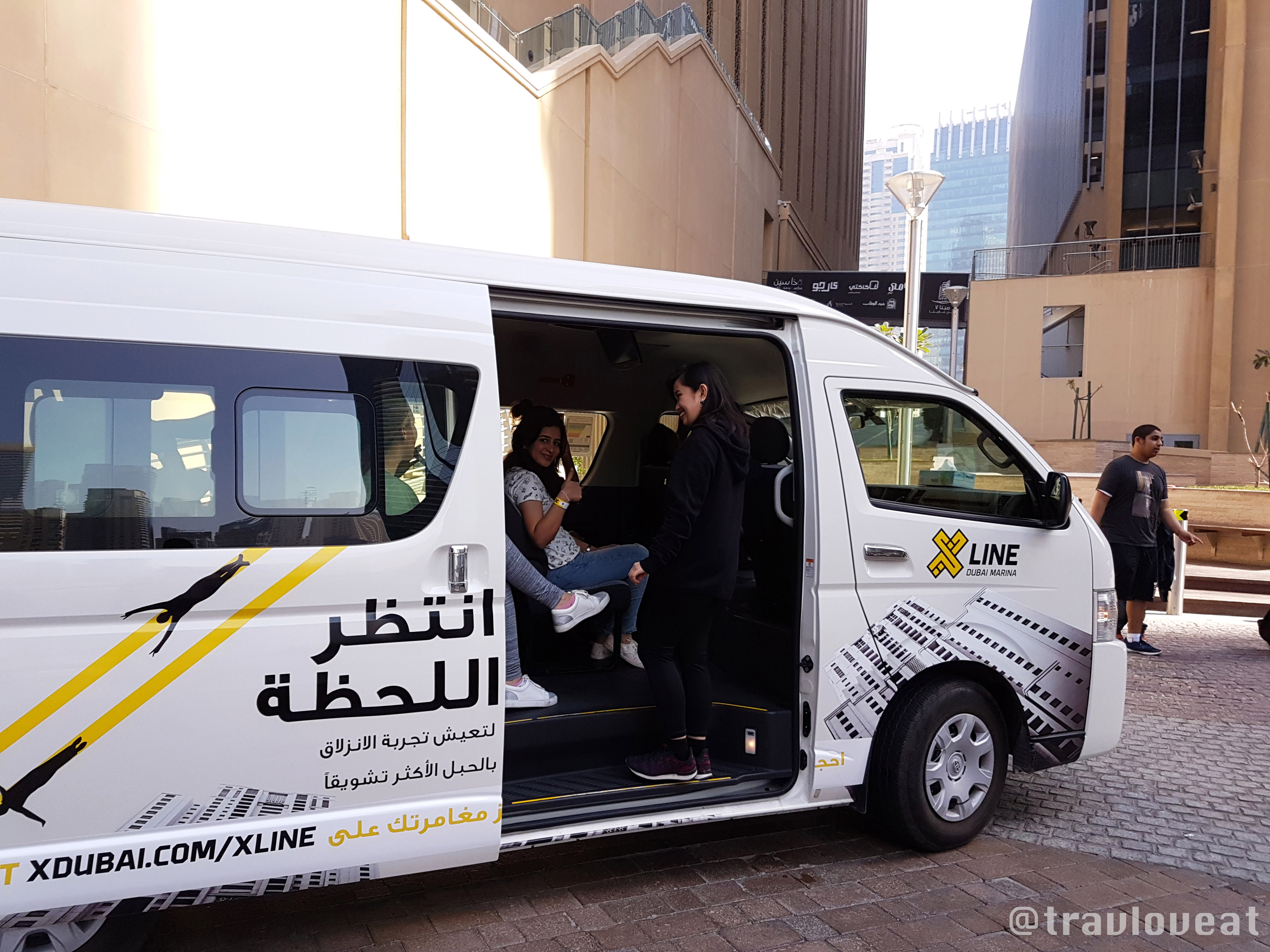 Please note: No one else is allowed to accompany you nor you can take any of your belongings there including phones. They provide a small locker where you can keep your mobile or handbags etc for the duration of the activity. Lockers are present just behind the ticket kiosk @ DubaiMarinaMall.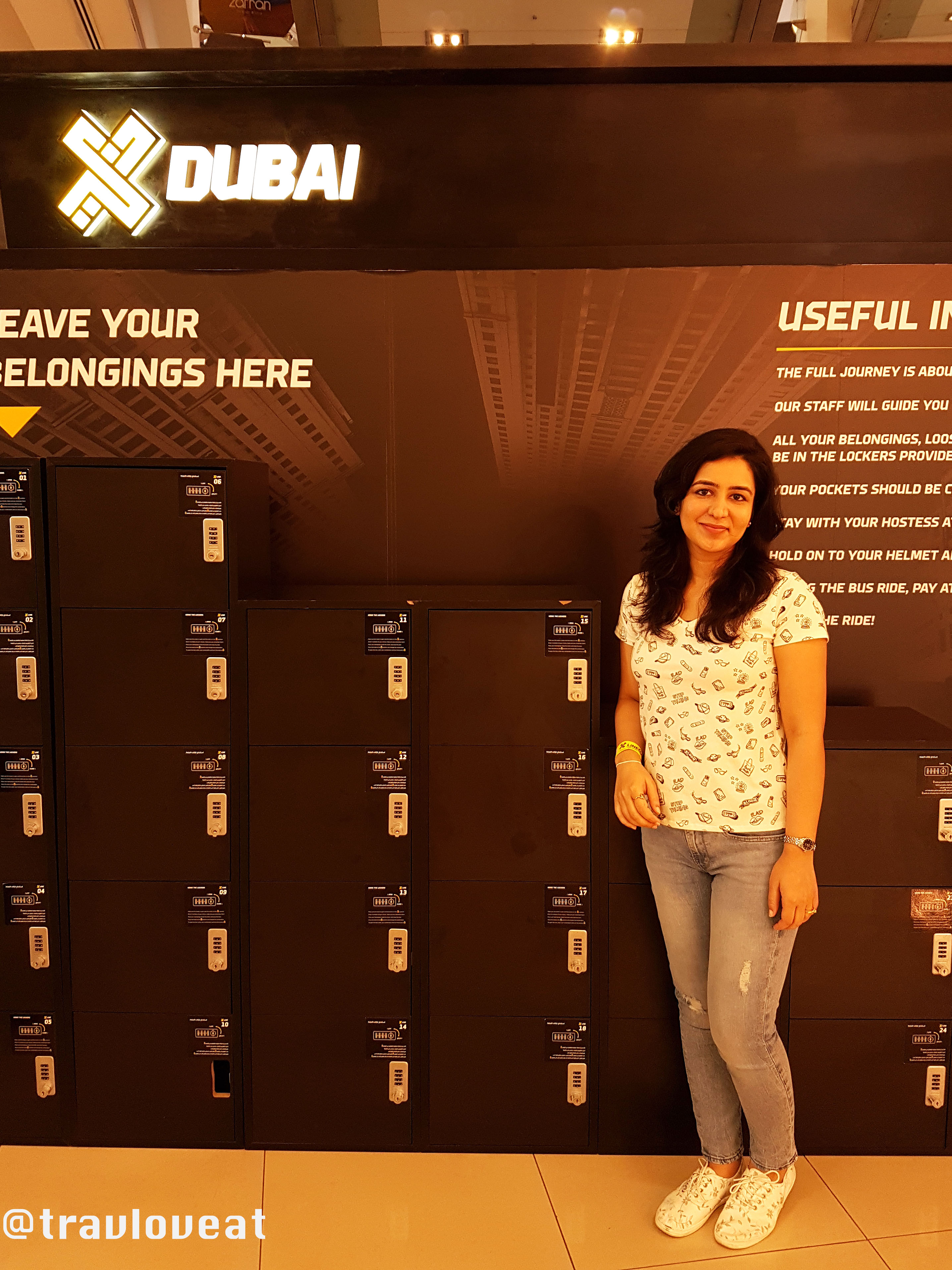 Experience:
Before finally making up my mind to go for the zip line, I had seen few videos on YouTube just to have a vague idea of what to expect from the entire setup. The ticket buying, forms filling and transportation went quite smooth and quick.
On reaching Amwaj Towers, you take a lift for the terrace @ 42nd floor, then get in a queue and wait for your turn. The volunteers were helpful, friendly and explained us really well what and what not to do during the course of action.
I was handed over a helmet with a GoPro fixed to it. The safety jacket and helmet were fastened securely by a trained professional. This GoPro would record all your reactions during the one minute XLine. Your clicked pictures and this video recording will be mailed to you on your given email id after a day or two. The staff who were responsible for harnesses seemed to be extremely professional and cautious about their work.
The scariest part of the entire activity is when you are at the top and just about to get released. All you are seeing from there are tiny little cars and ant-sized people walking on the streets, a whopping 557 feet below! (I felt pukish for those few seconds) but then I focused on looking in front rather than down, at the beautiful Dubai city filled with splendid skyscrapers in the foreground of bright blue skies. To be honest, I am myself very much afraid of heights but was scared for only the first 10 seconds and after that it was shear thrill and adventure.
Watch the complete video on youtube at following link:  https://youtu.be/Trk4D22CQ08

Be little brave and keep your eyes open as the ride lasts for just 1 minute. The time may seem short but it will be etched in your memory forever (yes definitely a happy memory!!). You will experience so many emotions together – fearfulness, weightlessness, happiness, gutsy & at the end, it will leave you ecstatic. You feel like a free bird for a minute flying all alone in the sky with your wings wide open and this makes the experience totally worth it. 🙂
Rating:
If you are an adrenaline junkie, then surely you are going to love this it . I personally enjoyed it, so would rate it 5/5.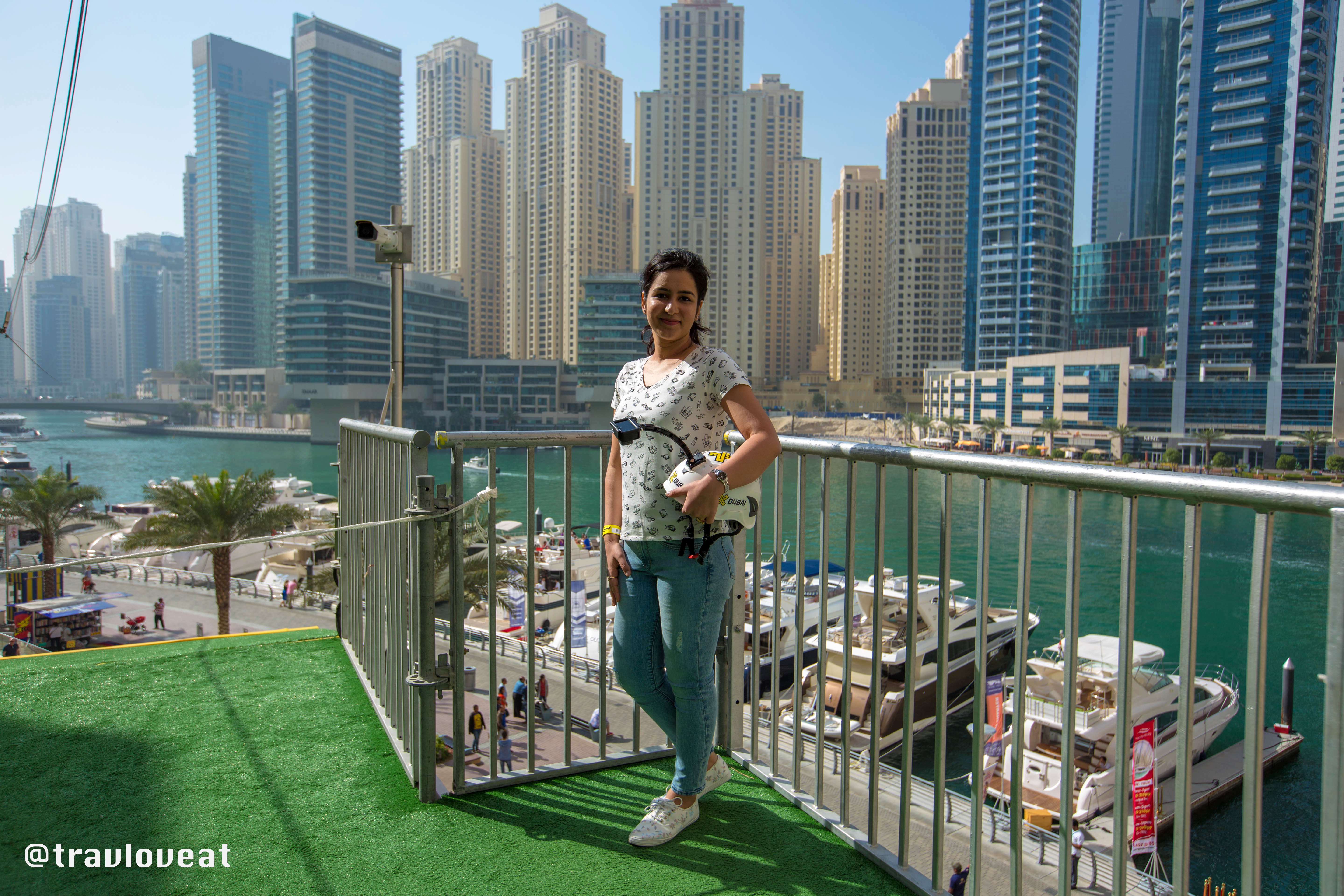 Thanks for reading!! Bon Voyage 🙂
(All opinions expressed here are my own. This is NOT a paid promotion. The entire article is based on my personal experience.)