One needs to taste the local cuisines and food in order to truly understand the essence of any place. As Deborah Catre has so rightly said "You have to taste a culture to understand it", exploring the food of a place is integral part when it comes to travel. Me & my husband are always eager to explore restaurants and eateries, no matter how big or small they appear. Although he is really fond of Indian food, but then it is also sometimes necessary to break the monotony and routine of your palate.
As we all know New York is a cosmopolitan city, it has people from all cultures and nationalities; the same spirit is clearly reflected in its restaurants and eateries. From Chinese to Ethiopian, Japanese, European, Indian, just name it and you will find a restaurant serving the authentic cuisine of that particular region.
After enjoying a brief sunny walk from Union Square to Flat Iron Building, we decided to grab a bite before heading to Chelsea market.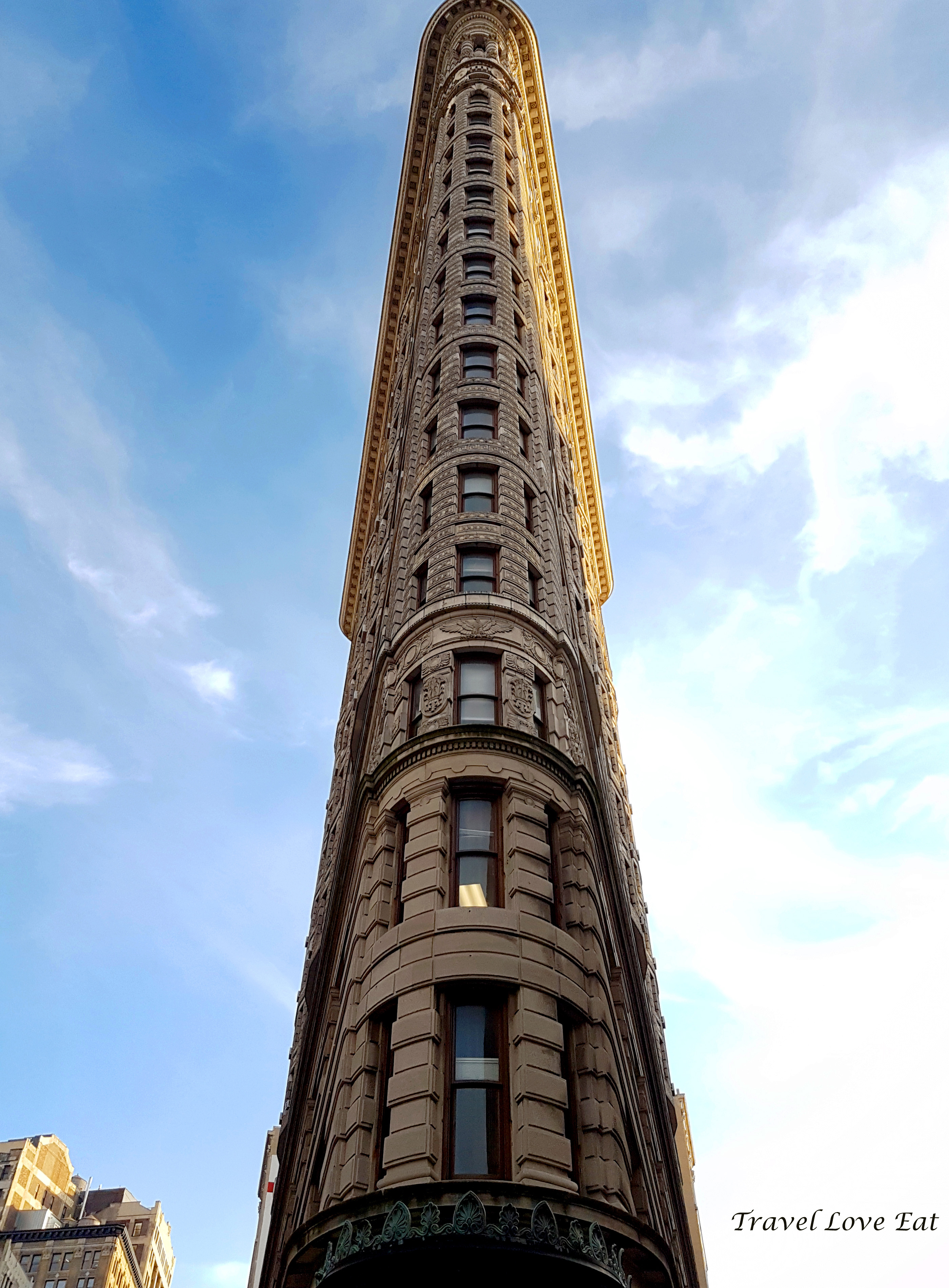 We went in the month of February when it is quite cold over there, so you can really imagine how good it feels when you have a warm day. My brother had suggested me to try the food at "By Chloe." and hence we decided to stop by.
Location: "By Chloe." is a cosy vegan restaurant  located on 22nd Street. As we are pure vegetarians, finding vegan food is pure bliss when travelling abroad. There is another restaurant with a similar name "Sweets by Chloe", but this is one is different. They have their own website also which you can check by clicking here: https://eatbychloe.com – find the map below.
Ambience & Staff: The restaurant has self-service. The service time is really less, maybe because it remains full most of the day and orders are constantly pouring in. I saw people standing out, and inside too waiting to grab a seat there, so be patient if you have to hold a little. It took around 7-10 minutes for our order to arrive. The staff was courteous and efficient.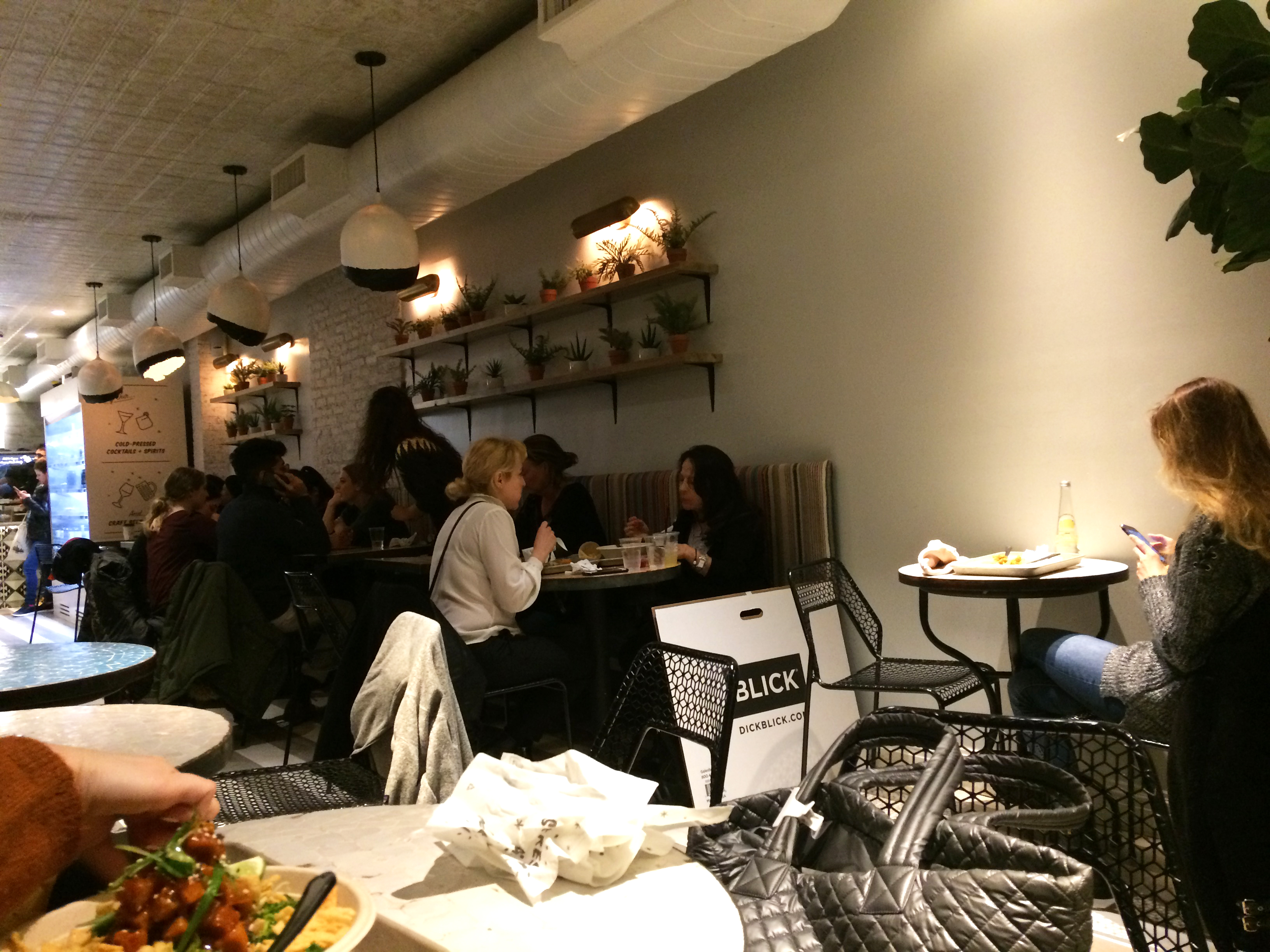 Food: Considering the restaurant is pure vegan, the food was delicious. Don't take me wrong – I don't mean vegan food cannot be tasty but so far whatever vegan I have had, this was one of the best meals. Their menu is quite elaborate. All ingredients are clearly mentioned next to each item, which is especially helpful for people having food allergies. Also, it does not give unexpected surprise to diners as they know beforehand what they are going to order.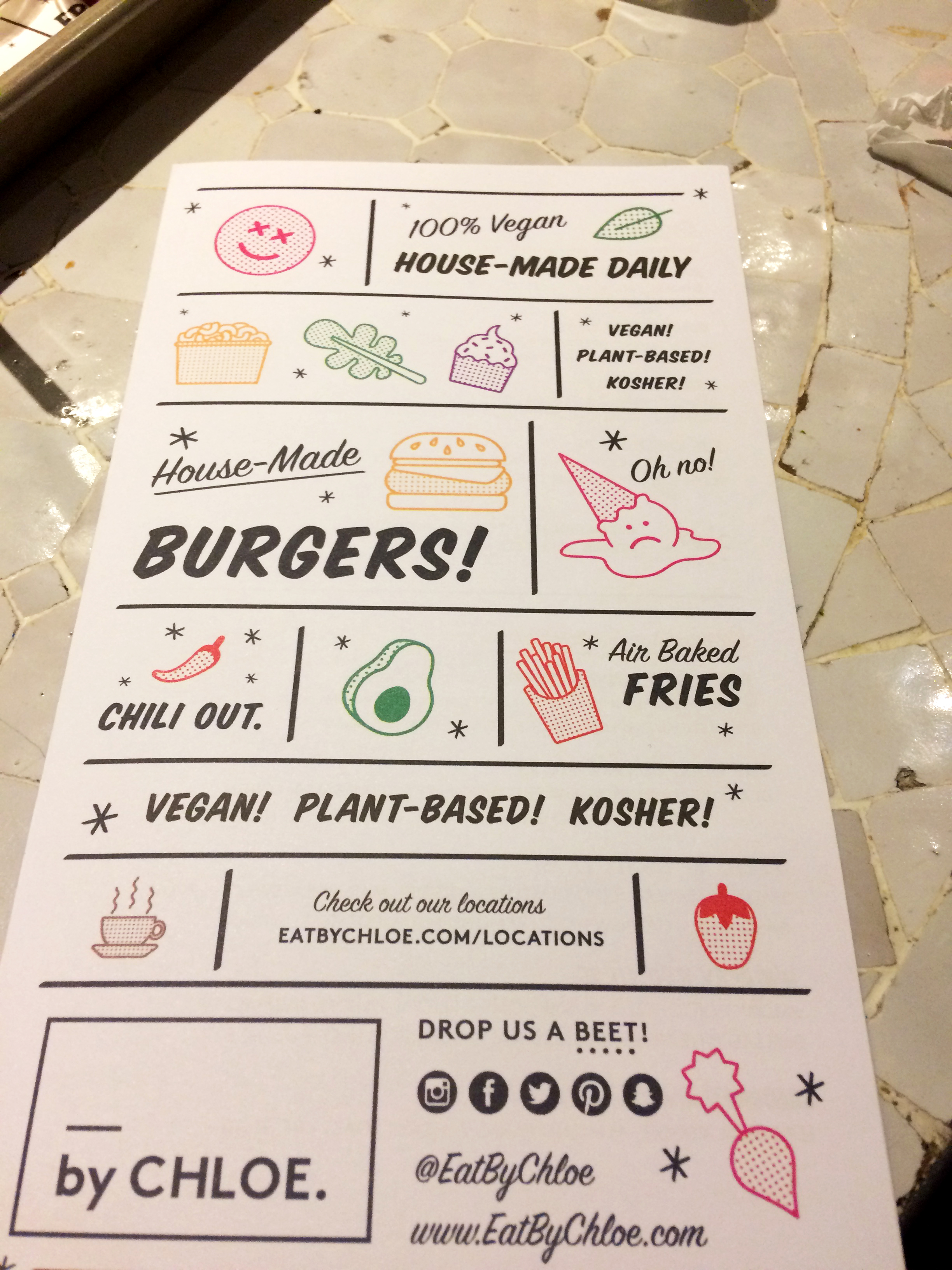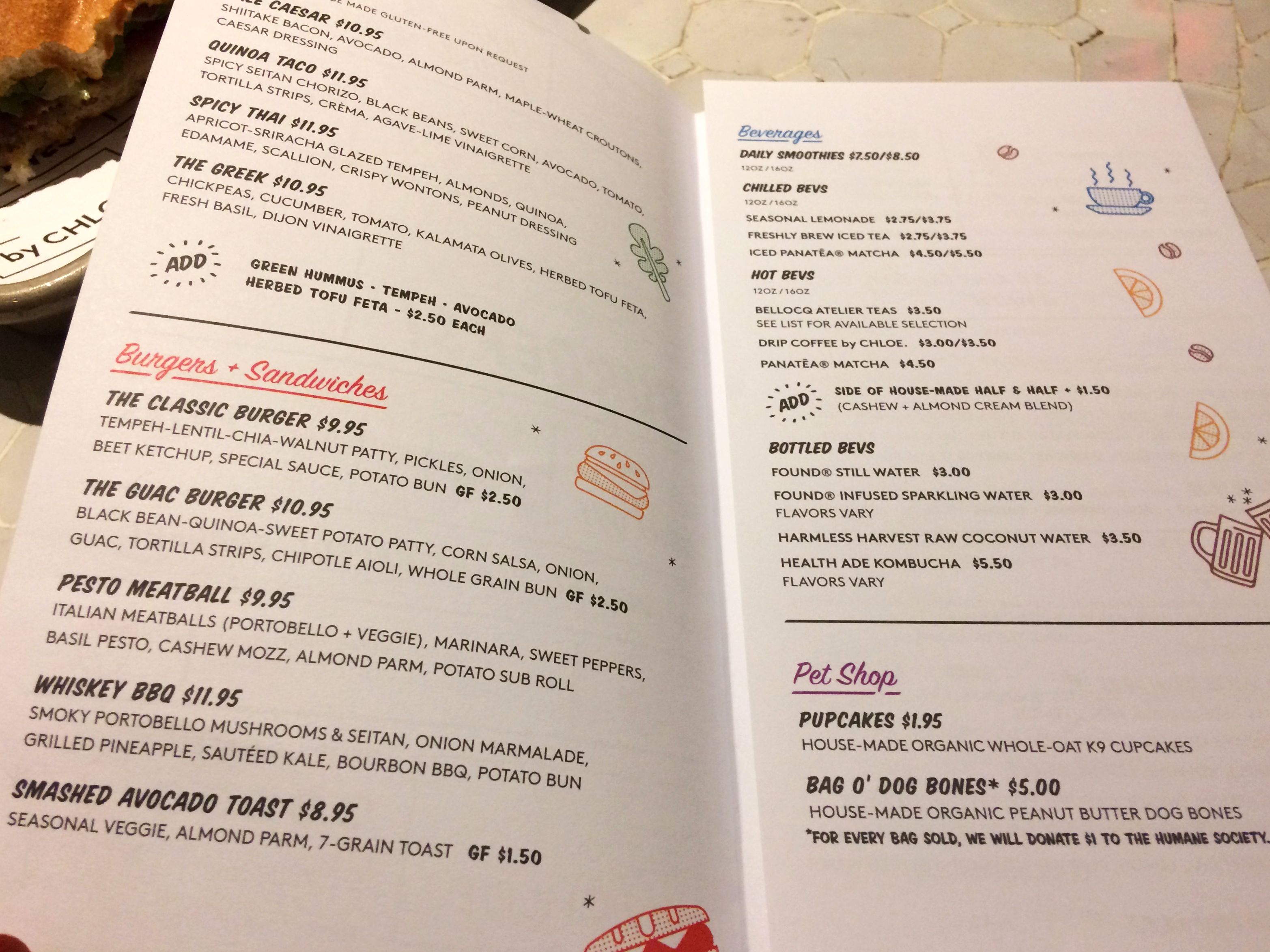 Sharing their menu just to give an idea. It is not complete; they have lots more to offer :).
We ordered The Classic Burger, Mac n Cheese and freshly brewed Iced Tea.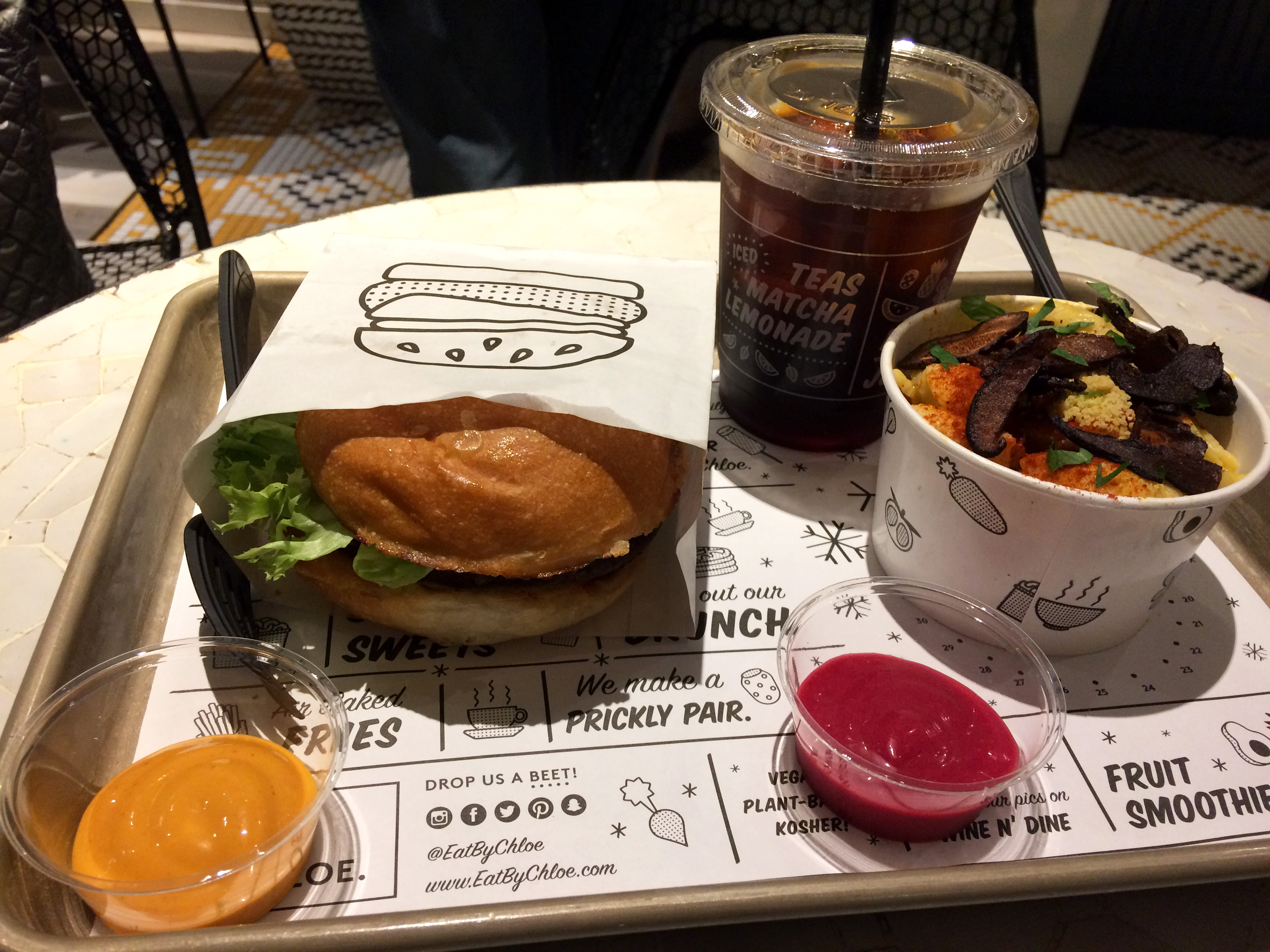 The burger patty tasted good, veggies used were fresh & crisp and the bun was soft. Mac n Cheese was made using sweet potato and cashew cheese sauce, topped with crispy shiitake mushrooms.  Both the items were fine, except that I found them a little dry as per my preference. I wished the burger had some more sauce and same for Mac n Cheese as I was not getting enough in each bite. Loved their iced tea as it was really refreshing and balanced. What stole the show were their ketchups – Beet Ketchup and Chipotle Aioli. I never knew that beetroot ketchup can taste so good. If it can be so nice, I'll happily have a beet everyday. 🙂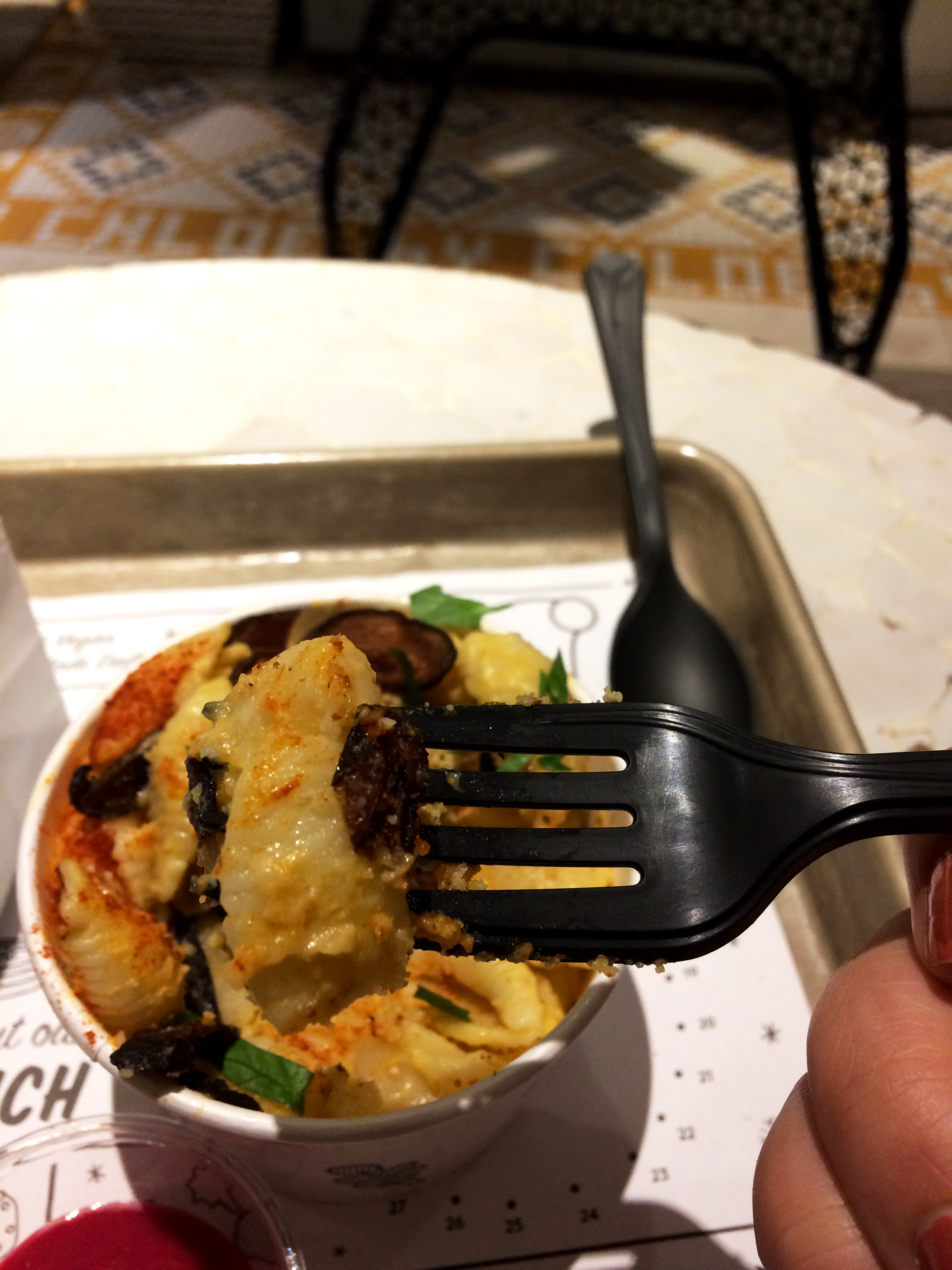 They also have a section of freshly baked sweets consisting of cupcakes, cookies and banana breads etc. I was quite full to try any of these but if you are a vegan with a sweet tooth, I would suggest giving them a try as they looked really tempting.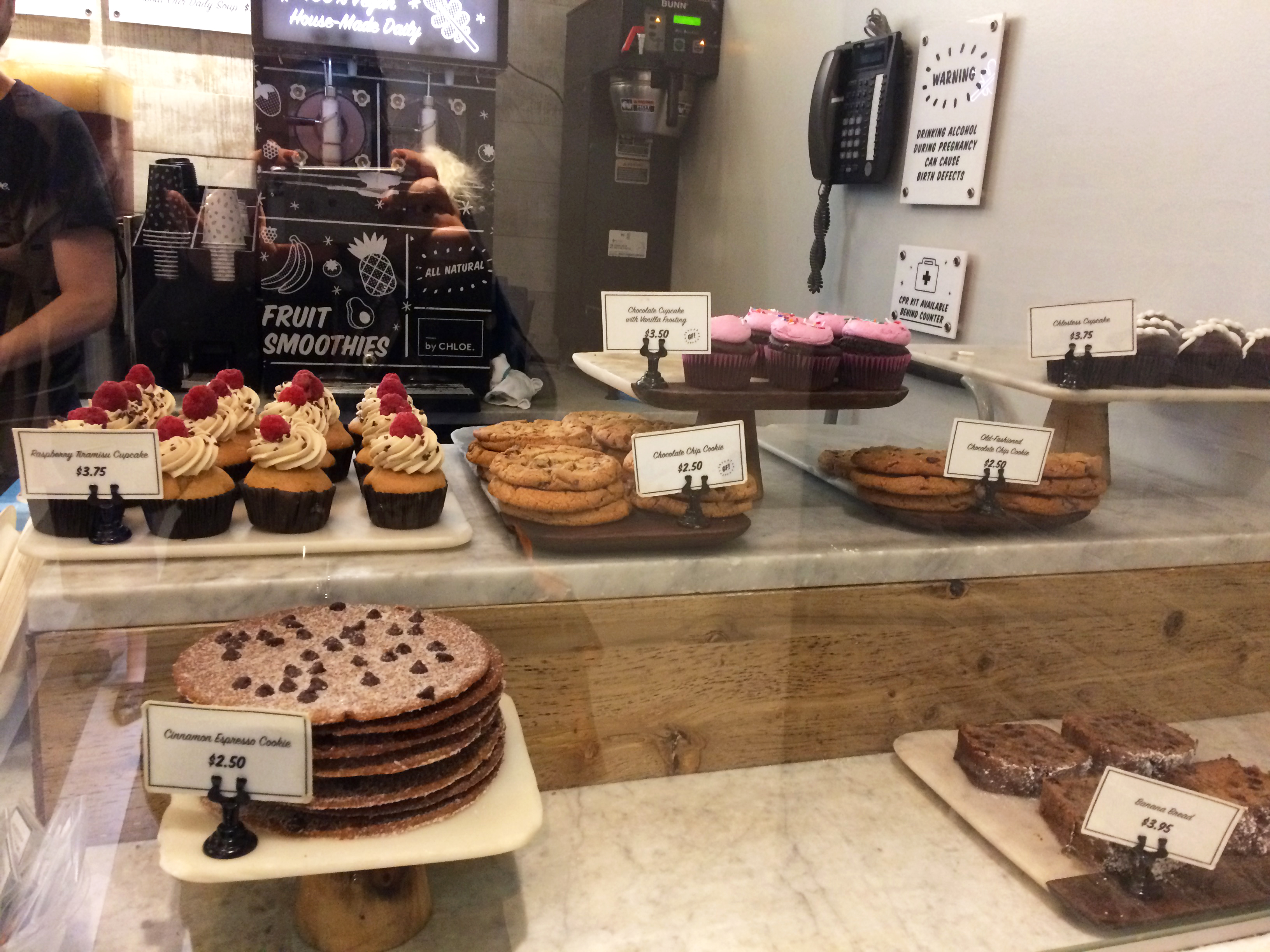 Cost: The prices are decent enough, not too high and not too low. You can have a rough idea from the menu image shared above.
Rating: Overall I would give it a rating of 4/5 as it was a good dining experience. The place is definitely worth giving a try if you are a vegetarian or vegan.
Thanks for reading!! Bon Voyage 🙂
(All opinions expressed here are my own. This is NOT a paid promotion. The entire article is based on my personal experience. Yours may vary).