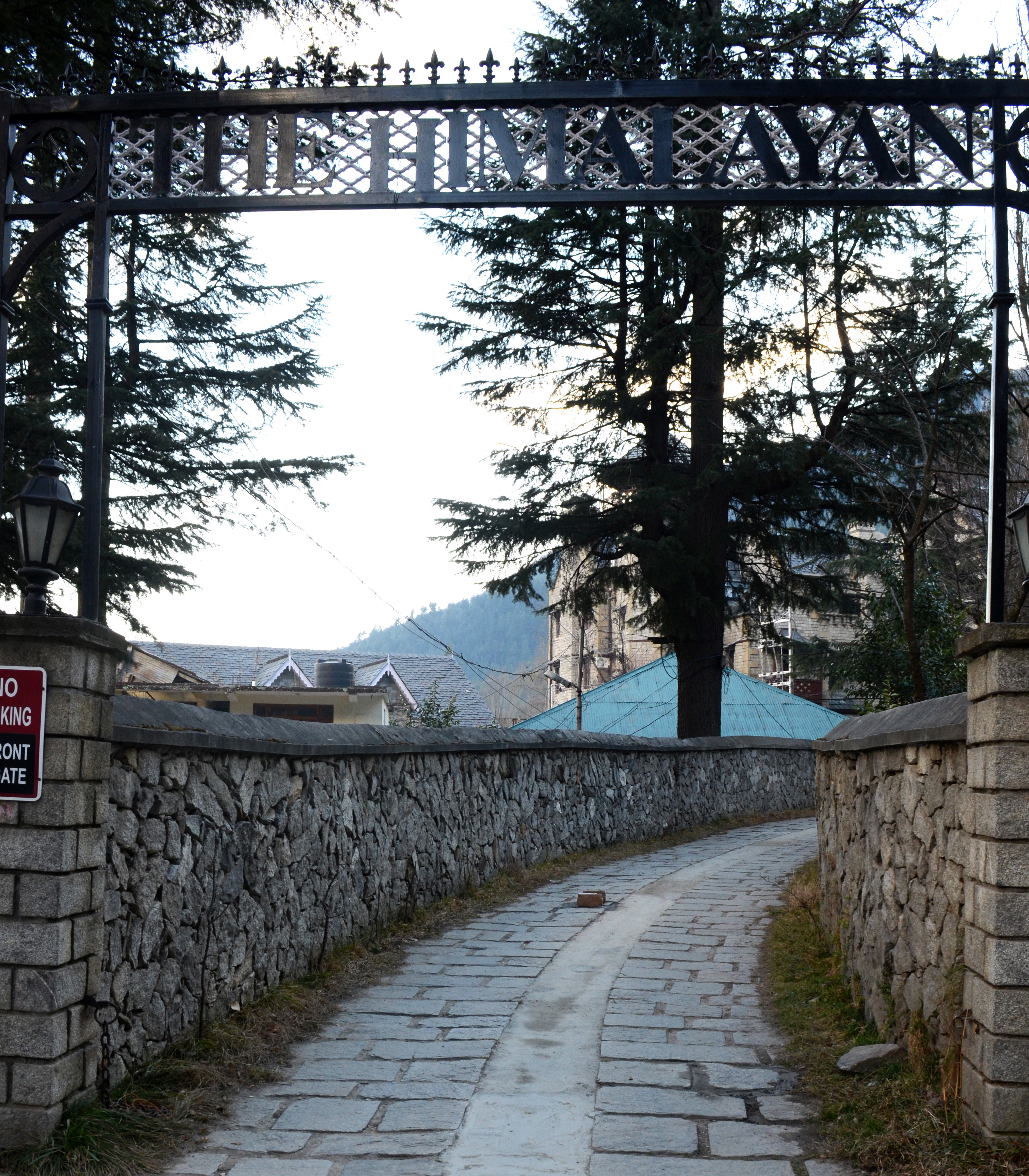 In this post, I am going to share few photos and details about The Himalayan Resort where we stayed during our vacations to Manali. If you are planning to visit Manali then this post may help you out in deciding about this resort.
About:
The Himalayan is a premier luxury resort situated in Manali (district-Kullu) of Himachal Pradesh state in India. It is located at Hadimba Road, Kullu Valley. The resort overlooks dazzling snow-covered mountain peaks and built in such a way that it gives the look of a castle. Initially we thought that it must be an old castle or building that has been converted into a hotel but later on after interacting with staff we got to know that it was constructed intentionally this way to give it a gothic mysterious castle look. The entrance of this resort reminded me of the castle shown in Disney movie-The Beauty & The Beast (my over-imaginative mind 😀 !!). The theme is maintained in interiors as well . The resort is impeccably neat and clean.
In all, the place looks quite vintage, sophisticated and classy. For tariffs, reservations or other enquiries, you can visit their official site : http://www.thehimalayan.com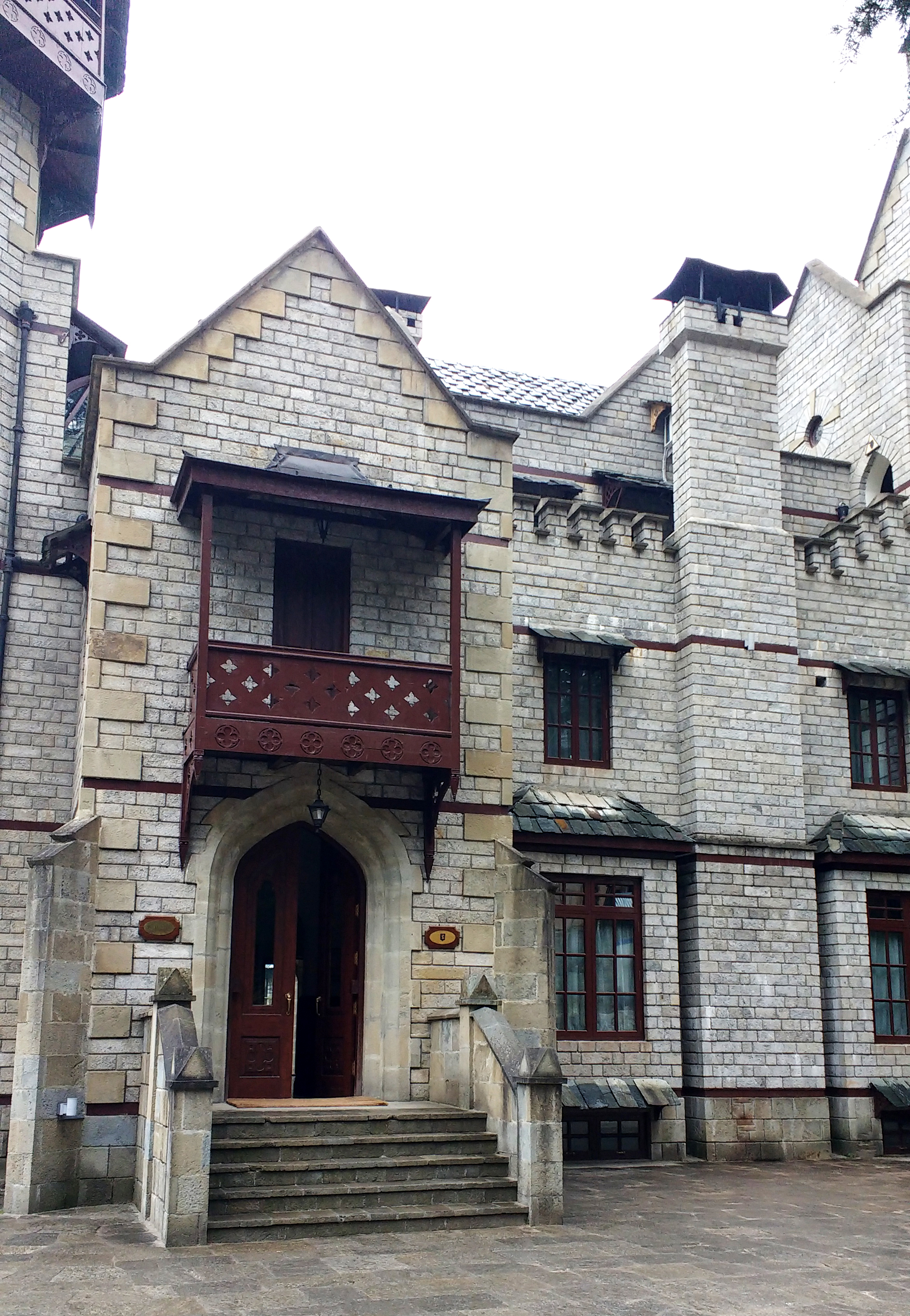 On top of this resort there is a small place which is called crow's nest. Below is the picture taken from there.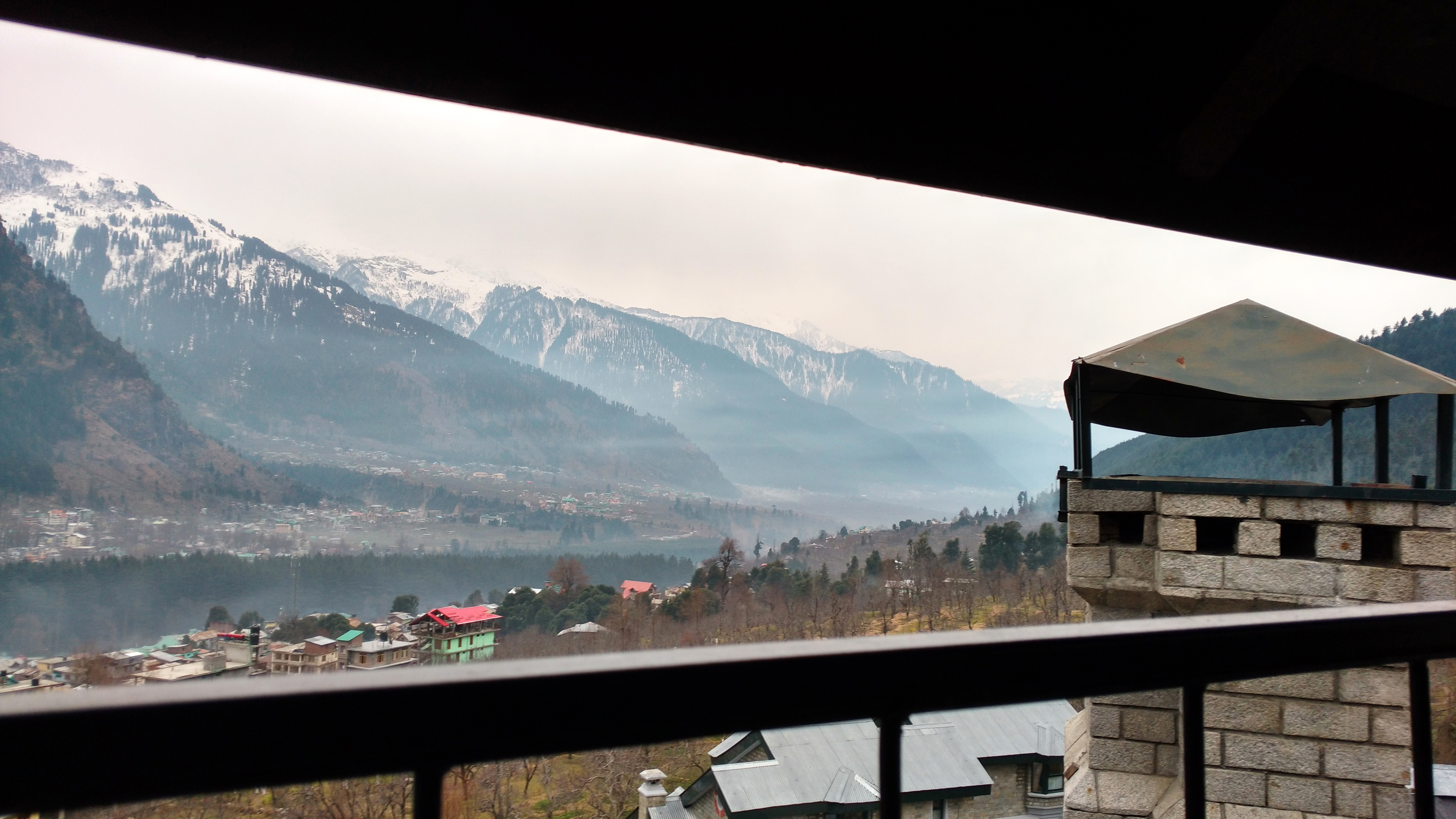 To the south of this resort, there are cottages and a swimming pool surrounded by trees and bushes.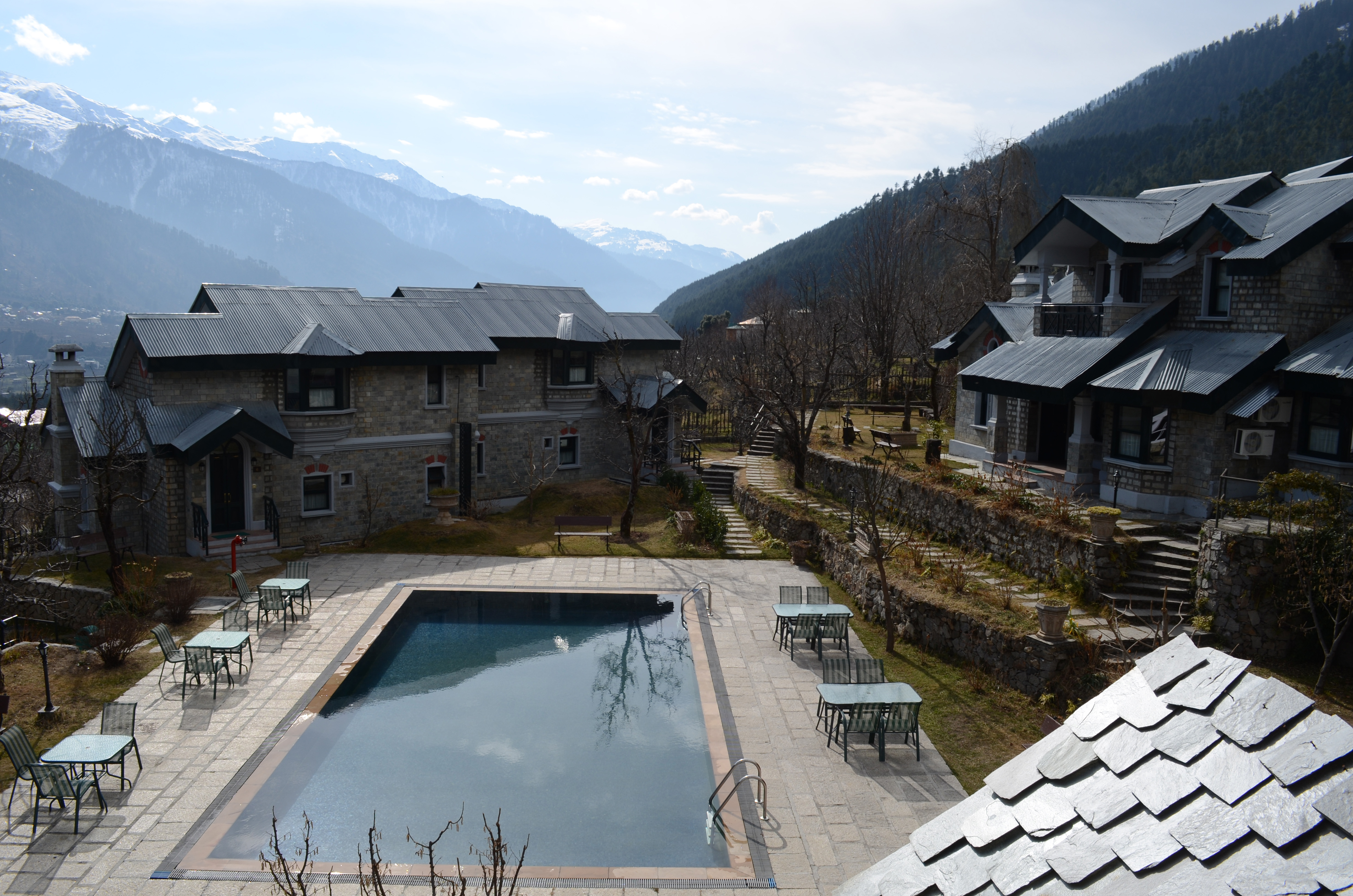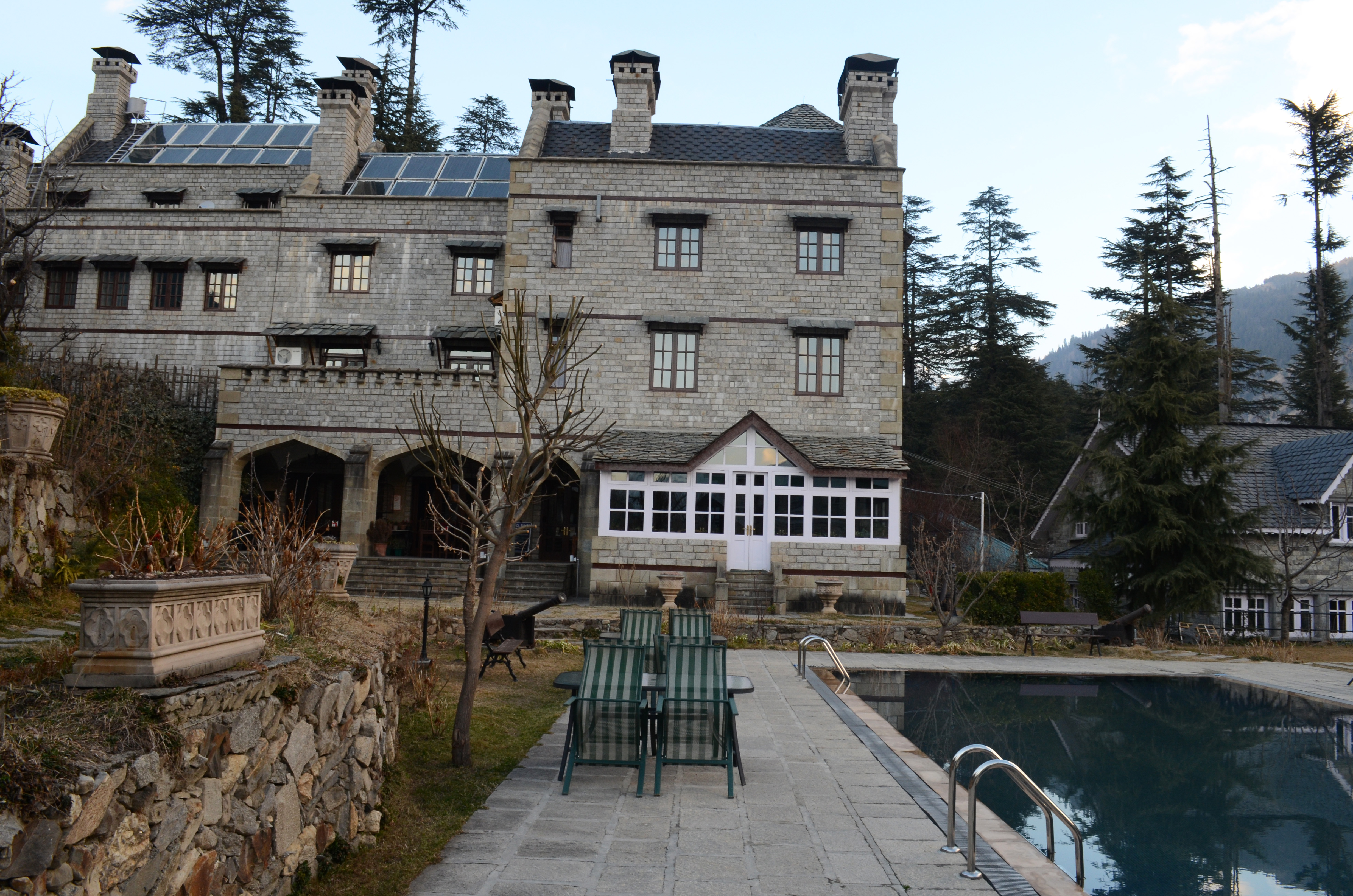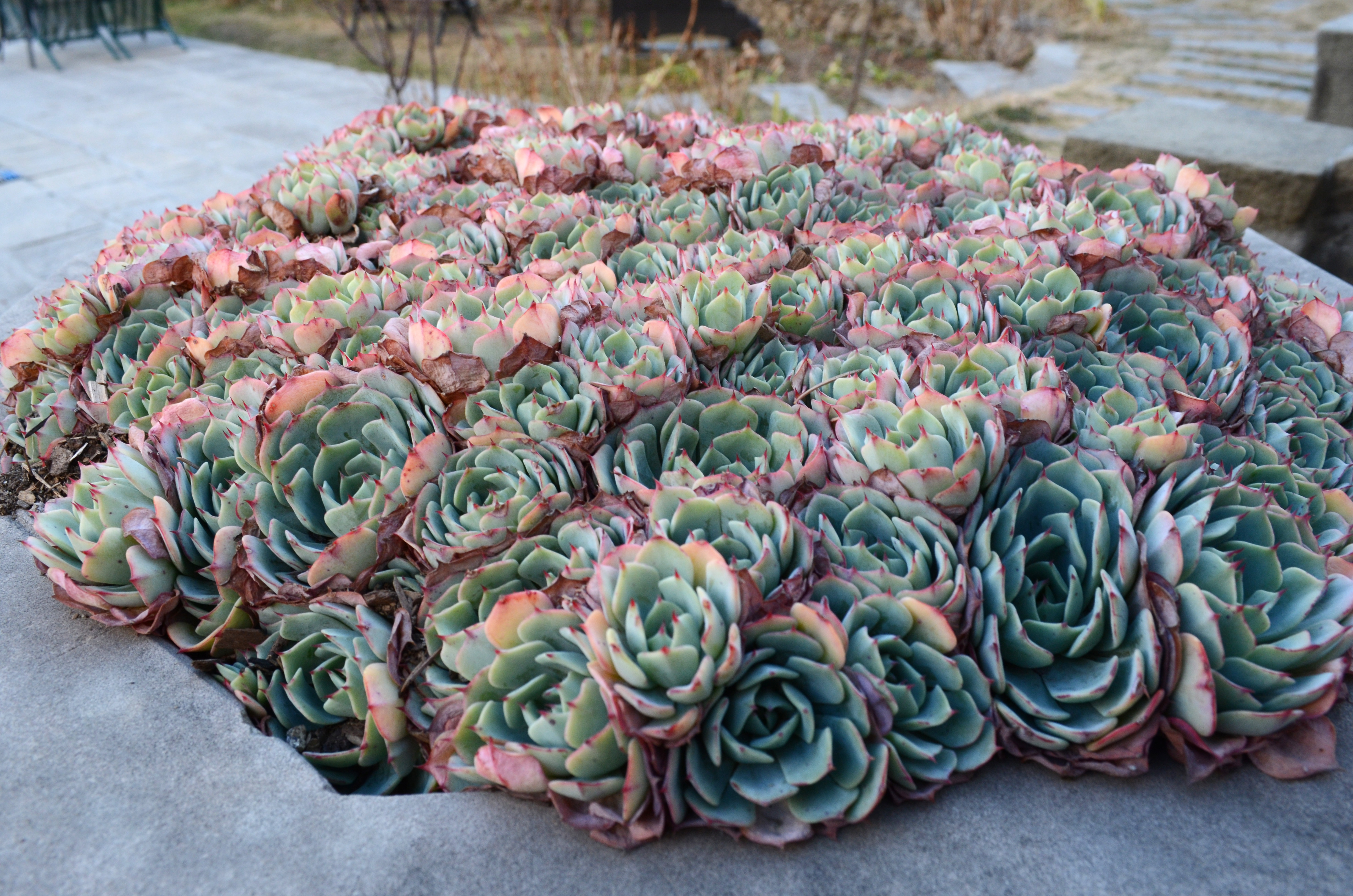 Location:
I personally prefer my hotels or resorts away from the city as it gives a chance to relax in some peace amidst nature. The Himalayan Resort is little off from mall Road in Manali, amidst the solitude & serenity of mountains away from hustle bustle of city. For those who would like to roam around the centre of city (Mall road), you may have to walk a bit or find a commute to reach there if you are staying in this resort.
Another plus point about its location is, it is right next to Sayali Mahadev Temple. There are stairs besides the resort which take you directly to the temple. Choose the stairs only if you are fit enough as you will have to climb lots of stairs to & fro. Also, the famous Hadimba Devi temple is at a walking distance from the resort.
Rooms/Cottages:
The Himalayan offers cottages as well as rooms for stay. As we did our bookings last minute, we could not get a cottage. We booked a room for our three days stay via Make My Trip. The room was clean, cosy and comfortable with provision of fire-place in one corner. The bedding/towels provided were also fresh and hygienic. The room was centrally heated. We went in the month of January when it was pretty cold but the temperature inside the resort was maintained. Only drawback which I felt, the bathroom was not covered by the heating system which made it uncomfortable to use especially at late night or early mornings. Hot water supply was there 24×7. Basic toiletries were provided.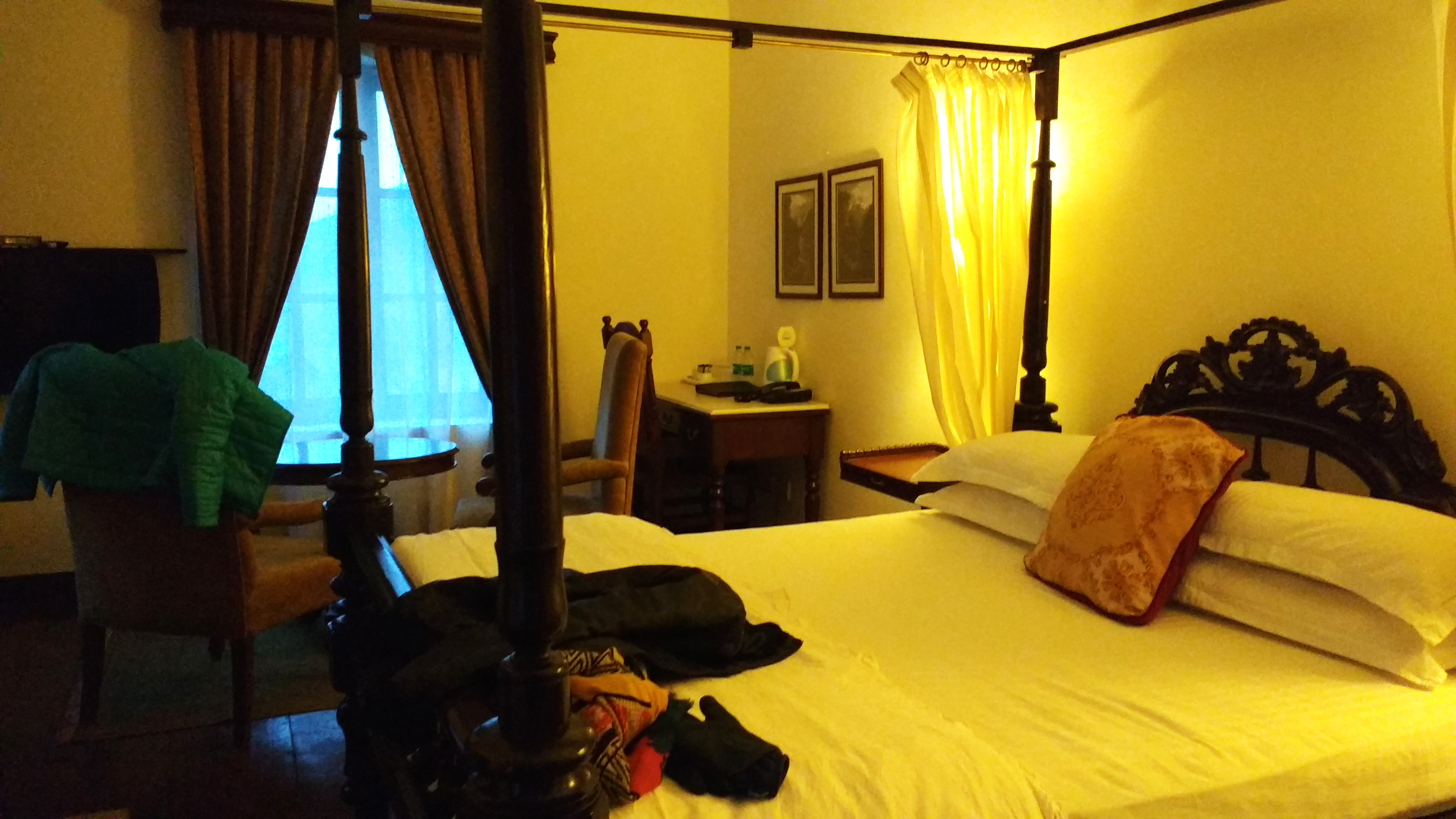 The view from our room was breathtaking. We reached our hotel early in the morning and ordered two cups of coffee. To have a look outside we slid the curtains and Whoa!! The sight was stunning and (I think) best part of our stay in Manali. It was a sheer bliss to enjoy our hot cup of tea/coffee with this view every morning.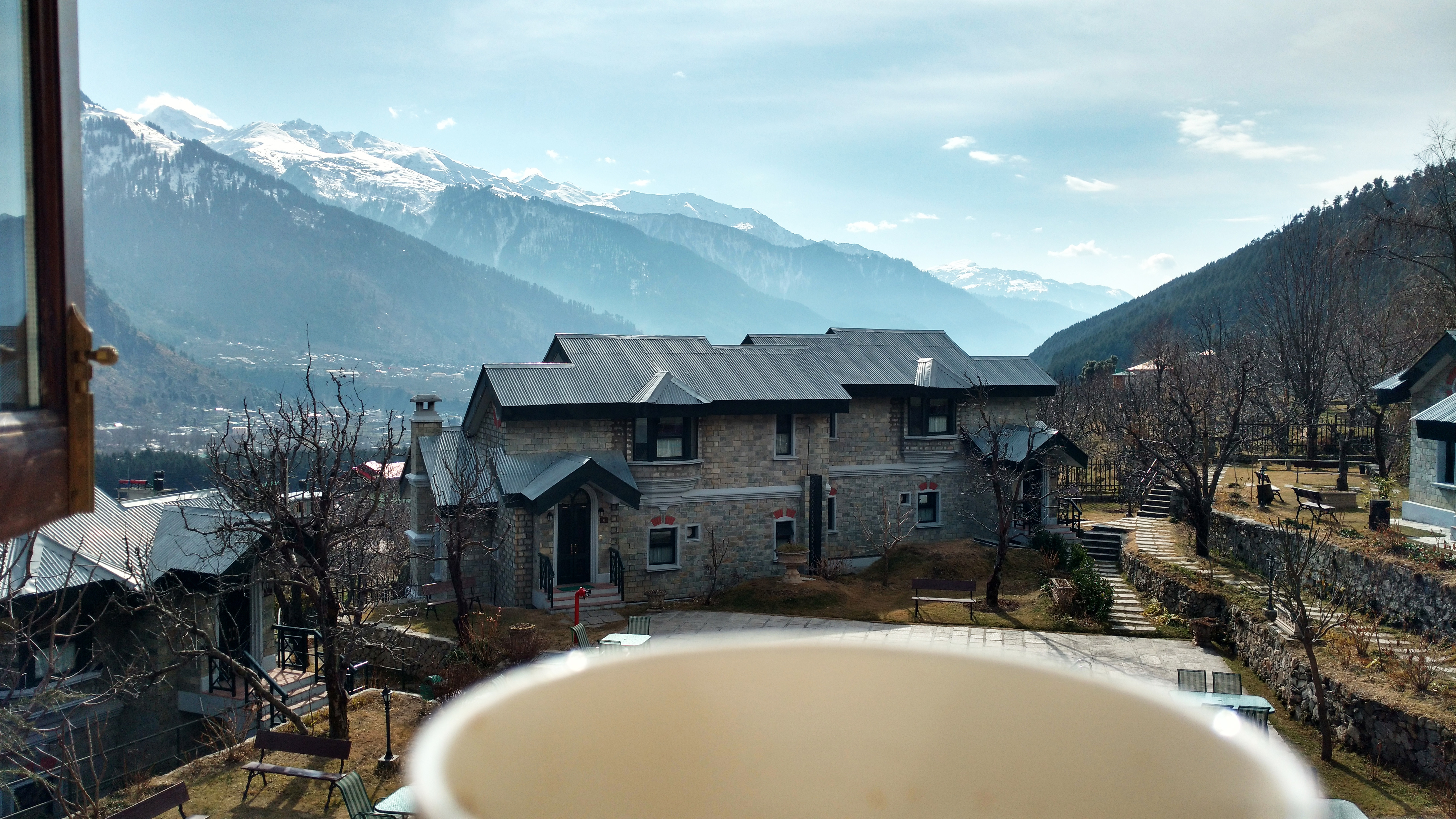 Restaurants/Bar:
The food served both in the room and at the restaurant was delicious. We tried different items during out stay-South indian (Idli / Sambhar / Coconut chutney), Poori / Bhaji, Dal Makhani/Naan/Paneer and Lasagna etc and everything was tasty. I especially loved their coconut chutney :D. The food was served hot and fresh. During our three days stay, we preferred to eat at our resort most of the times. Below is the pic of "Refectory Dining Room" where you can sit and have a nice dinner with your family or friends.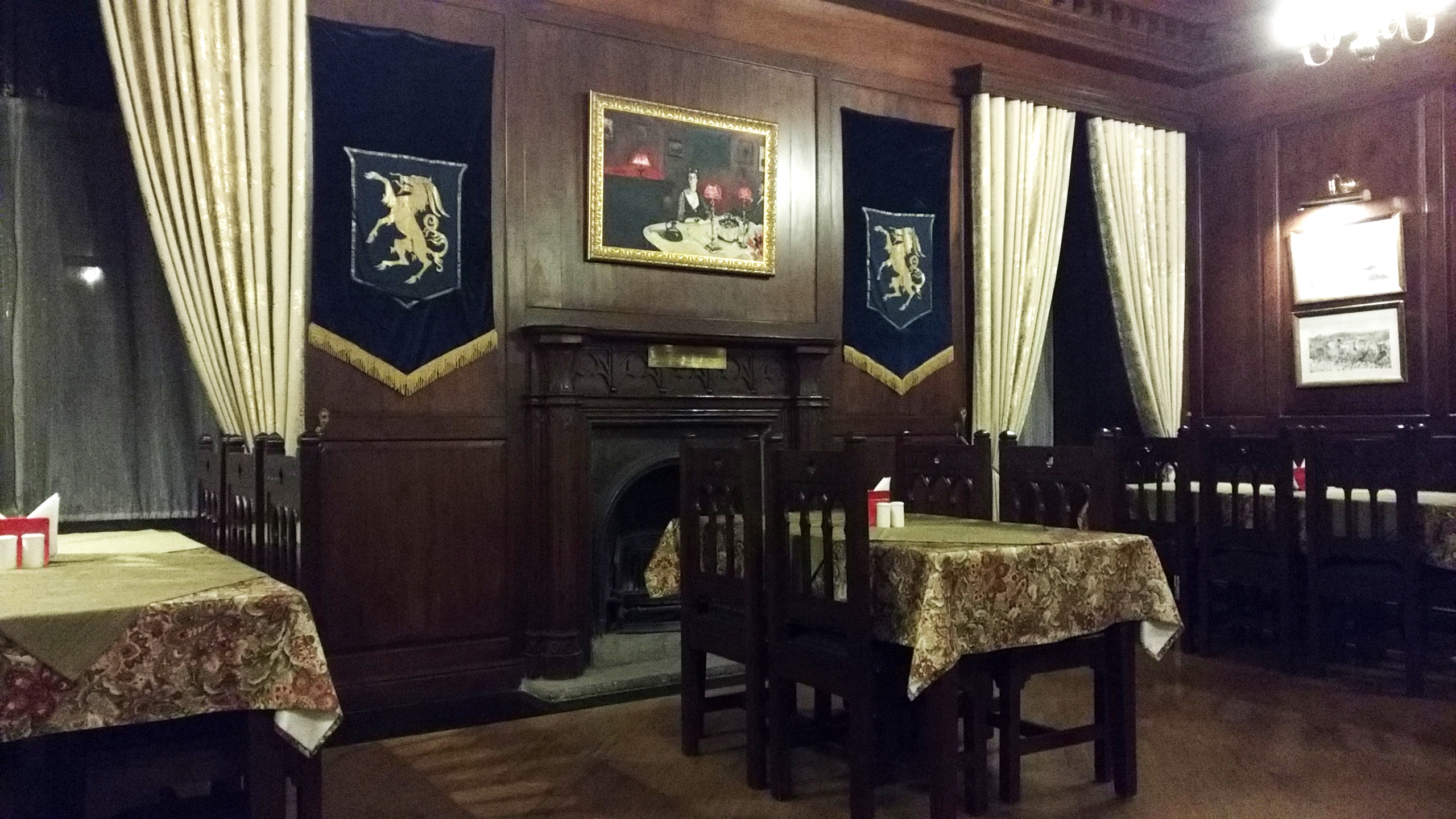 The Resort also has "The Dungeon" bar in basement near reception area where you can enjoy a couple of drinks over a game of Pool.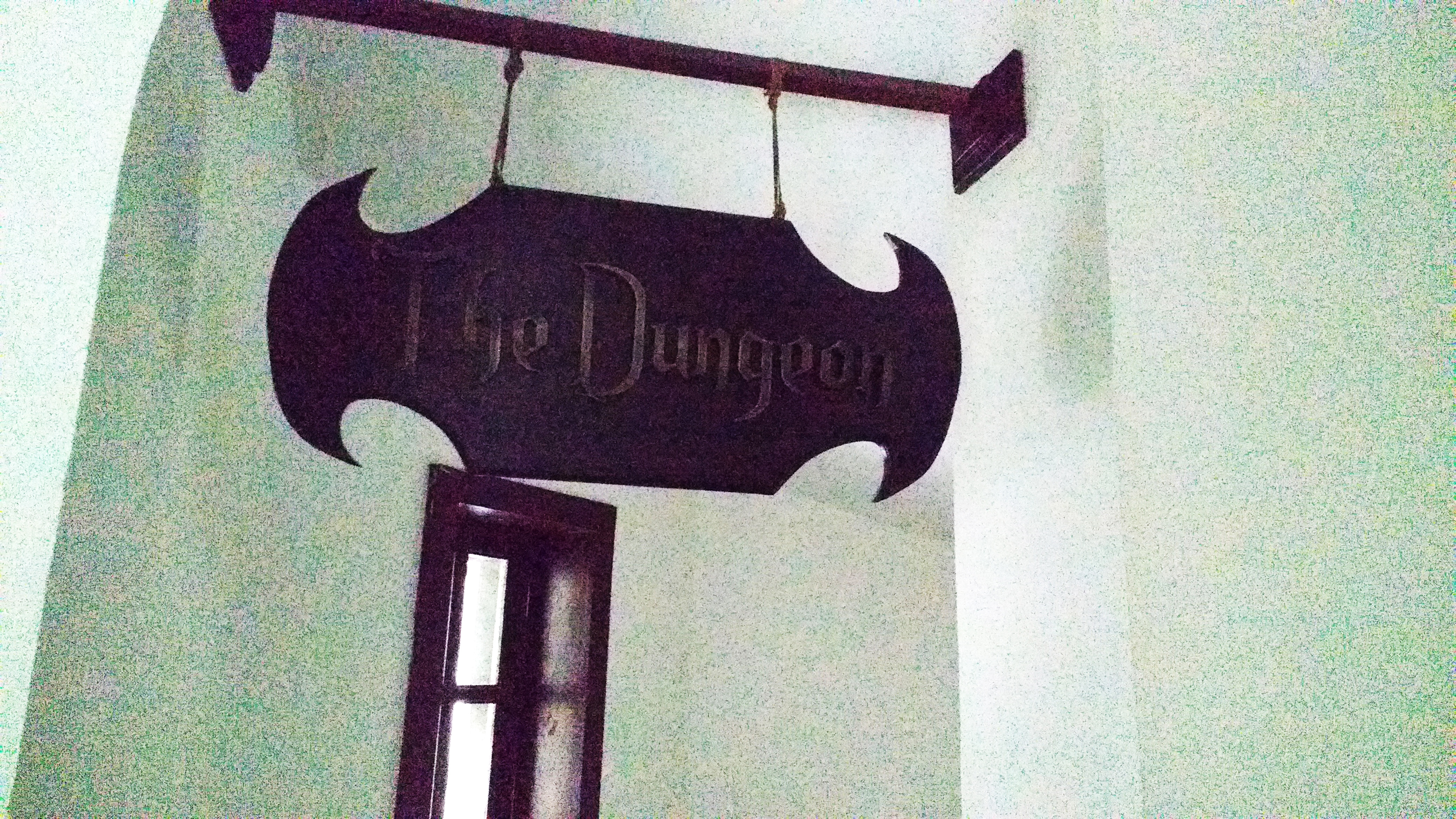 The hotel staff was humble and helpful. They guided us about different places which we can visit and how to reach there. As we went to Manali on the occasion of our Wedding anniversary, we requested the hotel staff if it would be possible for them to arrange a candle light dinner for us. To our surprise, they arranged a beautiful dinner in a dedicated area of the restaurant facing the pool with some fresh roses and a live fireplace. The arrangement was beyond our expectations and together with some splendid food, our celebration was indeed made memorable 🙂 .
If you are planning your special day like birthday or anniversary here, do come in touch with the staff to make it more special!!
One last thing which struck me while writing this post was our experience about clearing our dues on the checkout day. We were carrying limited cash (which is quite common these days) and tried to clear our bills via credit card. However their card machine did not work as signals are not strong enough at that place. So we had to especially find an ATM nearby and make withdrawal because of this. I would advice you to plan your mode of payment beforehand and talk to the staff in order to avoid any chaos at the last moment.
I would summarise my experience at The Himalayan as wonderful and definitely recommend it for stay in Manali!!
(All the views and experiences shared here are based on our personal opinion and experience. This is NOT a promotional post. Please research at your end also before making any final decision.)
Thanks for Reading. Bon Voyage!!!